Organ Royaly

by L. H. Tiffany Hsieh / October 1, 2010

---
Flash version here.
The organ: Frédéric Champion discovered it at the age of 15; Bálint Karosi nearly became a professional clarinetist but then he fell in love with it; Konstantin Volostnov is a self-proclaimed storyteller when he plays it; Michael Unger said he didn't choose it, it chose him.


All recent winners of prestigious international organ competitions, these four virtuosic organists are descending on Montreal for the Rendez-vous des GRANDS, a special concert gala put on this month by the Canadian International Organ Competition, an organization created by McGill University Organ Area Chair John Grew along with several interested businessmen. There, the four will play the Notre-Dame Basilica's Casavant Freres organ, which boasts 97 stops and more than 9,000 individual pipes.

Frédéric Champion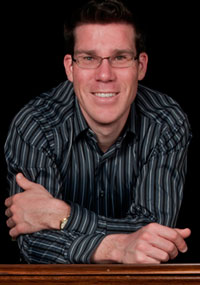 Born in Lyon, France in 1976, Champion has won several prizes and awards for performing organ music from the 16th through the 21st centuries. He has won first prize at the Minoru Yoshida Tokyo-Musashino Competition, the International Competition Gottfried Silbermann, and, in 2008, the Canadian International Organ Competition Canada—a prestigious new competition in Montreal that plays an important role in recognizing and promoting the value of organ music. Champion currently acts as its first ambassador during his concert tours in North America, Europe, and Asia until next year.
While it is great to be crowned a winner, "there are always more things to learn," said Champion, who lives near Zürich in Switzerland. "You learn about yourself and you learn a lot because you play some new instruments."


From an early age, Champion developed a fascination for music and started studying organ as an autodidact. In 1994, he entered the Conservatoire National de Région in Lyon and studied organ with Louis Robilliard. From there, he went on to study with Michel Bouvard at the Conservatoire National Supérieur de Musique in Paris and with Jan Willem Jansen at the Centre d'Études Supérieures de Musique in Toulouse.
"The organ is like an orchestra; you are the conductor. I chose it for the music," said Champion, whose favourite composers are Bach, Ravel, and Robin.


However, "you need to understand the different types of organs, after that you can decide and adapt your programs. There are a lot of different types of organs as well as acoustics; it's a bit difficult," he said.


Aside from playing the organ, Champion has performed with a number of orchestras and vocal or chamber music ensembles as a pianist and harpsichordist. He has also composed and transcribed for the organ as well as for organ and percussion or choir.

Bálint Karosi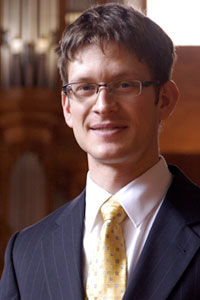 Like Champion, Karosi has won a string of international organ competitions, including the 16th International Johann Sebastian Bach Competition in Leipzig in 2008.


Thirty-one-years old, Karosi specializes in historical performance practice. He started the organ at age 16 after having played the piano for 10 years and the clarinet for six years.
"I grew up in a very devout Catholic family and of course I was exposed to lots of organ music at church," said the Budapest native now living in Boston, Massachusetts, where he is the organist and director of music at the First Lutheran Church and plays historical clarinet for Boston Baroque.
"My mother is a singer and once she had a concert in the historic Matthew's church in Buda Castle and I was on the balcony with that massive organ behind me. At that time I was also reading a book about J.S. Bach. These two experiences really got me into the organ. There is nothing like a good organ in a big gothic cathedral."

So Karosi honed his skills at the Liszt Academy in Budapest, the Conservatoire Superieur de Genčve, and the Oberlin Conservatory of Music in Ohio. Last year, he was awarded the Prima Primissima Junior Prize for music, a recognition that honours the most distinguished performers of his native country.


"I try to be very expressive on the organ. Virtuosity is not all that important for me. Communicating with the audience what the music means to me is my goal," he said.


"I like improvisation the most, especially in baroque style. One should know a great deal of theory, harmony and counterpoint and be able to transpose any ideas on the spot. It is a lifelong task to master, a source of constant challenge and inspiration, and it is very rewarding on a nice instrument."
 

While each competition is unique and has its own merits, Karosi said the Bach competition in Leipzig has an "enormous reputation" in Europe, especially in Germany.
"It really helped me establish a professional name—a calling card," he said. However, "I am very careful with this. It is a huge honour to be the first-prize winner, but one should not think this is all that's important in the long term. It is a good start, I would say."

Konstantin Volostnov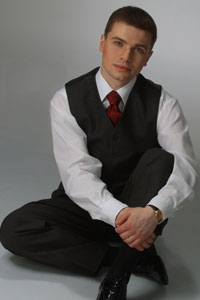 Volostnov believes winning has helped him to be more assured of himself when it comes to communicating musical ideas.


The Russian organist from Moscow began playing the instrument when he was 11 years old. Now 30, Volostnov was the first-prize winner at the Schramberg in Germany in 2008, the A.F. Goedicke competition in Moscow in 2008, and the St. Albans organ competition in the U.K. in 2009.


"Of course I started with a piano, but later, together with impressions from Bach's music and when my mother showed me the instrument on TV, the organ took the central place in my mind," Volostnov recalled.
He began studying organ in Maria Potashnikova's class at the Sergei Prokofiev Music School. From 1994 to 1999, he studied at the Academic Music College of the Moscow Tchaikovsky Conservatory, where he later studied organ with Alexei Parshin. He admits to having more than one favourite organ, but said the first on his list is the Cavaille-Coll organ in the great hall of the conservatory.


"The more you play different instruments, the faster and easier you adjust to a new one," Volostnov said. "At first, of course, you need to listen to the sound and the acoustics. Then you can work with some technical things."
When asked if there's any pressure playing with other competition winners at Rendez-vous des GRANDS, Volostnov said that while it can feel like a competition, the event is very much an "organ art."


"Such events can be a pleasant meeting with your colleagues; listening to each other, you can learn something new," he said.

Michael Unger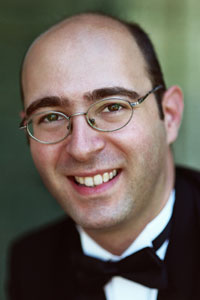 Unger, the only Canadian of the four featured organists, said even though he hasn't met Volostnov or Champion (he met Karosi a number of years ago), he is "sure there will be a certain amount of pressure in sharing this event among such world-class talents."
A native of Thornhill, Ontario, just outside Toronto, Unger took piano lessons at the age of six and began playing the organ when he was 13. However, it was as a music student at the University of Western Ontario that he became fascinated by the organ.
"I love the colours, the repertoire, and the opportunity to play in unique and historic venues," the 31-year-old said. "I've always loved the music of the Baroque, but the more I learn of other eras and repertoires, the more I want to learn. At the moment, I'm especially enjoying the music of Robert Schumann."


These days, Unger performs frequently as a soloist and chamber musician on both the organ and harpsichord. He currently lives in Rochester, New York, where he is music director of the Lutheran Church of the Incarnate Word. He is also a teacher and a published composer while completing his doctoral studies at the Eastman School of Music.
To top it off, Unger was awarded first prize at the sixth International Organ Competition Musashino in Tokyo and the American Guild of Organists' National Young Artists Competition in Organ Performance in 2008.
"Music competitions are highly subjective. Had the juries or circumstances been different, perhaps the outcomes would also have been different," Unger said. However, "it was indeed an honour and a thrill, but also rather humbling. I think others have described my playing as 'elegant,' which is an adjective I particularly like."

You can be the judge of that and more on Oct. 16, when Rendez-vous des GRANDS takes place at the Basilique Notre-Dame at 8 p.m. The performance will be projected live on a large screen, providing the audience with a unique concert experience.


Billed as a first on the world music stage, Rendez-vous des GRANDS is a lead-up to next year's Canadian International Organ Competition, which returns Oct. 5 to 16 in 2011. The competition is open to organists of all nationalities under the age of 35, in which 16 organists will get the chance to perform for an internationally renowned jury of nine specialists and compete for major awards. In addition to the prize money, the top prizewinner will receive a career development contract, a CD recording with ATMA Classique, and recitals.
---
Version française...