Pentaèdre: Perfect Fifths

by Lucie Renaud / September 1, 2010

---
Flash version here.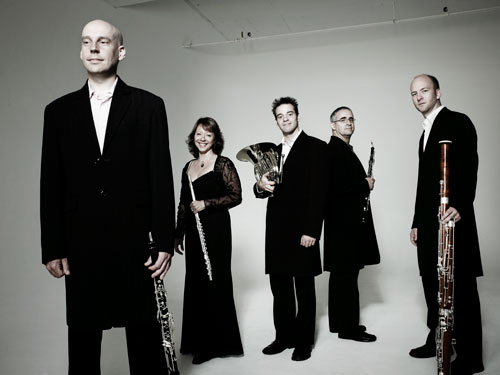 Pentaèdre: Martin Carpentier, Danielle Bourget, Louis-Philippe Marsolais, Normand Forget and Mathieu Lussier. Photo Martin Girard
Scheduling a meeting with the five members of the Pentaèdre Quintet is indeed an achievement, considering their holidays and professional engagements—such as Normand Forget's and Martin Carpentier's roles in the New Music Sessions at Domaine Forget, or Mathieu Lussier's responsibilities as artistic director of the Lamèque International Baroque Music Festival. And add to the mix family obligations, preparations for the new school year (as teachers and parents), snatches of practice time, and you're on the verge of the impossible. Their schedules finally aligned, with nearly effervescent delight the five accomplices meet in a local bar, far from the usual circuit. Musical scores are passed around, a few more markings penciled in. In a clatter of conversation, they negotiate rehearsal times, warmly encourage new father Louis-Philippe Marsolais—when all at once they seem to remember the main purpose of the meeting: an attempt at self-reflection, as the quintet's 25th season begins.
It's time to get serious… though not for long. Over the course of the interview—and with remarkable polyphony—the five musicians complete each other's sentences, travel down memory lane, and otherwise demonstrate the ways in which their ties are woven tighter than in regular professional relationships. "It's the pleasure of being together, of knowing that it will work immediately, from the first note," says the artistic director, Louis-Philippe Marsolais. "We want to go beyond good ensemble playing, we want to really know each other," adds bassoonist Mathieu Lussier. "We love to know that even without looking, just by hearing Danielle breathe, we will be perfectly together... or that Louis-Philippe and I will disagree with each other at the very first rehearsal." Then Lussier smiles and adds, without apology, "We have lots of generals but no soldiers."
Open Fifths
One principle has guided Pentaèdre since the beginning: the freeing of genres. These musicians blur the boundaries between various artistic disciplines, collaborating with dancers, comedians, mimes, and singers. Their artistic vision has led to collaborations with tenor Christoph Prégardien (whom we'll meet at the end of this season), baritone Russel Braun, soprano Karina Gauvin, contralto Marie-Nicole Lemieux (who will sing with the quintet this year), pianist David Jalbert, (who will join Pentaèdre in the "Poulenc in the Drawing-Room" concert scheduled this coming October) as well as the Penderecki, Arthur-Leblanc, and Molinari string quartets (Pentaèdre and the Molinari Quartet will premiere works by André Ristic and Michael Oesterle).
"Our quintet aims to push limits, to make an impression, but we also strive to place our innovations within a context," explains Marsolais. "The fact that our repertoire is unusual raises important questions within our artistic mission," continues Normand Forget, oboist and founding member of the quintet. "Over the years, we have transcribed, arranged, and adapted music to suit our ensemble. We make our choices only after long reflection and consideration of the repertoire and its feasibility, in order to present a varied season with three to five concert programs." Forget also brings up the importance of showing concertgoers—"diehard Gauls," as Lussier calls them—that the Pentaèdre musicians don't need pedestals. During intermission, for example, they don't hesitate to come and chat with the public over while sipping wine and nibbling on hors-d'œuvres. Forget concludes, "The challenge for us is to render this music accessible, while maintaining a very high level of interpretation."
Nonetheless, the quintet members know the difficulties inherent to attracting new subscribers to a chamber music concert series. Forget considers most concertgoers a conservative contingent shying away from musical "risks." "Trust us," pleads clarinetist Martin Carpentier. "Even the skeptics will be convinced," adds Louis-Philippe Marsolais. Flutist Danielle Bourget remembers how some of the most positive feedback they have received came in response to more adventurous works, such as Le jeu de l'inventaire, composed by Michel Garneau and Michel Longtin, in homage to Montreal's 1948 Refus Global Manifesto. "What may begin as the craziest idea could become something truly respected," says Lussier.
Fifths in Sequence
In line with its priorities, Pentaèdre performs transcriptions and original compositions by four of its quintet members. Many of these works have been perceived as great highlights of the first quarter of this century. Examples include L'amour est un opéra muet, a reinterpretation of 22 excerpts from Mozart's Cosi fan tutte—arranged for quintet and mimes; the world premiere of A Chair in Love, a comic opera with music by John Metcalf and a libretto by Larry Tremblay; and finally, Schubert's Winterreise, arranged for chamber ensemble by Normand Forget. Their recording of this work, hailed by critics in Germany, received an Opus Prize and their summer 2009 performance with tenor Christoph Pregardien and accordeonist Joseph Petric at the prestigious Schubertiade Festival in Schwarzenberg earned an exceptional 10-minute standing ovation.
This season, Pentaèdre will present an evening of "untraditional" musical tales, including, most notably, the premiere of Conte charcutier [A Butcher's Tale], a collaboration between Carpentier (text) and Lussier (music). In a haze of post-concert delirium, Conte charcutier was conceived during a youth concert tour in Belgium, during which Pentaèdre had played Cosi fan tutte 24 times in eight days! "Delirium is an essential ingredient," Forget believes. The main characters of this story are butchers, Adélard and Crépine Pilon, residents of the not-so-peaceful village of Saindoux-sur-la-Rillette. Lussier goes on to describe a work that is "original, funny, virtuosic and brilliant"—"Not to brag," Carpentier interjects, tempering his colleague's unabashed enthusiasm only slightly. Carpentier talks about the multimedia aspects of this piece. "But everything is homemade," he adds.
Harmonic Fifths
And how might the quintet members describe their colleagues' particular qualities? How might they take an honest look at their own role in the quintet? Scarcely a second of hesitation, and they accept the challenge. Danielle Bourget describes Normand Forget as the problem solver, the one who helps the quintet find solutions, despite all obstacles it might encounter. Mathieu Lussier describes Forget as the "wise man and the fool" of the group, the one who constantly asks questions, who refuses to settle on any interpretation that is merely "acceptable," even regarding works played by the ensemble just a few years earlier. Louis-Philippe Marsolais nicknames Forget the "Old Man of the Mountain," the one who initiates all of their projects. Forget himself tries above all to avoid ideas that have already been used; he believes it is always important to strive for more, to take ideas to their limits when developing new artistic projects—in spite of this path's inherent complications. Forget says, "Classical music can be so lame. You have to shake yourself!"
Danièle Bourget, the only woman of the group, is lauded by all of her colleagues for the quality of her tone. They also note her epicurean side, and her maternal side—openly admitted—remembering how she took the youngest member of the quintet under her wing. Lussier gives a nod to Bourget's invaluable experience and incredible instinct, as does Forget—who was romantically involved with her for six years—who describes her as the true soul of the quintet: "Intonation, rhythm, harmonic structure, overall form: she is always our point of reference."
As for Carpentier, he is known for his extraordinary sense of humor, according to the flutist—"You can write 'clown,'" he jokes—but also his steady temperament: "The Well-Tempered Clarinet." The hornist applauds Carpentier's remarkable memory, while the bassoonist praises his flexibility, his "chameleon side" that enables him to play with individuality and a solid musical presence, while still matching the musical line of his colleagues. Carpentier perceives himself as the more laid-back member of the band, always open to trying new ideas.
Carpentier particularly appreciates the artistic director's sense of organization: it is Louis-Philippe Marsolais who transforms their first inklings of ideas into reality. Forget and Bourget admire the excellence of Marsolais' playing, as well as his distinctive energy, as he inspires the quintet to develop continuously. He doesn't impose his point of view, Lussier adds. "Marsolais really helped me mature," he says. "We are a lot alike, even if we can act like two goats and butt heads sometimes." Ever the philosopher, Marsolais contributes simply: "I love to play in the Pentaèdre Quintet. We have come a long way to get to this point. It has been a dream." With a 25th season that includes the launch of a new CD, recordings of two other projects, as well as a concert tour of Winterreise in Germany, Belgium, and Israel, this statement is difficult to contradict.
Marsolais teasingly addresses the quintet's remaining rascal. "Mathieu is the unerring one of the quintet; he never misses a thing! It gives me a complex!" Forget notes Lussier's sophistication and depth of knowledge, his multi-faceted career, as the flutist dubs him the resident librarian, tour guide, and copilot extraordinaire, while also admiring his love of the stage. A brief silence descends when Martin Carpentier names Lussier his "cosmic twin, and soul brother." Close friends, they used to live in the same duplex, and their respective children might as well be part of the same family. "We could play duos in separate studios, and we would still be playing together. I wouldn't wish to work with anyone else," Carpentier says. The bassoonist admits that he has chosen a rather curious instrument, and one that often makes more sense as part of a group than on its own. "I would find it difficult to stop playing in a quintet," says the self-described impulsive member of the ensemble. When one member has to be replaced, the others agree that it cannot possibly be the same. "The chemistry is essential; it's the combination of our five personalities that makes Pentaèdre unique!"
Pentaèdre: 5 Highlights
Naming one outstanding concert proves an impossible feat. While Normand Forget first suggests their concert at the Schubertiade Festival in Schwarzenberg, he remembers just as fondly their Shostakovich project with the Penderecki Quartet. Louis-Philippe Marsolais confesses a special attachment to Winterreise, but names Schnittke as well. Martin Carpentier remembers a particularly electrifying performance at their premiere of L'Amour est un opéra muet, but also reminds us that it's in the details: often it is just a simple chord, perfectly in tune, or the bonds between group members that make a moment special. Danielle Bourget talks of the close connection with the public during their salon concerts. Mathieu Lussier concludes that the Schubertiade was so memorable because it was a combination of all these elements. Such dignity, open-mindedness, and joy of sharing surely will nourish the Pentaèdre Quintet for years to come.
[Translation: Alexandra Gorlin-Crenshaw]
---
For more details on Pentaèdre's 25th season, please visit www.pentaedre.com.
---
Version française...
---