Marie Chouinard: Year in Movement

by Nathalie de Han / September 1, 2010

---
Flash version here.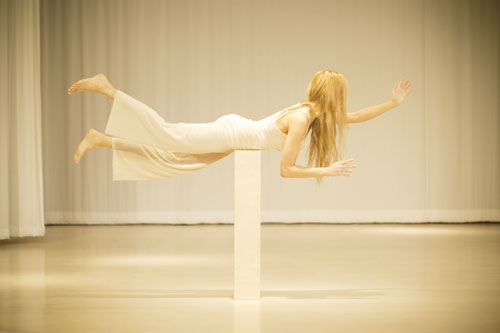 Marie Chouinard, gloires du matin. Photo JF Gratton
This year is an auspicious one for choreographer Marie Chouinard. This season, the flamboyant Montrealer is celebrating the 20th anniversary of her company, and has even reached the pages of influential French dictionary Le Petit Larousse Illustré! The incontrovertible lexicon thus established the importance of this dancer-author-choreographer's experimental and daring repertoire. What better reason to discuss this secretive artist and the shows that make this year all about Marie Chouinard!
Since the beginning of her career, a provocative intelligence has been palpable in the work of this choreographer. In 1978, Cristallisation propelled the artist to the rank of "new artist of the body". In 1990, after a solo ­career that took her around the world with more than 30 new pieces, Marie Chouinard founded her own company and devoted herself to creating works for the group. The choreographer is constantly working hard to push the limit of stage performance. She captivates audiences as well as critics, and has won the esteem of contemporary dance and arts communities. Marie Chouinard has received numerous awards, including a Bessie Award in New York in 2000, the Governor General's award for Performing Arts in 2003, as well as having been appointed an Officer of the Order of Canada in 2007. Most recently, she has earned the 2010 Artistic Merit Award from the Imperial Tobacco Foundation, which wished to recognize the constant pursuit of innovation and originality espoused by the Compagnie Marie Chouinard. The prize comes with a $75,000 grant.
Among her supporters is the Sao Paulo Companhia de Dança, which incorporates Prélude à l'Après-midi d'un faune into their repertoire this month. Carol Prieur, performer par excellence of this solo dance, went to Brazil to teach it to three dancers from the renowned Brazilian company. Closer to home, the National Ballet of Canada will, under the direction of celebrated artistic director Karen Kain, once more perform 24 Preludes by Chopin, created in 1987 by the Compagnie. The piece, which will kick off the Danse Danse season, has been in the Torontonian company's repertoire for a year. "It was a chance to revive the piece with a much larger number of dancers," recalls Marie Chouinard. "In my company, I have 10, 12, or 14 dancers, depending on my needs. In Toronto, the cast has seventeen or eighteen. This gives energy to the piece and an extraordinary scope for certain movements. Four or five additional dancers is enough to create the impression of a crowd, everything is at the level of perception... it's one of those magical and extraordinary things that can happen on stage!" It's a question of geometry and mathematics, explains the choreographer: mentally, an audience will easily group a set of six dancers into two trios or three duos, while seven dancers appear as a group. A mixture of satisfaction and simplicity in her voice, she concludes, "I'm very happy when a repertoire ballet performs my works, because it gives them a dimension that I, with my company, can't."
Next spring, Marie Chouinard will present three different shows in one week, still in collaboration with Danse Danse, and this time, Montrealers will be part of the action! For the occasion, Chouinard will revive the very first piece of her company, Les Trous du ciel, a show for which she is both choreographer and artistic director. This northern fable for twelve dancers follows the wanderings of a single isolated band in a bright immensity. Chouinard is also responsible for the composition of the vocal parts: "The auditory aspect of the show is formed by the dancers' voices. The performers are equipped with wireless microphones and their breath, sounds, exclamations form an invented language that gives rhythm to the performance." The choreographer remarks, "In my approach to the body, I've always included breath and voice, and the more I advance, the more I discover how to use the body in all sorts of ways. And the voice work is pushed even further in my latest creation, Le nombre d'or (live)."
To the delight of audiences, the Compagnie Marie Chouinard will move on to two pieces that have marked the landscape of both dance and the public imagination: Orpheus and Eurydice, as well as bODY_rEMIX/les_vARIATIONS_gOLDBERG. "These are pieces that do well and continue to be part of our repertoire, because the company wants to keep them alive — for example, we've been doing The Rite of Spring for 15 years! bODY_rEMIX/les_vARIATIONS_gOLDBERG is very famous because of the television show that was broadcast across Europe as well as on ARTV, but the dancers on stage are so wonderful that audiences continue to come see them."
This year, the Compagnie Marie Chouinard has taken care to display different facets of its work and creativity. As a result, shrewd audiences will have the chance to see the one-man piece, Des feux dans la nuit at the La Chappelle Theatre. "La Chapelle offered to pick up the piece without knowing that we were celebrating our 20th anniversary... So we squeezed the show into the project!" the choreographer says cheerfully. She then turns serious: "Emmanuel Roque, who has been dancing with this company for a long time, will take over the role which was originally created for Elijah Brown in 1999." Des feux dans la nuit is a solo based on La Musique des mots by Robert Racine. Here, Marie Chouinard examines the secrets and ways of a man's world, and the many textures of this masculinity. It must be noted that musician and composer Robert Racine will play the piano at every performance.
Two decades of success calls for celebration. But the impetuous choreographer has never been one for moderation. "I'm an adventurer, I'm always pushing the limits with my creations, and I leave to my brain the task of sorting it all out. Memories, my life… it will do what it wants with all that! I feel like I know nothing and am ignorant of everything. When I start a new piece, I find myself at the edge of the unknown and sort of astonished by my lack of knowledge of the new field into which I'm venturing." This feeling of not knowing stimulates the artist: "I have to find, I have to create."
Marie Chouinard has also created a solo, gloires du matin, for her return to the stage after 20 years. "I was preparing to create Le nombre d'or (Live) and I got the feeling that I had to go back to that way of solo creation, in order to feed the creation of the show." Laughing, the choreographer concludes, "I'm an author who loves creating, an author who is passionate about creating, and that inevitably means putting yourself in a perilous situation. And that's life—something to reinvent every second. I've already made a lot of creations, but that does not at all change the power of that infinite inspiration..." The choreographer's voice trembles with emotion. "And it's something marvellous, something that excites me like a child every time!"
[Translation: Rebecca Anne Clark]
---
Upcoming Chouinard productions in Quebec:
» 24 Preludes by Chopin, Oct. 13 at the Grand Théâtre de Québec, Quebec City; performed by the National Ballet of Canada
» 24 Preludes by Chopin, Oct. 15 and 16 at Place des Arts, Montreal; performed by the National Ballet of Canada
» Orpheus and Eurydice, Dec. 1 at the Théâtre Hector-Charland, L'Assomption
» Étude no1 and Les Trous du ciel, April 5 at Place des Arts' Théâtre Maisonneuve, Montreal
» Orpheus and Eurydice, April 7 at Place des Arts' Théâtre Maisonneuve, Montreal
» bODY_rEMIX/les_vARIATIONS_gOLDBERG, April 9 and 10 at Place des Arts, Montreal
» Des feux dans la nuit, May 10 to 21 at La Chapelle, Montreal
---
Version française...
---