Emmanuel Pahud: Breadth of Breath

by Lucie Renaud / June 1, 2010

---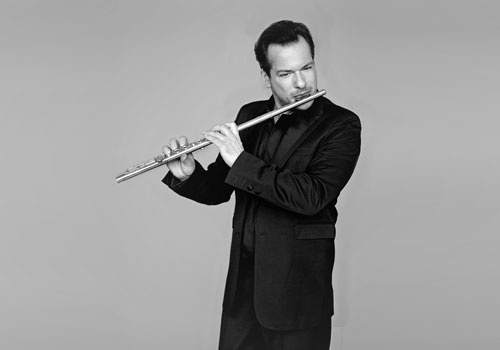 A true star flutist, Emmanuel Pahud possesses the curious ability of renewing himself, multiplying his roles and defying expectations. He is a highly sought-after soloist who captivates audiences in Europe, Asia and the Americas; a dedicated chamber musician whose colleagues range from harpsichordist Trevor Pinnock to long-time friend and pianist Éric Le Sage; a member of the illustrious Berlin Philharmonic; a tireless creator of contemporary works; the only flutist in recent years to sign an exclusive contract with a prestigious recording company; an accomplished jazzman who dialogues with pianist Jacky Terrasson; a pedagogue who slots master classes in the rare empty spaces in his agenda; co-founder of the Festival de l'Empéri in Salon-de-Provence. Pahud flies all over the globe like other people take commuter trains. Amazingly, he shows no sign of spreading himself thin.
Purists might decry his multifaceted approach, but Pahud justifies it with the same conviction he applies to the performance of concertos by Matthias Pintscher, Michael Jarrell and Marc-André Dalbavie, and to his jazz album, Into the Blue. As he explained by telephone from his hotel room in Caen: "I grew up that way, combining two worlds. I was always in jazz clubs and I'd take out the flute from time to time. But improvisation, or better said, 'instantaneous composition,' is an enormous responsibility. It's very different from playing a classical work or even revisiting a jazz standard. It's a window that opens onto another world. We shouldn't be satisfied to look through the window; we should open the door and go out! Specialization is the norm today, but music can reach people in a variety of forms. It should be accessible in compartments, at different times. I could compare this to a megaplex movie theatre with its variety of offerings: we're able to respond to each according to the inspiration of the moment."
Pahud's performance schedule during his stay in Quebec this month will run the gamut from the fluidity, transparency, and effervescence of Vivaldi (in which the flutist will be joined by Les Violons du Roy) to a dense and profuse orchestral brew by Khachaturian. He compares the rarely performed Khachaturian to imposing works by Mahler and Richard Strauss. In the piece, the flutist must struggle on equal terms against the bulk of the orchestra: "This concerto is a monster of virtuosity and a certain amount of courage is needed to take it on, to accept to walk on a tightrope and let oneself be carried along by very long phrases."
With the students at Domaine Forget, he will also revisit repertoire ranging from baroque to contemporary, including necessary detours into orchestral excerpts. "I'd like to be able to come every two years, but my schedule doesn't allow it. I like getting back together with young people from North America, with musicians I wouldn't see so often otherwise." He also loves Charlevoix's unique surroundings, which brings him a new perspective, and finds great pleasure in resuming, almost instantly, friendships born during one of his previous sojourns, as if his absences were mere parentheses. "It's important to transmit accumulated experiences, and I have a lot to tell the students," he affirms. "Being obliged to express ideas in ways we're not accustomed to, taking a new look at certain difficult aspects of playing, or being surprised when a young musician plays an arduous passage with ease, facing situations we hadn't anticipated: all these unexpected moments are inspirational. The process is fundamentally an exchange, equally enriching on both sides." Pahud confesses a preference for young musicians of fiery temperament, whose energy has been patiently channelled during their first years of training and who are primed to develop a unique expressive potential.
Music has dominated Pahud's life from his earliest years. This child of travelling parents was born in 1970 in Geneva (he shares a birthday with the celebrated Wolfgang Amadeus), took his first steps in Baghdad, and at five years old was hooked when he heard Mozart's Flute Concerto #1 being played by a young neighbour in Rome. A few months later, his parents presented him with a flute and lessons, although he admits today he had never imagined the importance the instrument would have in his daily life, or that it would become "an extension of breathing" for him. In 1978, the family moved to Brussels, where he studied under Carlos Bruneel, principal flute of the orchestra of the Théâtre royal de la Monnaie. At 14, he won the Concours national de Belgique and played, for the first time with an orchestra, the concerto that had been a key factor in shaping his destiny.
The young Emmanuel continued his studies at the Conservatoire de Paris under Michel Debost, Alain Marion, Pierre-Yves Artaud, and Christian Larde, graduating with that institution's first prize. He went on to study with Aurèle Nicolet, a major figure among 20th-century flutists. Competitions and awards followed each other at a dizzying pace. In September 1992 he won first prize at the Geneva International Music Competition; in October, Claudio Abbado offered him the position occupied by Nicolet from 1950 to 1959 (and held by Sir James Galway from 1969 to 1975): principal flute of the Berlin Philharmonic Orchestra. Save for an 18-month sabbatical before 2002, Pahud has happily held the position since then.
By 1992, Emmanuel Pahud was already giving about 50 concerts per year; this number has since exploded and he can now be heard more than 160 times annually in the major concert halls of the world (about 75 times with the Berlin phalanx and the others as a soloist or chamber musician). The flutist is convinced that the balance between genres keeps him from being limited to one style or locked into a musical corner. While he recognizes that his technique and virtuosity stem from the French school and the versatility of his tone is more German in quality, he likes nothing better than to surprise the audience. He elaborated further in the French magazine, Traversières: "I don't want to be placed in a category, designated a soloist or an orchestral or chamber musician. I'm simply a musician and I try to embrace all forms of music through the flute. Frankly, I wouldn't like to be recognizable from the first note. I prefer to serve music and make it come alive the way the composer had in mind rather than putting my signature or brand to it."
Pressed to reveal the ingredients of the ideal concert, he laughs. "Not only the ingredients should be considered, but the cook too!" But after thinking for a moment, he answers more seriously: "It's a special setting that everyone is part of, that allows us to share the same moment of life. It can be very intense. On stage, the performer must offer something very intimate, and allow himself to be touched as much as the audience. The process is different every day, depending on the hall. You must try to stay as personal, as individual as possible, even when playing for 2,500 people." To those who doubt the likelihood of winning over such a large mass of people, he fires back by drawing a parallel with speakers who can inflame a crowd by a few purposeful phrases, and with sports fans thrilling in unison when their team makes a terrific play or scores a goal. "The concert experience isn't remotely similar to listening at home; people are still fascinated by its immediacy."
Pahud isn't necessarily aware of the exact moment the magic occurs in a concert. The memory of it may come to him in flashes, while listening to the radio in a taxi or thinking of a place. "Music is a coded language that allows us to make the air vibrate, that evokes emotions and gives everyone a chance to make their own movie," he says. "In this role, it has much more suggestive power than literature or cinema. It becomes the secret garden of each one of us: the composer, the audience members, and the performer." According to him, the performer's role should be taken literally as that of a translator of another person's language and thought, rendered by means of the artist's particular understanding, language, and sensitivity.
Aware of the limited scope of the historical repertoire for flute, he regularly commissions works from his contemporaries. "Our mission is to keep music alive. Without creation, music would be a museum artefact, a dead language like Ancient Greek or Latin instead of a living one. However, after getting to know the composer, we must avoid influencing the content of his work or restricting his field of action." The immediate and enthusiastic reaction of audiences at a number of premieres honours the work of both composer and performer. "This doesn't mean the work will achieve posterity," clarifies Pahud. "A classic goes beyond popularity to become an important part of our cultural heritage, a legacy for future generations."
While appreciating the challenges in the creation of contemporary works, the musician is also conscious that these excursions into the 21st century have influenced his approach to the repertoire and his view of the future of performance as the marriage between the traditional and the new. If the term "tradition" seems somewhat dated, he maintains that tradition must necessarily evolve. As he explained in a 2003 interview: "Our memory of and our distance from events and creations are constantly progressing. Artists like Furtwängler, Karajan, Abbado or Rattle are or were in line with tradition, and make it evolve. Completely unconsciously, they nourish themselves on the past to define the future. That is part of the secret of these great artists." In life as in music, Pahud is a proponent of movement and admits to constantly looking ahead in spite of his immense respect for those who paved the way for him, notably Sir James Galway, Jean-Pierre Rampal, and Aurèle Nicolet. Allergic to labels, he prefers to be seen as a chameleon trying to adapt to the colours of the music he is defending, each phrase bringing him closer to perfection, which, he readily acknowledges, is unattainable.
[Translation: Darcy Dunton]
Emmanuel Pahud at the Domaine Forget International Music and Dance Academy:
» Masterclasses: June 16 to 26
» In chamber music: June 18, 8 p.m., Françoys-Bernier Hall
» With the Quebec Symphony Orchestra: June 19, 8:30 p.m., Françoys-Bernier Hall
» With Les Violons du Roy: June 26, 8:30 p.m., Françoys-Bernier Hall
www.emiclassics.com
www.domaineforget.com
www.violonsduroy.com
www.osq.qc.ca
---
Version française...
---