Belles sœurs: the Adventure Continues!

by Nathalie de Han / April 1, 2010

---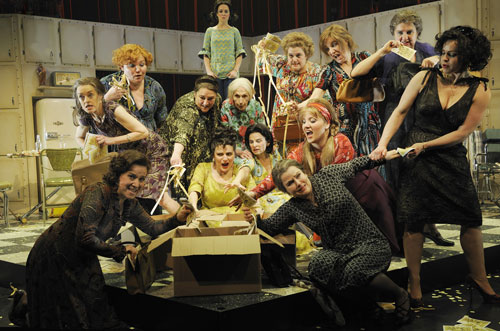 More than 40 years ago, according to Alonzo Le Blanc in Action Nationale, Michel Tremblay's plays shattered the conventions of Quebec theatre "like the advance guard in a front-line assault." The unleashing of Les Belles-Sœurs on Quebec audiences came like a bombshell, and the result is still sending out sparks in different parts of the world. Now, with the staging of Belles-Sœurs, the musical by René Richard Cyr and Daniel Bélanger, a new echo of this ongoing adventure begins this spring at Théâtre d'Aujourd'hui, in Montreal, and continues through the summer at the Rolland-Brunelle Hall of the Joliette Cultural Centre.
"The reputation of Les Belles-sœurs was pretty sulphurous," Michel Tremblay reminds us. Even before the premiere set off a storm of conflicting, fiery reactions in March 1968, controversy surrounded the young Montrealer's second work. "The play had existed for three years and we couldn't get it performed," recalls the playwright and novelist. Its supporters weren't wealthy enough to produce it and its adversaries were too relentless. The day after opening night, opinions became even more polarized, with partisans crying masterpiece and genius, and detractors crying horror and scandal. The duo of Michel Tremblay and director André Brassard were stunned by the extent of the enthusiasm and hatred the play provoked.
Michel Tremblay, who at age 22, won first prize for Le Train, judged best work in a Radio-Canada competition for young dramatists in 1964, continues: "I was at a point in my writing that, naively and almost without thinking, I wanted to give a voice to the women who brought me up." The celebrated Quebec author points out that in those days, North American theatre in general and Quebec theatre in particular was written by men for men, and actresses were relegated to playing secondary roles or comic characters. "The great social movements—the feminist movement and Quebec nationalism—were coming into their own, and Les Belles-Sœurs would be part of that larger whole." Indeed, this chronicle of the lives of little people, finally told in their own language, went on to conquer the world. "Without being arrogant, I think things that change the world and people—all in due proportion, of course—stem from the deep sincerity of the artists concerned." Yet, Tremblay confesses that no one could have predicted such a life for the play. He was very surprised when, in 1972, theatre producers in Toronto telephoned to tell him they were interested in staging his works in English. The translation and production of Forever Yours, Marie-Lou was followed by the introduction of Les Belles-Sœurs to the English-speaking world. The author says he "had the impression of seeing a play by someone else" when he attended a performance in English, even though he was already familiar with the demands of the process, having done a very free adaptation of Aristophanes's Lysistrata in 1969, with the collaboration of director André Brassard.
Classical Greek theatre has been a major source of inspiration for the native son of Plateau Mont-Royal. "My aim was to assemble the women of Quebec," he explains. In Les Belles-Sœurs, spectators are made aware of the characters' justified frustration with their ungratifying daily lives. One after the other, in duets, and in chorus, the women shout their rage and powerlessness to the audience.
I watch the kids like a hawk, laugh at the old man's jokes, eat the old lady's food, which everyone says is better than mine...At night we watch TV. I'm sick of this stupid, rotten life! This stupid, rotten life! This stupid rotten life. This stup... (1)
The use of the chorus in Greek tragedy deeply impressed the novelist and playwright and has been an important model in his works. In a January 1994 interview for Le Magazine littéraire, he explained, "In the theatre, a single character speaks for him- or herself, but when several people say the same thing at the same time, they're not adding to each other, they're multiplying. They become a collective voice."
Then I work, I work like a demon, I don't stop 'till noon. I wash: dresses, shirts, stockings, sweaters, pants, underpants, bras, the works. I scrub it, I wring it out, I scrub it again, I rinse it...My hands are chapped, my back is sore, I curse like hell. (2)
The juxtaposing and alternating of speeches in chorus such as the "ode to bingo," and the "quintet of the stupid, rotten life," with effective monologues, are among the keys to the play's success, creating the regular rhythm of irrepressible outbursts that so well convey the exasperation of housewives doomed to raising children and serving others in perpetuity. The women declaim the despair that's eating them up and hammer the stage floor with their feet, opening the way for the feminist protest taken up by their daughters.
Always unassuming, Michel Tremblay paused, amused at having called his own monologues effective, before continuing, "In Belles-Sœurs, the musical support adds an emotional dimension that results in some great moments from actresses Marie-Thérèse Fortin, Maude Guérin, Guylaine Tremblay, and Kathleen Fortin." He adds: "I understand why Daniel Bélanger wanted to go back to the beginnings of pop music. He was right, since the play is practically a period piece by now, and I believe it should stay in that time period."
The brilliant team of creators of the musical Belles-Sœurs is unanimous in underlining the extraordinary poignancy the Soul influence in the music gives the monologues of these unhappy women. Singer-songwriter Daniel Bélanger began by asking what the fifteen characters would have listened to on their kitchen radios. The very popular musician, recipient of 22 Félix Prizes, aimed for catchy memorable tunes. "When we like an album, we listen to it over and over. With musicals, not many people show their appreciation to the point of coming back to see the show ten nights in a row!" Looking back, Bélanger is clearly tired but satisfied. "I presented a first 'demo' to the girls...I sang all of it in falsetto," laughs the singer, his voice raised an octave. "It wasn't quite as convincing then!" The joke over, his voice redescends and fills with emotion as he describes the effect, power, and impact of hearing all fifteen voices of Belles-Sœurs at once.
The Montreal singer was pleased to discover unexpected poetical dimensions in preparing the production: "Sometimes when they sing, the cast reminds me of a choir of little convent girls, which makes sense, since we can suppose the characters went to schools run by nuns." Albeit steeped in the pop tunes of the era, Bélanger insisted on a contemporary sound, with no hint of pastiche or caricature. "I wanted the music to have my imprint, also so it would be coherent within my body of work," he says.
The pleasure of the show's creators is real. At the press conference, they were incredibly exuberant, burning with the desire to communicate their enthusiasm, heaping sincere praise on the actresses, the artistic collaborators, and the production as a whole—an enterprise that nonetheless required a mighty effort. Musical director Stéphane Aubin, who was also responsible for the musical direction of Antoine et Cléopâtre (libretto and music by Lewis Furey), recalls the decisive stages in the meticulous construction of the score: "After extracting the melodies and vocal harmonies from the songs, we had to take the time to establish each actress's singing register—mezzo or alto. Classic head voices would have been totally out of place in this context." Then, with the inestimable assistance of Monique Fauteux, Aubin honed each vocal line, eliminating every false note or needless flourish. Aubin's hand traces an almost imperceptible, fatalistic gesture as he resumes: "There's no mystery to it: it's a long, unavoidable process." The next step was to work on the sound environment. Lightweight portable microphones augment the singers' range, and live music supports the performance, with three musicians on stage accompanying Aubin, who plays the piano. In his view, the musical theatre is a difficult genre to handle. Theatre and musicals each have their own set of rules; the challenge lies in getting them to work well together. "We can never lose sight of the play, even when rehearsing the choruses, because the characters have to lead in with just the right amount of punch."
It is crucial to work on tonality so that each character can project her voice in a way that seems natural and effortless. This flexibility, in tune with the spirit of Belles-Sœurs, gives the singing voices of these ordinary characters a superb texture and a dangerously high energy level. The anger consuming the 15 belles-sœurs continues to galvanize the audience, as do their bursts of joy. The work has remained astonishingly modern, René Richard Cyr rightly remarks. A great friend of Tremblay's, the theatre director talks cogently and energetically about the way the musical version deals with the condition of women, shedding light on the distance travelled and giving us a glimpse of how far we still have to go. Belles-Sœurs the musicalis an even stronger condemnation of the consumer frenzy in which we're enmired, accumulating air miles and other customer loyalty rewards. Cyr claims to have appropriated the work both as an author and an adaptor. Besides the stage direction, he was responsible for the script and the song lyrics, multiple functions "that I do more and more often without really being used to it," he modestly adds. He says he cut a lot, reworking the text and carving out fifteen songs. The indefatigable theatre director, slightly hoarse but convincing, finally arrives at the lavish cast. "Strictly the finest!" raves Cyr. His evaluation includes the words pleasure, fluidity, abandonment, and communion. "There's no million-dollar machine behind us and in spite of the scope of the adventure, Belles-Sœurs the musical has a home-grown side to it."
Was that what convinced Michel Tremblay to grant permission for an adaptation of the play, even if the dramatist was burned by a previous attempt? "I've been familiar with René Richard Cyr's sensitivity and talent for 24 years now," replies Tremblay. He concludes good-humouredly: "The play has lived its life. It's a consenting adult and I think it's good that other people, more than forty years later, want to do another version of it."
Germaine Lauzon will be played by Marie-Thérèse Fortin; Rose Ouimet by Guylaine Tremblay; Pierrette Guérin by Maude Guérin; Angéline Sauvé by Sylvie Ferlatte; Des-Neiges Verrette by Kathleen Fortin; Yvette Longpré by Michelle Labonté; Marie-Ange Brouillette by Suzanne Lemoine; Lisette De Courval by Hélène Major; Thérèse Dubuc by Dominique Quesnel; Gabrielle Jodoin by Monique Richard; Lise Paquette by Édith Arvisais; Linda Lauzon by Marie-Evelyne Baribeau; Ginette Ménard by Maude Laperrière; and Olivine Dubuc by Janine Sutto. Besides Stéphane Aubin as music director and on piano, Martin Turcotte plays drums and other percussion instruments, François Marion is on double bass and electric bass, and Serge Arsenault plays accordion, keyboard, and trombone.
[Translation: Darcy Dunton]
---
(1) and (2). Les Belles-sœurs, translation by John Van Burek & Bill Glasco. Vancouver: Talonbooks, 1974, pages 15 and 16.
» An exhibition, Au cœur des Belles-Sœurs, will be held from June 15 to September 6 at Espace Création Loto-Québec (500 Sherbrooke St. W.).
» Belles-Sœurs, the musical. Adapted by René Richard Cyr and Daniel Bélanger from the play by Michel Tremblay. From March 29 to May 1 at Théâtre d'Aujourd'hui. From June 25 to September 4 at Rolland-Brunelle Hall of the Joliette Cultural Centre.
---
Version française...
---