Renata Tebaldi (Pesaro, Italy, February 1, 1922 – San Marino, December 19, 2004)

by Joseph So / May 14, 2005

---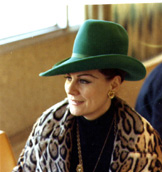 To opera fans of a certain age, the passing of Renata Tebaldi represents the end of an era. Often referred to as the greatest Italian prima donna of the last half century, Tebaldi made her debut as Elena in Boito's Mefistofele in 1944, and bid farewell to the operatic stage in three Met performances of Otello in January, 1973. She then embarked on a series of recitals, eventually drawing her career to a close with an American farewell recital on February 19, 1976, at Carnegie Hall, followed by a recital on the stage of La Scala shortly thereafter.
Tebaldi was celebrated for her beautiful voice, her sincerity of expression and direct communication, and her warm and generous personality both onstage and off. My very first live opera experience involved Tebaldi snging La Gioconda, one of her signature roles, at the Met. I was hooked for life! In its prime, her voice was an exceptional instrument that enveloped you in its voluminous, velvety sound. One marvelled at her seamless legato, affecting portamento and lovely mezza voce. She made her dramatic points onstage through sincerity of conviction rather than by means of artifice. It is for this reason that Tebaldi had the longest string of sold-out performances of her generation at the Met – two hundred and sixty-seven performances in seventeen seasons.
Her hold on the public remained undiminished long after her retirement, as is testified by her return to New York in December 1995, after an absence of nineteen year. Thousands of well-wishers lined up patiently to greet her, in a line that extended from the concourse level of the Metropolitan Opera House, up and out onto the Lincoln Center Plaza, and as far as the sixty-sixth street subway station. Originally scheduled to sign autographs for 90 minutes starting in the early afternoon, she was overwhelmed by the reception and stayed well into the evening until she had greeted every fan. By the end, she was quoted as saying, "I am tired, but happy!"  The next evening, she was the guest at a Met performance of Un ballo in maschera, where she was greeted with waves of ovations, and with an enthusiasm greater than that received by the artists onstage.
Throughout her career, Tebaldi was billed as Maria Callas's rival, a scenario not so much real as manufactured by agents and record executives. The two ladies had completely different voices and their repertoires rarely overlapped. While Callas reigned supreme at La Scala throughout most of the fifties, Tebaldi was the darling of the Met. In a career as long as hers, there were bound to be ups and downs. After the death of her mother, Tebaldi reached an emotional low point that affected her voice and culminated in 1962 in a vocal crisis. A hiatus from the stage and a reworking of her technique allowed her to resume her career in early 1964, albeit with somewhat diminished vocal powers. Nonetheless, her return delighted devoted fans. 'Renata is back'. A Tebaldi evening at the opera was always festive, and her triumphs were greeted with vociferous applause. On evenings when the bloom of youth deserted her, the audience suffered respectufully alongside the singer. When I first heard her in 1967, the famed Tebaldi sound, especially the top register, was not quite what it had been. The middle voice however, was as gorgeous as ever, and her personal magnetism remained unimpaired.
Rather conservative artistically, Tebaldi avoided venturing outside her core repertoire of Italian operas by Verdi, Puccini, and several verismo composers. Only early in her career did Handel, Mozart and Wagner figure importantly. She also avoided singing in foreign languages – her Eva, Elsa and Elizabeth were sung in Italian. She turned down Tatiana at the Met because she didn't feel comfortable singing in English; and according to Decca executive Terry McEwen, Francis Poulenc wrote the role of Madame Lidoine in Les Dialogues des Carmélites with her voice in mind. Perhaps the greatest missed opportunity was a rumoured Sieglinde opposite the Brünnhilde of Callas.
Tebaldi spent her retirement years quietly and with dignity, occasionally teaching masterclasses and receiving the many tributes with grace. One of these was a Tebaldi rose dedicated to her by the French. Many of her admirers would call unfailingly every year on her birthday. Tebaldi spent part of the year at her summer home in San Marino, and would return to her apartment in Milan during the opera season. She always expressed a certain satisfaction knowing that young people who never heard her sing were now discovering her voice. Indeed, it is through the medium of recordings and films that the art of Tebaldi lives on.
---
Version française...
---