Natalie Dessay in Conversation

by Wah Keung Chan / May 14, 2005

---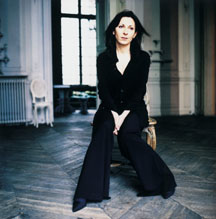 Soprano Natalie Dessay is considered France's leading opera singer. A favourite at the Metropolitan Opera and a star of the EMI Classics recording label, she is loved for her flowing coloratura and dramatic characterizations. Her disc "Amor" just won the Grand Prix de l'Académie du disque lyrique. Despite worrying fans two years ago when she underwent vocal surgery, Dessay returned with triumph last year and took on new repertoire, notably Lucia, to rave reviews. Last December she underwent a second surgery. On May 8, Dessay will make her first vocal appearance at the Opéra de Montréal's Signature Gala. We had the chance to conduct an email interview with her, where she discussed her health, future plans and interplays between music and family.
LSM: Tell us about your singing technique. Your voice seems to be getting warmer; how do you feel your voice developed through the years?
ND: My technical approach of singing is to try to achieve the greatest results with as little effort and air pressure as possible. Like most singers, especially female singers, my voice has been naturally developing into a warmer register. I follow and monitor this natural process with the different teachers and coaches who help me in my vocal and musical work.
LSM: Tell us about your vocal ­problems…
ND: My first and second vocal troubles were the same problem that was just dealt with in two steps. We thought operating on the first cord would be enough but we didn't know that a polyp was also on the second cord. Because I couldn't recover really well during the 2 years after the first operation, I then decided to go through a second operation of the second cord. Having only two cords, I may expect it's over now!
LSM: You are slowly changing repertoire (your Lucia was a triumph) and in interviews you have mentioned your desire to sing Traviata. Why?
ND: I am changing repertoire because my voice is changing towards it. I don't really choose, I just follow the voice. Why Traviata? Because it's a real challenge. It's a wonderful portrait of a woman, musically, vocally, and theatrically.
LSM: Most of your repertoire (stage and on disc) is in opera. Are you interested in recitals of melodies and lieder?
ND: I don't like recitals because it's the most difficult thing to prepare and to achieve. I don't really feel comfortable in that matter and I prefer to work with a larger team in opera. But I love Lieder and songs, especially by Richard Strauss, Rachmaninov, Poulenc, Brahms...
LSM: What was the key to your success in two competitions?
ND: Nerves and high notes.
LSM: You converted to Judaism for your husband and family. Have you had a chance to explore Jewish vocal music?
ND: Although I have converted to Judaism for 15 years, I have never found time to explore any Jewish repertoire, but why not? One day!
LSM: You have two children. How does your music affect your parenting?
ND: I force them to play the piano!!
For ticket information, call 514-985-2258.
---
Version française...