Eve Queler: Following the Music

by Joseph So / May 14, 2005

---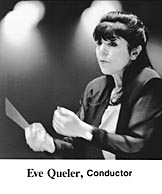 To the opera aficionado, the name Eve Queler is synonymous with the New York scene. As music director of the Opera Orchestra of New York (OONY) for the last thirty-four seasons, Queler has conducted more than ninety operas in concert at Carnegie Hall, in a wide-ranging repertoire that included many rare works, introducing them to the public before the big opera companies got around to it. Queler has also worked with some of the greatest voices of our time, the likes of Placido Domingo, Nicolai Gedda, Richard Tucker, Carlo Bergonzi, Beverly Sills, Montserrat Caballe, and Joan Sutherland. With her keen ear for talent, Queler nurtured the young Renee Fleming, Aprile Millo, and Deborah Voigt, who all got their start with OONY. The native New Yorker has also maintained a busy schedule worldwide, having guest-conducted the Cleveland and Philadelphia orchestras, and the opera companies of Hamburg, Frankfurt, Barcelona, Sydney, Kirov and Bonn, among others. She is also one of the most decorated women in classical music, the recipient of two honorary doctorates and numerous awards. In 2003, she was named a Chevalier de l'Ordre des Arts et des Lettres by the French Minister of Culture for her commitment to French operas.
LSM recently caught up with her by phone in New York, where the peripatetic maestra had just returned after a run of Le Nozze di Figaro at Oberlin College, and is deep in rehearsal of Mignon with star mezzo Stephanie Blythe. Her next major assignment will be Les Contes d'Hoffmann with Opera de Québec in May. This will be her fourth production of Hoffmann, the most recent being six performances in Pretoria, South Africa, with tenor Keith Ikaia-Purdy. Queler is no stranger to Canada, having 'guested' with the Montreal and Edmonton Symphonies. She also did some spirited conducting of Il barbiere di Siviglia with Opera Hamilton in the 90s.
LSM: What attracted you to French music and French operas?
EQ: French operas have so much interesting but obscure material that has never been heard, or not heard for 50 years or so. And I was fortunate in the 70s to have the participation of Nicolai Gedda, whose repertoire of French and Russian operas was incredible. I did Les pêcheurs de perles, Oberon, Lakmé, and Benvenuto Cellini with him.
LSM: You are famous for your success in engaging big stars as well as up and coming singers. What is your secret in getting these artists to sing for you?
EQ: Well, I was an accompanist and coach for 15 years. I played La juive for Tucker and Werther for Gedda, and I got to know them. In some cases, I offered to singers what they wanted to sing, like Le Cid at the request of Placido Domingo. Caballe asked me for Herodiade, but then she got sick! But most of all it is because I am interested in legato and bel canto singing and phrasing. I breathe with the singers; I feel that I am doing the greatest service for the composer by making the singers sound good.
LSM: How do you manage to inject drama into a concert performance?
EQ: We have done them semi-staged, like La Dame Blanche (with Renee Fleming).  With Benvenuto Cellini, you have to do some staging. We have in the contract that singers are not supposed to use the score; they are supposed to memorize the whole thing. Some do and some don't. Some singers are so accustomed to a prompter, like Nicolai Gedda. And I remember Eva Marton in Fedora, who had to use the score.
LSM: You are a real pioneer – you were conducting when there were very few women conductors. What drew you to conducting?
EQ: Just ability (laughs). When I was a repetiteur, I slowly became aware that it was the best thing for me to do.
LSM: There weren't any women conductors when you were starting out, except Sarah Caldwell…
EQ: She and Antonia Brico were the only ones. The schools were not admitting women. I studied with Bamberger at Mannes, but not in the conducting program. I couldn't get into the program at Manhattan or Juilliard – they just wouldn't consider it.
LSM: You also studied conducting with Joseph Rosenstock…
EQ: Right, and also a little with Igor Markevitch, and I took a very intensive month of study with Walter Susskind of the St. Louis Symphony. Rosenstock was private and not with any school. He spoke to me on the telephone and said, 'I will teach you symphony because you have no chance with opera, but some little orchestra somewhere may hire you. Bring me the Beethoven First for your first lesson.' I handed him the score…he played the piano and I conducted. He said, 'I will teach you opera because in fact you have a chance'. That was a big turnaround for him. Initially he didn't expect to take me seriously. That was around 1970. At that time he was conducting Figaro and Rosenkavalier at the Met.  
LSM:There were so few women conductors in your day. Did you have a role model?
EQ: No, I got to make my own role model. I had a husband and children. I had to do my career differently than these other girls who are single. Simone (Young) has children, but I don't think the others do. You are much freer when you don't. I was offered positions in Seattle and Edmonton but I didn't feel I could do that. Then I had this offer from Fort Wayne and my husband told me I had to go. I broke my contract with New York City Opera. I asked Julius Rudel if he would give me one performance, I would stay.  He felt that he couldn't. Years later he did. But at that time, he felt that the orchestra would rebel…
LSM: Now with so many women conducting students, why do you think there are still proportionately so few women conductors?
EQ: Maybe it is the management, I don't know. I also think it is financial. Women have lots of medium (level) jobs, and the regional jobs don't pay so well. Perhaps there is a glass ceiling. I never had the backing of an important conductor. Rosenstock was my teacher but he never pushed me. Marin Alsop had the help of Leonard Bernstein, and Daniel Barenboim pushed Simone Young. He gave her status by hiring her at Bayreuth. I have conducted at Hamburg, Frankfurt, Bonn, and they asked me back. I feel I am appreciated. I have wonderful rapport with my audience at OONY. I never had a feeling that the audience didn't want me because I am a woman.
LSM: What advice would you give to aspiring women conducting students?
EQ: That is so difficult! My ear is a very important part of my talent, and as a pianist my ear was not necessarily used. Someone recently asked me to help him with his first Tosca. He couldn't figure out how to organize it, so I showed him how I organize my score, how I analyze it, break it down, and how I memorize it. I do have a sixth sense. I am connected to my ear. If you see me conduct, I am in fact a singers' conductor. I conduct a clarinet solo, the way it breathes and phrases, the way I would conduct an opera. What does Casals say – a phrase is a phrase? A Bach phrase is no different from a Rachmaninoff phrase. I had no plan for the career I have. I was just following the music – you know what I mean? 
---
Version française...