Christian Gerhaher

by Danielle Dubois / May 14, 2005

---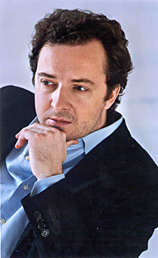 Christian Gerhaher is a self-described autodidact. "You're responsible for yourself," says the German baritone who was playing the violin and viola long before he turned to singing. Despite having been exposed to music from an early age, Gerhaher did not become familiar with the vocal repertoire until later, when he joined the choir directed by his violin teacher.
The discovery of his voice at the age of 16 did not cause Gerhaher to rush into a professional singing career. His interest in singing developed over time, in particular while he was studying medicine in Munich. It was then that Gerhaher heard Herman Prey perform Schumann's Dichterliebe. Touched, impressed and emboldened, Gerhaher sought out university student Gerold Huber, the son of his violin teacher, to be his accompanist. The two soon began developing their own musical program. At this point Gerhaher was still weighing his career options. "There was much going forward and backwards, thinking about medicine and singing." By the time he had completed his medical studies in 1998, the decision had been made. Two days after his last exam, Gerhaher was making his opera debut.
Although he still performs a couple of operas a year, Gerhaher has turned his attention to art songs. Already, his lieder interpretations have earned him a host of prestigious awards such as the 2002 Echo Klassik, the equivalent of the Oscar in the German recording industry, which he received for his recording of Schubert's Winterreise. He reaped a second Echo Klassik in 2004 for his CD of Schubert's Die schöne Müllerin (Arte Nova).
On the subject of success, Gerhaher remains reserved. "The world of classical music is very, very small. I'm simply glad to have the opportunity to perform," says the singer, who lists Bach, Schubert, Schumann, Mahler and Mozart as his favourite composers. As for repertoire, Gerhaher harbours a strong dislike for operetta, which he describes as a "perverted kind of music. There are too many things that aren't serious."
It comes as no surprise then that Gerhaher feels right at home with some of the more sombre pieces of Schumann's Dichterliebe, the song cycle he will be presenting for his Montreal recital this May. Despite receiving many rave reviews for this recording, the baritone remains humble. "The ideal of singing is never reachable," says a reflective Gerhaher. "I have been able to use my voice properly, although perhaps not in a perfect way."
An admirer of José Van Dam and George London, Gerhaher is particularly sensitive to what he calls the beauty of the sound, something he readily ascribes to singers such as Fritz Wunderlich. "Beauty of the sound means getting the opportunity to attract the mental attention of people listening, to make them interested. That is the ideal, to attract attention for the work you are performing. You don't just do it for the applause – you do it for the content of the work. Everything about singing is difficult. Memorizing is difficult, even the melody, is difficult – there is no easy piece. Above all, there is no virtuosity in singing. A simple Schubert line can be harder than the most difficult virtuosic excerpt."
Respectful of the great singers whose masterclasses he has attended – fans will recognize the names of Dietrich Fischer-Dieskau, Elisabeth Schwarzkopf and Inge Borkh — Gerhaher quickly shies away from calling them great teachers. "A singer must learn singing himself, a teacher can't tell you how to sing," says Gerhaher who adds that he stopped taking lessons after only three weeks. Himself a teacher at the Musikhochschule in Munich, Gerhaher admits he often finds it difficult to juggle students with a busy performance schedule.
Despite his reservations with respect to teaching, Gerhaher is quick to share his admiration for Fischer-Dieskau, an artist to whom he is often compared. "Fischer-Dieskau made lied singing into vocal chamber music. Before him, interpretations were very subjective and sentimental. It was Fischer-Dieskau who transformed lied into serious music making." Gerhaher laments the fact that Fisher-Dieskau's legacy of objective singing is slowly vanishing, a phenomenon the baritone is at a loss to explain.
"Singers often think of themselves as artists," says Gerhaher, who believes many singers have a misconstrued view of their role as performers. "A singer is to a great degree a craftsman. The main artist is the composer and the poet," remarks Gerhaher, who adds that honesty is what is most important for the singer. "You need to be honest with the work in order to succeed. Being honest means that you can't totally understand what the works mean. You should nevertheless understand as much as you can. If you provide an overwhelming interpretation, you won't convince the audience. The less you put of your personal life into the interpretation, the better the interpretation."
If there are any personal overtones to Gerhaher's interpretations, they are due to his intimate collaboration with long-time accompanist Huber. "We are musical brothers," explains Gerhaher. "For us, working together is very, very easy. With new pieces, we can go immediately to the core." Although he grants that working with other pianists might provide new sensations, Gerhaher would be unwilling to jeopardize the relationship. "Music works between us like a marriage. Just as I don't betray my wife with other women, I don't betray my pianist with other pianists."
An exclusive artist of the RCA Red Seal label, Gerhaher has a few recording projects in view, among them Haydn's Orlando Paladino, Mendelssohn's Elias, as well as more Schumann – Das Paradies und die Peri this time. He also continues to perform regularly in Spain, Great Britain, the Netherlands, Germany, Austria, America and Japan. In a field where one can never rely on security, Gerhaher holds fast to what certainties remain. "What isn't changing is the will to perform a good recital." Montreal audiences will be able to judge for themselves when Gerhaher performs his acclaimed interpretation of Schumann at the end of May.
May 27 2005, 7:30 pm
Musical Society André Turp presents: Christian Gerhaher, baritone, Gerold Huber, piano, Works by Schumann, Pollack Hall, (514) 397-0068, www.turp.com
Deux grandes voix pour la Société musicale André-Turp
En ce mois de mai, la Société musicale André-Turp accueille également deux artistes lyriques, étoiles montantes de la scène lyrique mondiale.
Le dimanche 15 mai à 15 h, à la salle Pollack, le ténor allemand Jan Kobow nous invite à entrer dans l'univers dramatique de l'ultime cycle écrit par Franz Schubert, Schwanengesang. Sa venue à Montréal coïncide avec la sortie de son premier enregistrement d'une oeuvre du maître allemand, soit Die schöne Müllerin. Suite au récital auquel la SMAT vous invite, Jan Kobow entreprendra de porter au disque, toujours avec la précieuse collaboration de Kristian Bezuidenhout au pianoforte et pour la maison de disques ATMA, ce dernier cycle de Schubert, que vous aurez la chance de découvrir ou de réentendre à votre plus grand bonheur. (514) 397-0068 - info@turp.com (David Lapierre)
---
Version française...
---