Alexander Brott: 75 Years of Music in Montreal

by Kristine Berey / April 9, 2005

---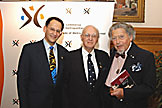 The seed for Alexander Brott's newly-published autobiography Alexander Brott: My Lives in Music was planted 20 years ago by his late wife Lotte. Now, with the help of the author's sons Boris and Denis, brother Steve and writer/researcher Betty Nygaard King, 75 years of music in Montreal has finally been recorded.
The narrative is both a personal memoir and a cultural history of Montreal. Reading it is like having a leisurely conversation with the renowned maestro, as he recalls key moments from his professional "lives" as violinist, conductor, teacher and consummately Canadian composer.
The book begins with a bang, literally, as a furnace explodes at the CBC during a 1948 recording session, killing one person and maiming the Steinway grand piano. "It was a defining moment, the first time he came face to face with mortality," Boris explains. "He says that after that, everything was a plus."
The book then shifts back through time, illuminating different aspects of Brott's life not strictly chronologically but as overlapping themes. We are introduced to the McGill String Quartet, the ensemble that eventually became the enduring McGill Chamber Orchestra, as they rehearse and perform in one of their first rehearsal spaces, a barn:
"Our advertising consisted of a loudspeaker system on an old truck which would drive around announcing the concerts," Brott writes. "The members of the audience brought their own kitchen and dining room chairs [...] Although the barn was all cleaned up, the odour of cows permeated the walls. The building was all wood -- no synthetic concrete and metal -- so its acoustics were what we call 'live', meaning reverberant but with not too much of an echo. Since string instruments are also made of wood -- a natural substance which resonates -- they sounded wonderful in the ambiance of the old cattle barn."
We are also treated to glimpses of a pre-Place des Arts Montreal, where the Montreal Symphony performs in high school auditoriums and freelance musicians accompany silent films, before inevitably losing their employ to the "talkies."
We learn that at one time music was an Olympic event, and that while 12-tone music was discouraged in Soviet Russia, the authorities there were very much "au courant" of what was being produced in America. "They collected this music to keep in touch," Brott reasons. "Even in music the Soviet system was very thorough at information gathering."
We witness the expansion of the quartet into the McGill Chamber Orchestra, and follow Brott as he and Lotte organize concerts at such quondam venues as the high school gym of Le Plateau, the Montreal Forum and the Maurice Richard hockey arena (before it became the Velodrome). We join the musicians "under the stars" at the Mount Royal Chalet where Montrealers flocked with blankets to sit on the lawn and listen to orchestral music that was accessible, both musically and financially. "During the late 1930s the Montreal Symphony could not fully employ our city's finest musicians, so in order to earn a decent salary we had to teach, play in vaudeville theatres, and find other freelance work," Brott remembers. "I was convinced that if we could set high performance standards, program a mix of old and new, European and Canadian compositions, and engage the best guest artists from Canada, America and Europe, we could make chamber music take root here. I'm as devoted to that belief today as I was over sixty years ago."
As a composer, Brott greatly admired the "master of counterpoint" Paul Hindemith: "Hindemith has a compositional voice that makes his work immediately identifiable. He is one of the most original and forceful composers of the 20th century. He combines modern devices such as atonality with polyphony that stems from Bach."
Although he experimented with different styles and incorporated folk elements into his works, Brott's musical language is essentially tonal. He never embraced the modernist trends in music, such as musique concrète, that came into vogue in the seventies.
"I wrote several pieces using the twelve-tone technique but I've never been particularly attracted by it," he writes. "My early compositions were mainly Romantic and my other works were more along the Neoclassical line -- some with a satirical bent, since I believe the greater truth can be told through jest."
As a performer, Brott firmly believes that music must be expressive in order to be effective: "There are many theories about the interpretation of Baroque music... Some performance practices suggest a complete detachment with no gradual gradations of dynamic, no crescendos and diminuendos and little vibrato, only planes of either loud or soft. I disagree. I believe the instruments of that time were capable of many gradations of colour and dynamic. Though this may not be the popular view of twenty-first century authorities, I point to books on performance practice written by masters of the time, such as Francesco Geminiani who clearly demonstrates in Art of Playing the Violin, (1740) that crescendos and diminuendos and vibrato were used during the period."
Alexander Brott's contribution to Canadian music is immense. He nurtured young musicians in the Young Virtuosi ensemble, which he founded in 1985, and was the first Canadian conductor to bring Canadian music abroad. Brott and Lotte often felt like cultural ambassadors or musical missionaries on such occasions, and the McGill Chamber Orchestra premiered over 50 Canadian compositions. "I took the responsibility toward my fellow Canadian composers seriously and commissioned them to write for the orchestra whenever circumstances allowed," Brott states. "I regularly programmed existing works by Canadians because a second performance of a new work can often be more difficult than a premiere."
Clermont Pépin and Pierre Mercure were among the composers featured overseas. Brott's credo is that "music is the arch-communicator of the spirit" and, he maintains, "We are all of our time." In his capacity as musician, conductor, teacher and composer, he consistently strove to make music available to everyone while being mindful of the musician's need to make a living.
Lotte's presence is palpable on every page. It was her record-keeping, for the book that she would never see, that made the formidable task of collecting such a vast range of memories manageable. "My mother used to keep meticulous scrapbooks and photos," recalls Denis. "We used to kid her about it, but in the end it was a guide, a 'feuille de route'."
Lotte, as cellist and manager, was the heart of the McGill Chamber orchestra. As Brott writes, "Perhaps the best known and notable of her achievements was her ground-breaking establishment of corporate sponsorships for concerts, which were completely unknown in Canada until 1940 [...] What Lotte began is now taken for granted -- witness the number of corporations that sponsor jazz festivals, the ballet and symphony concerts."
She was also a magnificent trouble-shooter, and once delayed an Air Canada flight so that Peter Pears could finish a performance of Britten's St. Nicholas Cantata before rushing to the dying composer's bedside. When Brott writes that the very foundations of his life collapsed when she died, one cannot help but empathize.
Though he mentions the personal challenges he has had to face, including his wife's long battle with serious illnesses, the hand injury that forced him to stop playing the violin and his severe hearing loss, Brott does not dwell on them. As he notes himself, a baton makes no sound: "If I have not expressed the nitty-gritty of my sentiments, it is not because I didn't feel them, I wrote my feelings into my music. Nothing is achieved without love, sweat and tears. Not even death."
Alexander Brott: My Lives in Music published by Mosaic Press will soon be on sale at Archambault. It is also available online at www.ocm-mco.org
Editor's Note: Alexander Brott passed away in Montreal on April 1, 2005. Read obituaries
---
Version française...