Speaking Out: Guelph and Vancouver Festivals Feature the Voice

by Paul Serralheiro / September 9, 2004

---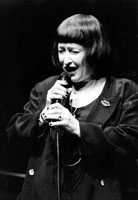 While most festival activity has come and gone as quickly as the now waning summer, jazz is pretty well a year-round affair, and several cities across Canada feature some sort of extended showcase beyond the peak period. Two such events of note for September are focusing on the voice this year, the first being the Guelph Jazz Festival (September 8-12) and the Sweet Basil Festival in Vancouver (September 9-18).

Way-Out East

The Guelph Festival, headed by its founder and artistic director Ajay Heble, has distinguished itself from other tourist-minded festivals because of its cutting edge programming and its thought-provoking colloquium. This year, its 11th, the theme is "Jazz Voices Talking Back," and the programming highlights include spoken word and vocal artists such as Amiri Baraka, Kate Hammett-Vaughan, Sainko Namtchylak, and Yoon Choi. This is no showcase of the mainstream predictable. "We want to disrupt assumptions about the role the voice has taken, and highlight new ways of using the voice, and the voice as a form of human expression that challenges orthodoxy," Heble explained while in Montreal for a conference on improvisation in May. The programming will feature artists "that are pushing the boundaries of the music," Heble avers.

Along with its adventurous programming — including a presentation of German pianist Ursel Schlicht's "Ex Tempore Project," whose theme is 9-11; the presence of such iconoclasts as William Parker and Archie Shepp; and keynote addresses by the latter and by Baraka as well — the Festival's colloquium will present panels with titles such as "Pluralism, Interculturalism, Form," "Jazz Histories, Jazz Voices," "Voice and Experimentation," and "Voices and Struggle: Identity and Self Representation."

Major venues are a main stage, which features collaborative performances; the Downtown Jazz Tent with afternoon outdoor performances on Saturday; the McDonald Steward Building on the University of Guelph campus for the colloquium; and a Jazz-around-Town feature, which has local and national artists performing at restaurants, clubs and businesses in the city's centre.

During this event, there will also be the launch of a new journal entitled Critical Studies in Improvisation/Études critiques en improvisation. For more information, visit the festival's Web site at www.guelphjazzfestival.com.

Jazzin' in the West

To listen to Michael Pan, director of Vancouver's Sweet Basil Jazz Festival, one might think that this event will be adopting a vocal focus on a permanent basis. Now returning for its fourth annual edition, this late-summer festival has had to define itself as an alternative to the Vancouver International Jazz Festival, which takes place in June. Funding is one factor that explains the direction he is planning to take, viability being another.

In fact this year's fest sports a new name: the Vancouver Sweet Basil Singer's Festival. More specifically, the focus will be women in jazz, with three major vocal jazz stylists as headliners: the veteran Sheila Jordan, and a pair of younger consorts, Kitty Margolis and Jeri Brown, all of whom will be heading workshops at Tom Lee Music on Granville Street in the heart of Vancouver.

Other features include a Free Noon Hour series at the Vancouver Public Library, where one can catch the vocal skills of Qui Xia He of Silk Road Music and Bich Ngoc Ho of the Vietnamese Khac Chi Ensemble, both prominent Vancouver musicians. There are also performances by francophone and aboriginal vocalists, as well as gospel, jazz, and pop artists. Other venues include the North Vancouver Centennial Theatre, West Vancouver Kay Meek Centre for the Performing Arts, the Norman Rothstein Theatre, and the Alliance Française near Oakridge Mall.

"I called it the Sweet Basil Jazz Festival because the phrase ran off the lips nicely," says Pan. Originally a musician, he later took a career turn into engineering, but decided to start up his own event so as to return to his "passion and love for jazz and music." To him, a second festival in Vancouver seemed logical. "With some major cities like New York sporting more than one jazz festival, I also believed that Vancouver was big enough to feature a pair of jazz festivals operating a few months apart." The orientation was different from the June festival because it featured not only international and established artists, but also programmed local up-and-comers, including college and high school players. Although the vocation of the festival was different, the Sweet Basil festival had a "hell of a time finding funding," because of a widespread belief that a second festival was not necessary. Pan sums up the situation in the following terms: "In a bold move to get past the seeming bias, the status quo funding and the preconceived 'no-second-jazz-festival' type of funding statement, or even the letter denying a grant request without comment, the Sweet Basil Jazz Festival has now evolved to become the Vancouver Sweet Basil Singers' Festival."

For more details visit http://www.sweetbasil.com

Jazz Plus

Après l'habituelle accalmie estivale, les activités musicales reprennent peu à peu leur cours normal. Qui dit septembre, dit rentrée bien sûr, mais ce mois n'est en réalité qu'une période de rodage pour le suivant, qui, lui, marque le vrai début des activités sur le front culturel en général et jazzistique en particulier. Pour vous remettre dans le bain, on vous invite toujours à consulter le site SortiesJazzNights, quitte à vous abonner gratuitement à sa liste d'envois hebdomadaires de courriels.

Avis aux diffuseurs et promoteurs de spectacles Si vous avez quelqu'information concernant des spectacles de jazz et de musiques connexes, nous vous invitons à nous la faire parvenir par courriel à l'adresse ci-dessus. Pour des questions d'espace, nous ne pouvons garantir l'inclusion de toutes les informations dans cette chronique. Date de tombée : le 15 du mois précédant la publication.

After the customary mid-summer lull of musical activities, everything starts to pick up again after that final Labour Day weekend break. While it's back to business in September, it still takes the month to really get everything into full gear again, at least on the jazz front. But why wait? Get back into the swing of things now by first taking a look at the SortiesJazzNights Web site. And if you aren't on its free e-mail list already, then join it and receive detailed weekly mailings of what's going on in town.

Concert presenters and promoters please take note: Presenting or promoting a jazz or improv music show? We invite you to pass along any infirnation to the address at the top of this column. Due to space limitations, we cannot guarantee inclusion of all listings within this column. Deadline: the 15th of the month prior to the month of publication.
---
Version française...
---