La Scena Musicale Online Reviews and News / Critiques et Nouvelles

Visit La Scena Musicale Online Reviews. [Index] Critiques de La Scena Musicale Online
---
Remembering Anna Russell (1911-2006)

By Joseph So / October 23, 2006
---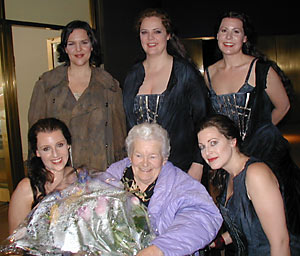 Anna at the COC Die Walküre rehearsal in March, 2004. Pictured are cast members Adrianne Pieczonka, Frances Ginzer, Laura Tucker, Elizabeth Stannard, and Buffy Baggott. Photo credit: Joseph So.

To classical music lovers of a certain age, the passing of the beloved Anna Russell marked the end of an era. For over four decades, until her official retirement in 1986, she entertained us like no other with her devastating wit and folksy charm. Born Ann Claudia Russell-Brown in 1911 in London, England, of an English father and a Canadian mother, Russell studied composition and piano at the Royal College of Music with Arthur Benjamin and Ralph Vaughan Williams and worked briefly at the BBC Educational Music Department – "a crashing bore", according to Russell herself. Her real ambition was to be a singer, but every time she opened her mouth, people laughed. Several years ago she said to me, "I had a perfectly normal voice until one day I was hit in the face by a hockey puck – it ruined my acoustics!"

In 1939, she moved to Canada with her mother and made her radio debut in 1940, singing old music-hall songs on a CFRB program called Round the Marble Arch. She also appeared on CBC's Jolly Miller Time, where she wrote and performed comic songs, and was co-host with Syd Brown on the variety show Syd and Anna. She also played the piano and sang for the Rosselino Opera in Toronto. Working with the instrument nature had given her – "my voice has been variously described as sounding like shattering glass or a cracked temple bell" – she developed a satirical routine on classical music, which she unveiled at the old Eaton Auditorium in Toronto in 1942. It proved so popular that she attracted the attention of Sir Ernest MacMillan, conductor of the Toronto Symphony at the time. Back in those days, the classical music world was understandably stuffy, so it was to Sir Ernest's credit that Anna was invited to appear in the annual Christmas Box concerts throughout the 40s.

Anna Russell's fame reached Stateside in no time and she made her debut at Carnegie recital hall in 1947. Anna once told me that the venerable diva Jennie Tourel, thinking that Anna was spoofing her with the routine "For Singers with Great Artistry but No Voice: Je n'ai pas la plume de ma tante", tried to ban the comedienne from appearing at Carnegie, but to no avail. Anna was at the height of her popularity from the 50s to the 70s. Her Anna Russell Sings? was the top-selling classical LP for an incredible 48 weeks, topping the likes of Sir Thomas Beecham and the Philharmonia Orchestra, two recording powerhouses at the time. Her analysis of Der Ring des Nibelungen – "the only grand opera that comes in giant economy-sized package" – is an all-time favourite. When the moment came for Anna to hang up her helmet and breastplate, she did it in grand style, a hugely popular Anna Russell First Farewell Tour that played to a sold-out Carnegie Hall.

In 1986, when she finally retired for good, she moved to Unionville, Ontario, to live in a complex for seniors located a short distance from her ancestors' family farm. Anna had her own cosy garden apartment, on Anna Russell Way, a street named in her honour. Retirement certainly didn't mean inactivity for Anna, who made various cameo appearances, such as the one with the Amadeus Choir and Mary Lou Fallis as late as 1998. She played the Anvil in the Anvil Chorus from Il Trovatore. Anna said, "I struck the anvil so hard, it short-circuited my hearing aid!" In June 2004, her adopted daughter, Deirdre Prussak, decided to move Anna to live with her in a seaside hamlet 200 miles north of Sydney, Australia. She settled into her new surroundings well – she particularly enjoyed the warm climate, the lovely garden and the menagerie of animals in the household. We would speak on the phone at Christmas time, and her good spirits and inimitable voice remain undiminished. To end her long life – she would have been 95 this coming December 27th – in the idyllic Australian seaside, surrounded by nature, flowers, and the knowledge that she was loved and admired by those who had had the privilege of being touched by her magic, marked the completion of a charmed life.
---
Visit La Scena Musicale Online Reviews. [Index] Critiques de La Scena Musicale Online