La Scena Musicale Online Reviews and News / Critiques et Nouvelles

Visit La Scena Musicale Online Reviews. [Index] Critiques de La Scena Musicale Online
---
Remembering Jan Simons…

By Zarya Alexandra Rubin / May 16, 2006
---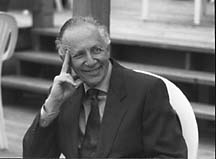 Singer, teacher, husband, father, grandfather. Born Dusseldorf, Germany, November 11, 1925; died May 7, 2006, Montreal, Quebec.
The last time I saw Jan Simons was a late summer afternoon, at CAMMAC House, over a cup of tea and conversation about the new life I was starting in New York City, only I did not know it would be the last time. Surely, we would have many more lazy afternoons, mornings filled with hard work and lots of singing when I returned to CAMMAC, the music camp I have been attending for 20 years, where Jan had been a voice teacher, long-time artistic director, and legend. When I said goodbye, I just assumed we would see each other as we always had, every summer for years, and he would scowl at me if I forced a note, stare through me with those steely blue eyes, make a wry comment about me being a neurologist and thinking too much when I sang, then break into his trademark, inimitable, mischievous smile.
Jan was born in Germany, in 1925, and fled Europe with his family, immigrating to Canada in 1939. He pursued a career as a baritone, performing on great stages throughout Europe and North America, singing with the likes of Oscar Peterson and Glenn Gould. He became a voice teacher at McGill University, and although he officially retired in 1995, he was actively teaching up until his death. His commitment to education was unfailing; he served as the artistic director at CAMMAC music camp at Lake Macdonald for 25 years, continuing to teach vocal technique and song interpretation every summer.
I first met Jan when I was 15 years old and signed up for his vocal technique and song interpretation class at Lake MacDonald. I timidly sang a Schubert lied, no vibrato, the quivering in my voice due entirely to nerves. I thought he was intimidating, daunting, exacting, and I wanted so badly to impress him, to hear his scant but very genuine praise. He had an amazing ability to hone in on the weaknesses of singers, our failings, traps we set for ourselves, physical tensions that prevented the air from flowing effortlessly from our mouths. In master classes he would often jostle your shoulder, flick your cheek, place his hands on your back in an attempt to draw your mind to the root of the problem, to become aware of it and then release it. It was genius the way a tight, screechy, soprano high-note would suddenly turn sweet in his hands.
I went on to study voice performance at McGill University, only was not lucky enough to have Jan for a private teacher. After struggling with my inner diva and personal demons about being a professional musician versus a doctor, I eventually chose medicine, but could not relinquish the hold that music had on me. Every summer I returned to CAMMAC to study with Jan, if only for a week; a week of his vocal exercises, his crazy contortions during the morning choral warm-up that brought even the most self-conscious, non-singers out of their shells, yawning and bellowing with the rest of us.
As I grew older and had abandoned the notion of a professional career in music, I lost my fear of performing and managed to see the humour in what we do; the humility in standing up in front of an audience and attempting to produce something beautiful and moving with our vocal cords. Jan did not let you get away with anything: a mispronounced syllable, a missed beat, a faulty note or false expression, but at the same time he made you laugh at yourself and take pleasure in it all.
His joy in music, teaching, and life was evident in everything he did. You only had to see him with his wife, Scottie, with whom he had a seamless, almost symbiotic, relationship, or with his six extremely talented children, all of whom are musicians, amateur and professional, to see how fully he lived every second.
When I learned of Jan's death on Sunday, May 7, I almost didn't believe it. He was still so alive for me; I could hear his strong, clear voice, see his distinctive, wiry figure cutting across the room in loose jeans and a pleated shirt; feel those piercing blue eyes watching my every move, following my every note, wincing now and then, smiling, nodding, getting it right, finally.
I am living in New York, practicing neurology, and had only last week decided to take up private singing lessons again, knowing how pleased Jan would be, and how I couldn't wait to tell him this summer at CAMMAC.
But this summer something will be missing: a presence, the vital, commanding force of a person, a brilliant teacher, a lover of music, a performer, and a friend. But the mark he has left on me will stay with me always, and every time I sing I will feel a tiny part of him is there with me, watching, listening, and hopefully, smiling.
---
Click here for previous article on Jan Simons: Jan Simons —Winner of the 2005 prix Hommage
---
Visit La Scena Musicale Online Reviews. [Index] Critiques de La Scena Musicale Online