La Scena Musicale Online Reviews and News / Critiques et Nouvelles

Visit La Scena Musicale Online Reviews. [Index] Critiques de La Scena Musicale Online
---
Russell Braun's Inspired Winter Journey

By Joseph So September 17, 2005
---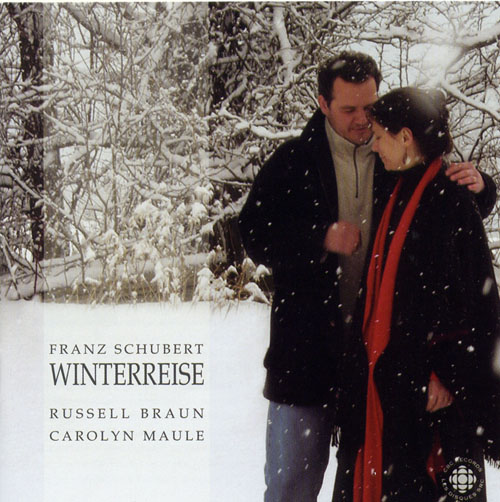 It seems that Riccardo Muti's loss is Canada's gain. In a conversation at the post-concert CD signing with Carolyn Maule, his wife and artistic collaborator, baritone Russell Braun revealed that around the time of the scheduled Winterreise recording sessions for CBC Records last January, he was invited to audition for the great Italian conductor, who was desperately seeking a Papageno for a new production of Die Zauberflöte at the 2005 Salzburg Festival. "But I wasn't about to cancel a recording session to audition for Muti," such is the Canadian baritone's integrity as an artist and a person that he wouldn't drop a previous commitment just because something higher profile or more lucrative comes along. It is indeed that personal and artistic honesty that has defined him all along. These qualities were on full display earlier this evening at Jane Mallet Theatre, in an emotionally charged Die Winterreise, the opening concert of the Music Toronto 2005-6 season.
Arguably the greatest German song cycle ever written, a successful performance requires a major investment of time, preparation, hard work, and a deep understanding of the work that can only come with age and life experience. The audience last evening was privileged to witness a performance by an artist at the height of his vocal and interpretive powers. I cannot help but think back to a recital given earlier this year by an equally admired Canadian baritone, who squeezed in his first Winterreise between exhausting operatic engagements, only to come to grief onstage. It goes to show that nothing but total commitment will do when it comes to this Mount Everest of song cycles. Last evening, Braun met its vocal demands with resolute beauty of tone and technical assurance. He was in excellent voice, his lyric baritone firm yet flexible, with the widest possible dynamic range at his complete disposal, encompassing the two-octave vocal writing with ease, a few less than true low notes notwithstanding. It was a highly nuanced and heartfelt reading, without artifice. I have always found his expressive timbre to be ideally suited to lieder, but on this occasion, he communicated the pain of the protagonist better than one would think possible. Like the CD, the tempi were almost uniformly on the slow side, but the songs were delivered with unflagging intensity. Perhaps it would have been nice if he had committed the work fully to memory, but he was not glued to the score. The cycle of 24 songs was performed without an intermission, with a 90 second pause for a few sips of water onstage. Carolyn Maule offered sympathetic support at the piano, with the two of them truly performing as one. Her playing was very fine this evening - somehow the tone has more presence and depth than on the CD. She met the fearsome technical demands of the cycle well, only in 'Mut!' near the end were there some minor intonation problems in the fast moving passages.
This performance, together with the just released CD, solidifies Russell Braun's position as an important lieder singer of our time. I think somewhere in that pantheon of great singers in the sky, Victor Braun would have been pleased with his son tonight.
---
Visit La Scena Musicale Online Reviews. [Index] Critiques de La Scena Musicale Online