La Scena Musicale Online Reviews and News / Critiques et Nouvelles

Visit La Scena Musicale Online Reviews. [Index] Critiques de La Scena Musicale Online
---
Opera Ontario: The Barber of Seville

By Joseph So October 8, 2003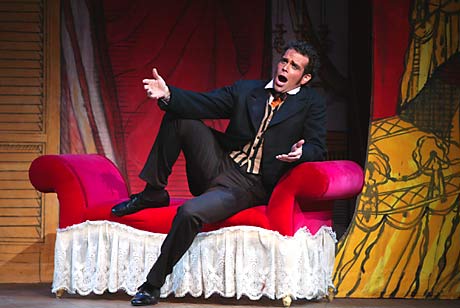 Figaro: Aaron St Clair Nicholson
Opera Ontario
Rosina Shannon Mercer
Count Almaviva Benjamin Butterfield
Figaro Aaron St. Clair Nicholson
Dr. Bartolo Sean Watson
Basilio Joseph Rouleau
Conductor: Lior Shambadal
Director: Alison Greene
Opera Ontario opened its 2003-4 season last evening with a perennial favorite - Il barbiere di Siviglia in a borrowed production from the Minnesota Opera. As is typical of this company, the principal singers were a felicitous mix of young artists, established singers, with an occasional veteran thrown in for good measure.
This production was pleasant and serviceable rather than distinguished, with painted scenery placed too far downstage, creating a shallow, flat, boxy area and severely limiting the stage action. The serenade in Act One went for naught when Rosina failed to appear in the balcony window. The final scene of Act Two had little more than a sky-blue backdrop. Fortunately, compensation came by way of a genuine star in the making, in the person of baritone Aaron St. Clair Nicholson. A native of Abbotsford, B.C. and an alumus of the highly regarded Merola Program of the San Francisco Opera, Nicholson has been making a splash south of the border, most recently as Lukash in Glimmerglass Opera's The Good Soldier Schweik. On opening night, Nicholson sang with a lyric baritone of beauty and character, coupled with vivid acting and charismatic stage presence. To top it off, he played a mean guitar and juggled oranges while singing his big aria — what more could one ask for? Be prepared to add Nicholson to the roster of major Canadian baritones that includes such names as Gerald Finley, Russell Braun, Brett Polegato, and James Westman.
The Barber of Seville, Opera Ontario
In the face of such star power, the rest of the cast emerged rather overshadowed. Soprano Shannon Mercer was a pert Rosina, singing with clear, soubrettish tone. Tenor Benjamin Butterfield offered his customary soft-grained, attractive timbre and lively stage persona, although he was hampered by a most unbecoming wig and costume bordering on the caricature. Sean Watson was an unusually youthful Bartolo. Veteran bass Joseph Rouleau gave a star turn as Basilio, proving his retirement was premature. Given the limitations of the sets, director Alison Greene, in her company debut, did the best she could. There were also a few rocky moments with spotlights at the beginning of Act One. A few thin strings aside, the Hamilton Philharmonic under conductor Lior Shambadal played honorably and is sure to improve in subsequent performances. Additional performances: October 9 and 11 (Hamilton); October 17 (Kitchener).
Web: Opera Ontario
---
Visit La Scena Musicale Online Reviews. [Index] Critiques de La Scena Musicale Online