La Scena Musicale Online Reviews and News / Critiques et Nouvelles

Visit La Scena Musicale Online Reviews. [Index] Critiques de La Scena Musicale Online
---
Catherine Robbin ends Career in a blaze of Glory

By Joseph So May 23, 2003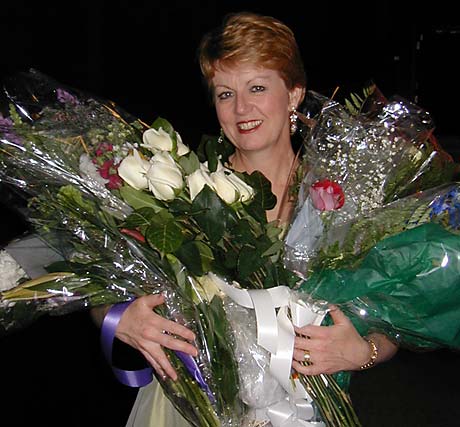 Catherine Robbin following concert. Photo: Joseph K. So
Bach "A Cantata of Thanksgiving, BWV 2003"
Selected by Catherine Robbin, with recitatives and arias from Cantatas 156, 35, 69, 169, 249, 179
Handel Cantata: La Solitudine
Hoffmann: Cantata "Schlage doch, gewunschte Stunde"
Handel: Concerto Grosso Op. 3, No. 3, in G major
Handel: "Verdi prati, selve amene" from Alcina
Handel: "Begone, my fears, fly hence, away" from Hercules

Catherine Robbin, mezzo soprano
Tafelmusik Baroque Orchestra, Jeanne Lamon, director
Glenn Gould Studio, Toronto
May 12, 2003
---
Last evening, a beloved singer ended her 30-year career in a storybook finish. It was a farewell concert to end all farewell concerts; it was an occasion for celebration rather than mourning. The artist and the packed Glenn Gould Studio audience gathered to honour a distinguished artist who decided to move on to a second career of transmitting her wealth of knowledge to the next generation of singers.
It was indeed a joyous occasion. In the program notes, Robbin wrote: "Don't be sad for me, please. This is the happiest time of my life. 'For everything there is a season, and a time for every purpose under heaven' (Ecclesiastes 3:1)" Few singers could claim to have a voice as fresh after a 30-year career as Robbin, and last evening she truly turned back the clock. There were no vocal compromises – we were treated to a display of miraculously fresh, youthful tone, remarkable technical command, and above all, a sincerity and simplicity that touched the heart.
On this occasion, Robbin had fashioned a "Cantata of Thanksgiving", drawn from works that she had sung in the past but never recorded. Every word, every phrase was sung with an emotional directness that was devoid of mannerism, something that had characterized her art throughout her career. A singer who believes in the supremacy of the text, Robbin chose pieces that have special meaning to her, as in "Begone, my fears, fly hence, away" from Handel's Hercules. It signifies an artist who is at peace with her life and her art.
With the Hercules aria, the concert came to a formal close. Endless standing ovations followed, with many, many magnificent bouquets brought onstage. Robbin sang four encores, "Ombra mai fu" from Xerxes, Purcell's Evening Hymn, a Baroque arrangement by the marvelous Tafelmusik of "The Lark in the Clear Air", and finally a song sung a capella, the words bringing tears of joy to many in the audience. It was indeed an occasion to honour and enjoy.
Fortunately, the concert was taped for broadcast in OnStage (May 25), to be repeated on Take Five on June 17 and In Performance on July 8. There is even talk of issuing the concert as a CD. For details, go to the CBC website at www.cbc.ca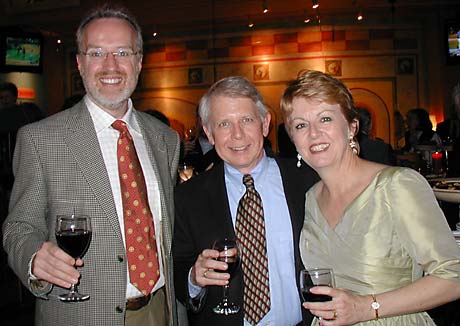 Catherine Robbin with pianist Michael McMahon and agent Henry Ingram
Photo: Joseph K. So
---
Visit La Scena Musicale Online Reviews. [Index] Critiques de La Scena Musicale Online