La Scena Musicale Online Reviews and News / Critiques et Nouvelles

Visit La Scena Musicale Online Reviews. [Index] Critiques de La Scena Musicale Online
---
Opera Ontario's La Bohème an Auspicious Season Opener

By Joseph So October 20, 2002
---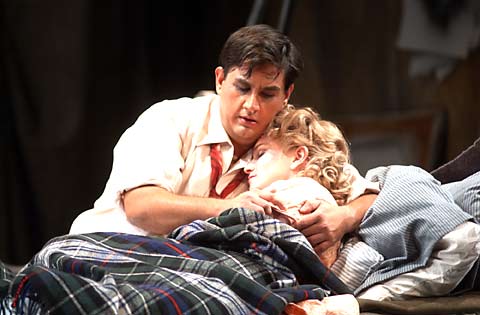 Marc Hervieux (Rodolfo) and Sally Dibblee (Mimi), La Bohème/Opera Ontario 2002
Arguably the most beloved – and the most often performed – of all operas, Puccini's La Bohème is sometimes called the 'perfect opera'. Its story of love, jealousy, loss, and death is timeless, and with melodies flowing like an endless supply of red wine in a Parisian bistro, what more would one want? No matter how many times one has seen this warhorse, a beautiful performance is always a pleasure. The opening night of Opera Ontario's La Bohème last evening was just such an occasion. This Puccini masterpiece is a young person's opera, and Opera Ontario in its season opening has assembled a very strong ensemble cast, all with healthy, youthful voices in their prime.
All four principals, Sally Dibblee (Mimi), Mirela Tafaj (Musetta), Marc Hervieux (Rodolfo), and Gregory Dahl (Marcello) were making their role debuts. Soprano Dibblee, last heard locally in the title role of Carlyle Floyd's Susannah, returned as a feminine, pure-toned Mimi. Debuting Albanian-Canadian soprano Mirela Tafaj brought to Musetta warm, rich, luscious tone and glamorous stage presence. A major find, tenor Marc Hervieux' Rodolfo was distinguished by its youthful ardor and ingratiating tone. Notable was the chemistry between Mimi and Rodolfo, making the Act 4 death scene all the more moving. As Marcello, Gregory Dahl in his first major assignment sang strongly and used his imposing height to advantage.
All supporting roles were ably taken, with a very musical Schaunard in Quebec baritone Dion Mazerolle. Bass Alexander Savtchenko, complete with wild hair and ratty overcoat, made a visually perfect Colline. The celebrated bass Joseph Rouleau came out of retirement for a star turn as Benoit/Alcindoro.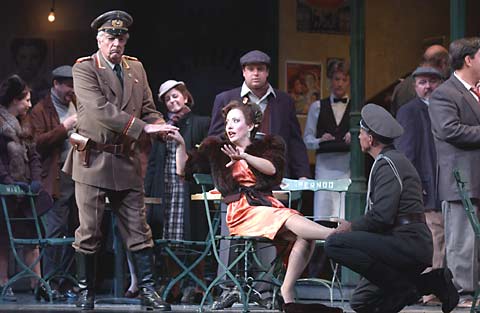 Joseph Rouleau (Alcindoro) and Mirela Tafaj (Musetta), La Bohème/Opera Ontario 2002
The production came from Virginia Opera, the last commission by Ken Freeman before he left that company to join Opera Ontario. The updating to Paris 1943-45 worked well. The economical use of color in the essentially monochrome sets created an interesting old-movie look. The rather drab costumes with only splashes of colour – mainly in the two female leads – added to the 'Paris in wartime' ambience. The presence of storm troopers at various points in the opera, and with Alcindoro dressed up as a general, enhanced the drama. It added an interesting twist without degrading the music – if only all updating were so successful! The use of radio broadcast, typewriter, and brief suggestions of VE day celebrations that opened Act 4 were nice touches. Veteran director Jeanette Aster offered a decidedly middle-of-the-road approach – nothing really original to be sure, but also nothing outrageous or directorial whimsy that worked against the music, wisely allowing Puccini's music to make its magic.
Being so familiar, sometimes it is easy to dismiss it routine musically, but there are many tricky moments that can threaten to derail a performance. But in the sure hand of artistic director Daniel Lipton, one needn't have worried. He lavished care and affection on the score, fully realizing the poetry and pathos inherent in the music. Perhaps due to insufficient rehearsals, there were a few rough moments of balance, tempi and even missed cues from the principals on opening night, but Lipton's experience and solid support save the day. If you are new to opera, you won't find a better introduction than this Bohème. If you are an old hand, go see it anyway – it just may rekindle your love of this evergreen.
Puccini La Bohème October 19, 24. 26 8pm. (Hamilton); November 1 (Kitchener-Waterloo). Box office: (905) 526-6556 (Hamilton); (519) 578-1570 (Kitchener)
http://www.operaontario.com

---
Visit La Scena Musicale Online Reviews. [Index] Critiques de La Scena Musicale Online