La Scena Musicale Online Reviews and News / Critiques et Nouvelles

Visit La Scena Musicale Online Reviews. [Index] Critiques de La Scena Musicale Online
---
Finals Conclude with Strong Performances

By Wah Keung Chan / June 7, 2002
---
The second session (June 5, 2002) of the Finals of the Jeunesses Musicales Montreal International Music Competition concluded with strong performances from all five singers. No individual scored a knock-out performance, but the quality of singing was high thereby making the decisions difficult for the jury. The night most probably belonged to Measha Brueggergosman who created a consistent mood through her use of pianissimo singing. After a 60 minute wait the jury returned the following results:

1. Measha Brueggergosman, Canada
2. Burak Bilgili, Turkey
3. Joseph Kaiser, Canada
4. Mélanie Boisvert, Canada
5. Daesan No, South Korea
6. John Matz, USA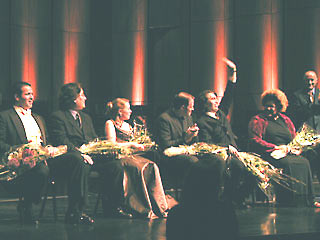 The Six Winners: From Sixth to First
Photo: Marc-André Brouillard
---
Finals (Part II)
Sin-Nyung Hwang, soprano, South Korea

Sin-Nyung Hwang
Photo:
Marc-André Brouillard

Haydn: "Auf starken Fittche" - I Capuleti e i Montecchi
Bellini: "Oh! Quanto volte"
Rossini: "Una voce poco fa" - Il Barbiere di Siviglia
Gougeon: "Alea"

The evening began with South Korean soprano Sin-Nyung Hwang who at once brought a fresh, well-projected clear voice to the first balcony of Salle Wilfrid-Pelletier where the judges were sitting. In the Haydn, Hwang presented a good musical line. The first part of the Bellini aria was boring, but Hwang developed a good mood in the second half. In the well-know Rossini aria from the Barber of Seville, Hwang offered several new interpolations but as a whole, the reading lacked intensity. Her performance of Gougeon's Alea was the best projected of the imposed piece thus far.

V: 96, P: 92

Mélanie Boisvert, soprano, Canada

Mélanie Boisvert
Photo:
Marc-André Brouillard

Mozart: "Mia speranza adorata" - K. 416
Offenbach: "Les oiseaux dans la charmille" - Les Contes d'Hoffmann
Gougeon: "Alea"
Bernstein: "Glitter and be gay" - Candide

Not all singers make the adjustment well from a 800-seat hall to a 2800-seat hall. Canadian soprano Mélanie Boisvert seemed to be off her voice from the start. Whereas Boisvert's voice was one of the best projected voices in the semi-finals, here the voice did not distinguished itself most likely due to her habit of tilting her head towards the balcony thereby deforming her alignment. Although the voice was at times clear and well-projected, I detected an unstable vibrato and her voice was a bit tight in the upper register. She appear to make an adjustment in the Offenbach and became more relaxed in the second and third verses. Nevertheless, Boisvert brought good dramatic concept throughout her program. Her performance of the Gougeon was the most dramatic so far. I thought originally Bernstein's Glitter and be gay a poor programming choice, but Boisvert proved me wrong with an absolutely convincing performance.

V: 92, P: 96

Jennifer O'Loughlin, soprano, USA

Jennifer O'Loughlin
Photo:
Marc-André Brouillard

Mozart: "Alleluja" - Exsultate, jubilate
Verdi: "Caro nome" - Rigoletto
Gougeon: "Alea"
Gounod: "Je veux vivre" - Roméo et Juliette

I had concerns whether Jennifer O'Loughlin could project in the big hall, but the American soprano's controlled clear firm tone managed well. If she could develop a higher placement and more head resonance, she would be able to float rather than lunge for high notes, and even be able to touch the heart strings of the listener. Musically, O'Loughlin gave a lovely performance. Her runs were clean, but presentation lacked dramatic intensity, most likely due to conductor Stefan Lano's inflexible accompaniment, especially in the Caro Nome. O'Loughlin left the stage quickly after her last piece, clearly unhappy.

V:93, P: 93

Measha Brueggergosman, soprano, Canada

Measha Brueggergosman
Photo:
Marc-André Brouillard

Weber: "Und ob die Wolke sie verhülle" - Der Freischütz
Fauré: "Pie Jesu" - Requiem, opus 48
Gougeon: "Alea"
Catalani: "Ebben ? Ne andrò lontana" - La Wally

After an entrancing semi-final round, Canadian soprano Measha Brueggergosman was the odds on favourite coming into the Finals. Since her last Montreal competition two years ago, she has corrected her tendency to consistently sing loud, exposing unstable fortissimos. Her repertoire choices at the JMMIC were all slow-moving works that allowed her to show off her pianissimi and legato. In the lesser performed Weber aria, Brueggergosman established a clear atmosphere through her soft singing and nice legato. The Pie Jesu was a disappointment. Too slow and pianissimo throughout, her voice sounded heavy and restrained, causing pitch problems on several occasions. Brueggergosman recovered nicely for the most dramatic reading of the Gougeon of the night. She concluded with a fine performance of her signature tune, Catalini's "Ebben? Ne andrò lontana" from La Wally. A lovely tone emerged.

V: 95, P: 96

John Matz, tenor, USA

John Matz
Photo:
Marc-André Brouillard

Händel: "Total eclipse!" - Samson
Massenet: "Ô souverain, ô juge, ô père" - Le Cid
Verdi: "Ah, la paterna mano" - Macbeth
Gougeon: "Alea"

The only male singer of the evening, American tenor John Matz brought a firm lyric tone that is both clear and dark. The voice projects well in the large hall but a heavy muscular approach to high notes resulted in two noticeable breaks. Nevertheless, Matz gave an ardent performance, especially the aria from Massenet's Le Cid, which compared favourable to performances this year from both Ben Heppner and Richard Margison. I would take off points for his habit of expirating his end notes, a bad habit that he should correct.

V:93, P: 95
---
On the Competition

Organizers should consider presenting future finals in the 1400-seat Théâtre Maisonneuve over the 2800-seat Salle Wilfrid-Pelletier. While the larger hall proved to be a litmus test as to whether a singer is ready to be a professional, a medium size hall would allow singers to communicate better. In the big hall, it was difficult to be blown away by any of the young singers.
Throughout the finals, the conductor's podium was positioned well behind the singer often causing communication problems between singer and orchestra. Lacking a visual connection with the contestant, conductor Stefan Lano beat time inflexibly. There was also a difference in the volume of sound from the orchestra between Day 1 and Day 2; those performing early in the first round got the raw end of the draw while conductor/orchestra made adjustments.
The discussion following the competition shows that the first two spots were consensus whereas opinion was divided over the placement of spots 3 to 6, reflecting the very close nature of the finals. The final outcome showed that this panel of judges favoured performance over vocal ability.
The Gala of the Winners of the Jeunesses Musicales Montreal International Competition goes tonight (June 7 at 7:30 p.m.) at Salle Wilfrid-Pelletier, Places des Arts in Montreal. Tickets are $16, 22, 33 and 44. (514) 842 9951.

For listeners outside Montreal, The entire concert will be telecast live on Art TV, as well as video webcast live on the Radio-Canada website, and broadcast live on La chaîne culturelle of Radio-Canada.
---
Visit La Scena Musicale Online Reviews. [Index] Critiques de La Scena Musicale Online