LSM Online Reviews / Critiques

Critiques de La Scena Musicale Online. [Index]
---
Finalists Announced for the First Jeunesses Musicales Montreal International Competition in Voice

by Wah Keung Chan / June 2, 2002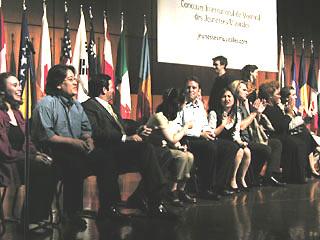 The Finalists
Photo:
Marc-André Brouillard

After three days of thilling competition, the First Jeunesses Musicales Montreal International Competition in Voice has now conclude the semifinal round. 51 candidate performed over 9 sessions to an enthusiastic audience. After a one hour deliberation tabulating the results, the jury of six legendary singers and one musicologist have chosen the following ten finalists:

Burk Bilgili, Turkey
Melanie Boisvert, Canada
Measha Brueggergosman, Canada
Mikhail Davydov, Russia
Sin-Nyung Hwang, South Korea
Joseph Kaiser, Canada
Se-Jin Lee, South Korea
John Matz, USA
Daesan No, South Korea
Jennifer O'Loughlin, USA

After a draw, the order of the Finals will be:

June 4

Mikhail Davydov
Daesan No
Se-Jin Lee
Joseph Kaiser
Burak Bilgili


June 5

Sin-Nyung Hwang
Melanie Boisvert
Jennifer O'Loughlin
Measha Brueggergosman
John Matz

La Scena Musicale will publish a report of the last two days of the semifinals in the next 24 to 48 hours.
---
Critiques de La Scena Musicale Online. [Index]