La Scena Musicale Online Reviews and News / Critiques et Nouvelles

Visit La Scena Musicale Online Reviews. [Index] Critiques de La Scena Musicale Online
---
Ewa Podles' All Rossini Concert dazzles Toronto Audience

By Joseph So February 7, 2002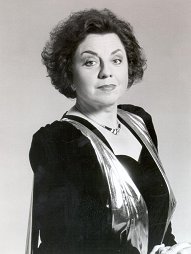 Ewa Podles

Overture La gazza ladra
"Di tanti palpiti" Tancredi
"Ah quell giorno" Semiramide
Overture La scala di seta
"Non temer:d'un basso affetto" Maometto II
"Mura felici" La donna del Lago
Overture Semiramide
"Una voce poco fa" Il Barbiere di Siviglia
"Pensa alla patria" L'Italiana in Algieri
Ewa Podles, Contralto
Canadian Opera Company Orchestra
Richard Bradshaw, conductor
George Weston Recital Hall
Toronto Centre for the Performing Arts

January 25th 2002

Simply put, Ewa Podles is a phenomenon. No matter how many times one hears the Polish diva in live performances – and I have heard her four times in the last few years – the first ten seconds or so, one is in shock. The sound coming fr

om her is a force of nature – instantly recognizable and unlike anything one is likely to encounter on the concert stage today. It is as if it is from a bygone era. – words seem inadequate to describe its never-ending kaleidoscope of colors. The timbre recalls the dark, smoky quality of Burgundy and the burnished patina of antique bronze. The lowest notes have an almost tenorial quality, the middle cello-like. As it ascends the scale, the sound retains the weight of a 'low voice', until it kicks into overdrive at the very top, with blazing high Bs that would be the envy of many a lyric soprano.

Returning to the George Weston Recital Hall after an auspicious local debut in the 1998-99 season when she gave an unforgettable performance of "Songs and Dances of Death" by Mussorgsky, this time around Podles offered an all-Rossini program, arguably her calling card. The diva appeared in a smart black pantsuit, greeted immediately with vociferous applause from the enthusiastic audience in a packed, though not totally sold-out auditorium. The first half consisted of 'trouser role' arias from Tancredi, Semiramide, and Maometto Secondo. Typically Rossinian, each aria begins with a long recitative, followed by the 'aria' section and ends with a cabaletta designed to show off the singer's florid technique. With Podles, the vocal fireworks in the cabaletta of "Ah, quell giorno' was a tour de force that only she could manage.

Compared to her appearance at the Lanaudiere Festival in July 1998 and the Toronto recital a few months later, the voice appears to have darkened somewhat and the register break a touch more obvious. But the timbre remained unique and technique singularly impressive. Perhaps more than any other bel canto singer, Podles has a uniquely 'physical' way of singing. Her two-octave runs are achieved by throwing her head back and her whole body is engaged in producing the sound. There are singers past and present with similarly stunning coloratura – Marilyn Horne and Cecilia Bartoli come readily to mind. But none can sing the runs with the volume approaching that of Podles – hers is a huge voice in this type of music, the sound virtually pinning you to your seat. Moreover, she brings an unusual level of intensity and commitment to her singing – who could ever forget the almost demonic quality of her Songs and Dances of Death? Indeed there is a slightly aggressive quality to her singing. The manner with which she attacks the music may not be to everyone's taste, but it is never less than remarkable.

Changed into a classically elegant concert gown, Podles began the second half with Malcolm's aria from La Donna del lago, followed by Il Barbiere di Siviglia and L'italiana in Algieri. Her Rosina and Isabella are not exactly shrinking violets, with the singer's forceful personality coming through loud and clear. Despite a tendency towards flatness in some of the isolated high notes, her spectacular agility, combined with a more relaxed stage presence in the second half brought the audience to its feet. They were rewarded with two sensational encores – "Cruda sorte" from L'italiana in Algieri and "Canzonetta Espagnola."

I'd be remiss if I make no mention of the fine contribution of Richard Bradshaw and the COC Orchestra. Bradshaw has a strong affinity for Rossini and it showed – the conducting and playing of the overtures from La gazza ladra, La scala di seta and Semiramide were remarkable for their incisiveness, brio and a sense of fun. These same forces will be involved in a new production of Handel's Giulio Cesare in April, likely to be the highlight of the season. Not to be missed!
---
Visit La Scena Musicale Online Reviews. [Index] Critiques de La Scena Musicale Online