La Scena Musicale Online Reviews and News / Critiques et Nouvelles

Visit La Scena Musicale Online Reviews. [Index] Critiques de La Scena Musicale Online
---
Antonio Sartorio - Giulio Cesare in Egitto

By Joseph So / December 19, 2001
Giulio Cesare Roger Honeywell
Cleopatra Krisztina Szabo
Cornelia Colleen Skull (Dec. 5 & 9)
Martha Guth (Dec. 3 & 7)
Sesto Shannon Mercer
Tolomeo David Pomeroy
Achilla Olivier Laquerre
Curio Peter Collins
Nireno/Amore Andrea Ludwig
Rodisbe/Fortuna John Kriter

Conductor Gary Thor Wedow
Director Tom Diamond

December 5, 2001
Imperial Opera Theatre
The Joey and Toby Tanenbaum Opera Centre, Toronto
For the inveterate opera attendee, there is something to be said about an unfamiliar work. Seeing it for the first time, one encounters the music totally fresh and free from preconceived ideas and biases. Such is the case with Antonio Sartorio's Giulio Cesare in Egitto, last known performance dated 1689 in Bergamo, Italy. Conductor Gary Thor Wedow came upon the score in the Julliard School of Music Library and immediately recognized it potential. Thanks to the generosity of COC supporters, led by the late Peter E. Sandor, founder of the Baroque Opera Fund, Giulio Cesare in Egitto received its first revival in over three hundred years!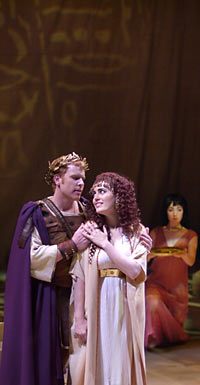 Giulio Cesare Roger Honeywell
Cleopatra Krisztina Szabo


Falling in between Cavalli and Handel, the score foreshadows the work of the latter, especially in Act Two, which is the more melodically inspired. The interplay of voice and trumpet and a duet between Cornelia and Sesto sound positively Handelian. Through Bonnie Beecher's ingenious lighting, innovative stage direction by Tom Diamond, committed orchestral playing under the excellent Wedow, and a very strong ensemble cast, this production managed to show why the long forgotten opera deserves to be revived.

Typical of an Ensemble Studio project, the sets and costumes were rather basic – traditional but decidedly 'no frills'. The 'theatre in the round' seating arrangement for an audience of about four hundred made for an intimate atmosphere. The small chamber orchestra was placed out of the audience' sightlines. All entrances and exits were along the various aisles in the theatre. With the small stage area, a few traffic jams were inevitable, especially when populated by the various non-singing supernumeraries serving as dancers, flag carriers, or furniture movers. The simple but effective projections on a cloth screen – alas not wrinkle-free, helped set the tone. The presence of surtitles, projected to the two side walls, were most helpful.

The strong ensemble cast was led by tenor Roger Honeywell in the title role. Relatively new to opera and coming from a theatre background, Honeywell looked terrific onstage and coped well with this long and difficult role, though he needs to pace himself more carefully. Krisztina Szabo scored a significant triumph as a 'movie queen' Cleopatra, her gleaming high mezzo a joy to the ear. As Curio, tenor Peter Collins was outstanding, his large, warm, gorgeous sound made one wished that he had been assigned a bigger role. The two high sopranos in the cast, Shannon Mercer (Sesto) and Andrea Ludwig (Nireno/Amore) delighted the audience with their crystalline sound and lively stage presence. In the dramatic role of Cornelia, mezzo Colleen Skull impressed with her big, burnished tone.

David Pomeroy sang strongly as Tolomeo, and he obviously relished being the bad guy, with enough sneers and snarls for several silent movies. Newcomer Olivier Laquerre revealed a nice bass-baritone of potential, but he needs to develop greater poise onstage. To be fair, he was not helped by the frightful wig and makeup he had to endure. The one veteran of the cast was the indispensable John Kriter as the comic relief, in the duo role of Rodisbe and Fortuna. His skill as a cross-dressing comedian was thoroughly exploited by Diamond, who had him interacting with the audience outrageously – for one moment, it looked like some nightclub act.

Authentic? Hard to say, but it was undeniably effective. One thing is clear – Giulio Cesare in Egitto deserves to be seen. Musically it may not have broken new ground in its time, but as seen and heard in this production, it certainly compares quite favourably with other baroque operas that have survived the test of time. Let's hope it won't take another three hundreds years for audiences to experience the magic of Antonio Sartorio.
---
Visit La Scena Musicale Online Reviews. [Index] Critiques de La Scena Musicale Online