La Scena Musicale Online Reviews and News / Critiques et Nouvelles

Visit La Scena Musicale Online Reviews. [Index] Critiques de La Scena Musicale Online
---
Opera Ontario L'Elisir - Youthful Cast Carries the Day

By Joseph So November 19, 2001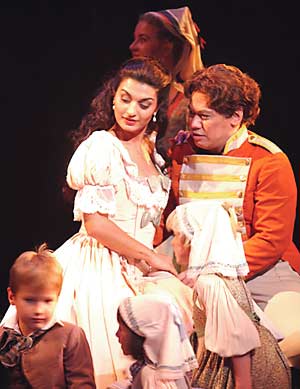 Isabel Bayrakdarian and Keith Ikaia-Purdy

Donizetti: L'elisir D'amore

Isabel Bayrakdarian Adina
Keith Ikaia-Purdy Nemorino
James Westman Belcore
Francisco Valls Dulcamara
Amelia Watkins Giannetta

Peter Oleskevich, conductor
Miklós Szinetár, stage director
Sabatino Vacca, chorus master
Opera Ontario/Opera Hamilton
Hamilton Place, Oct 18, 2001
---
L'Elisir d'amore is a young people's opera. To do justice to this most effervescent of Donizetti's output, you need a youthful pair of lovers with fresh, engaging voices, plus two buffo characters who are genuinely funny, performed in visually pleasing sets and costumes and under the baton of a maestro well versed in the bel canto idiom.
The recent production by Opera Ontario was on balance quite a successful one, largely due to the excellent ensemble cast, led by the fast-rising Canadian soprano Isabel Bayrakdarian. Billed as the 'star' in this production, every program had as an insert a current issue of La Scena Musicale with the smiling face of the soprano on the cover. Bayrakdarian proved that such serendipitous marketing was fully justified with a personal triumph in her Company debut. Possessing a rich, opulent voice of beauty and character, Bayrakdarian was a delightful Adina, acting up a storm, revealing an excellent sense of comic timing and engaging stage presence.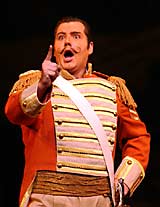 James Westman as Belcore

As Nemorino, Hawaiian-American tenor Keith Ikaia-Purdy, long a stalwart at the venerable Wiener Staatsoper, was also making his Company debut. His voice was more heroic than one is used to in this role, and he sang with exciting, full-throated vocalism, though a few more well-placed mezza voce would have been welcome. His characterization of Nemorino was quite charming and despite a bit on the short side, he was a good match for Bayrakdarian. Newly slimmed down and looking terrific, James Westman made a dashing Belcore, though the role didn't afford him too many opportunities to shine. He also showed a rather unexpected flair for comedy, gamely riding a bicycle onstage – twice! One look at the vertically-challenged Francisco Valls as Dulcamera, the audience was already in stitches. And he proved to be a fine singer as well. Amelia Watkins was a pert and bright-voiced Giannetta in her brief moment in the sun.

The traditionally styled production itself was rather standard issue and middle-of-the road, with painted drop sets and Malabar costumes of muted colours that appeared faded. The stage direction of Miklós Szinetár was fun without overdoing the slapstick. Peter Oleskevich, primarily a symphonic conductor, conducted credibly if not altogether idiomatically in the best Italian bel canto tradition. Still, the youthful enthusiasm of the cast carried the day and this Elisir proved to be an auspicious start to the season.





---
Visit La Scena Musicale Online Reviews. [Index] Critiques de La Scena Musicale Online