La Scena Musicale Online Reviews and News / Critiques et Nouvelles
Visit La Scena Musicale Online Reviews. [Index] Critiques de La Scena Musicale Online
---
Straight from the Heart: Armenian Sacred Music Concert

By Joseph So October 3, 2001
Isabel Bayrakdarian, soprano
Raffi Armenian, music director
The Elmer Iseler Singers and 19-member orchestra
Toronto Centre for the Arts
Sunday, September 16, 2001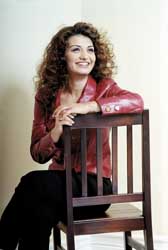 Isabel Bayrakdarian
photo: Filipe Estrela,
La Scena Musicale

This year is an important milestone in Armenian history: it marks the 1700th anniversary of Christianity in Armenia. To celebrate, the Armenian Prelacy of Canada presented a concert of Armenian liturgical music, featuring one of the brightest stars on the operatic horizon today, Armenian-Canadian soprano Isabel Bayrakdarian. In the audience were eminent representatives of Armenian communities from Canada and the U.S., as well as well-known Armenian film director Atom Egoyan.

The concert took place only a few short days after the horrific events in New York, which added to the solemnity of the sold-out crowd at the George Weston Recital Hall. It is at traumatic times like these that bring special meanings to events such as this concert. It underscores what are the truly important things in life – health, family, fellowship, faith, and peace.

The evening opened with three selections of ancient Armenian liturgical music, newly arranged and orchestrated by Petros Shoujounian. As a remembrance of the lives lost at the New York tragedy, the opening piece Joyous Light was replaced by a Requiem, sung with plaintive tone and overwhelming sadness by Bayrakdarian. The Fowl, a 10th Century song by St. Gregory of Nareg, is a haunting chant with male chorus, sung with gorgeous tone from the Elmer Iseler Singers.

A sublime highlight of an evening of many highlights was Doxology, lyric and music from the 4-5th Centuries, sung with rich, opulent tone and a heart-felt simplicity that was most moving. Also outstanding was The Mother of the Lord – an almost operatic piece, with the Bayrakdarian voice ringing out thrillingly. Interspersed among the sung items were orchestral miniatures by Armenian composer Gomidas-S. Aslamazian. These ranged from folk-like dance melodies to Chinar Es, a gorgeous cello solo. The 19-member pickup orchestra, led by the excellent Stephen Sitarski, was conducted with affection and sensitivity by Mr. Armenian.

The printed portion of the concert ended with the entire audience standing to join Ms. Bayrakdarian in a rousing rendition of the Armenian The Lord's Prayer, a heart-felt melodic outpouring of faith. The capacity audience was rewarded with two encores, both Armenian folk tunes well known to those present, with many of them mouthing the words – and occasionally humming along – with Ms. Bayrakdarian.

If you were not among the lucky 1,100 in the audience that evening, you will soon have the opportunity to purchase a CD of Armenian Sacred Hymns featuring Isabel Bayrakdarian, a studio recording made in conjunction of this event. This CD will be available by mid-December. Produced by the Armenian Prelacy of Canada and Neil Crory of the CBC, you can order your copy by contacting The Canadian Vicarage Office at (514) 856-1200 in Montreal, or the St. Mary Armenian Apostolic Church at (416) 493-8122 in Toronto.

---
Visit La Scena Musicale Online Reviews. [Index] Critiques de La Scena Musicale Online