La Scena Musicale Online Reviews and News / Critiques et Nouvelles
Visit La Scena Musicale Online Reviews. [Index] Critiques de La Scena Musicale Online
---
Chopin Competition Gold Medalist makes Sensational Canadian Debut

By Joseph So August 9, 2001
Li Yun-Di, piano
All Chopin Program
George Weston Recital Hall
Toronto Centre for the Arts
August 3, 2001, 8:00 P.M.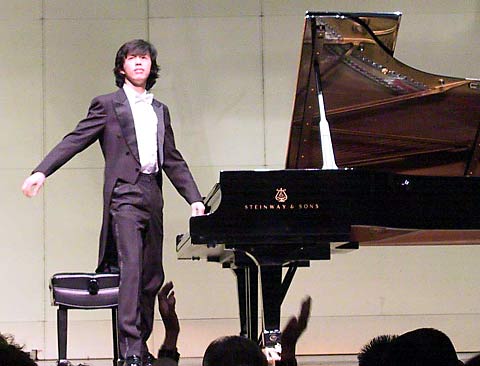 Li Yun-Di in Cupertino, Photo credit: Lawrence Lock
At the tender age of nineteen, Chinese pianist Li Yun-Di is on top of the world – at least in the eyes of the jurors at the Fourteenth International Chopin Competition in Warsaw. Last October, Li became the youngest recipient of the Gold Medal in the Competition's history, beating out 97 participants. The last time the Gold Medal was awarded was some dozen years ago. In addition to being the first Chinese pianist to come first (the venerable Fou T'song came third in 1955), he was also awarded first prize for the best Mazurka performance.
Born in Sichuan province in 1982, Li started studying the accordion at the age of four before switching to the piano at seven. He made swift progress when his family moved to Shenzhen, a city just outside Hong Kong, so Li could study with Professor Dan Zhaoyi, a highly respected piano teacher. Before winning the Chopin Competition, Li had previously came third in both the U.S. Stravinsky International Youth Piano Competition and the Franz Liszt Piano Competition in the Netherlands, as well as first prize at the Gina Bachauer Competition in Salt Lake City last year.
With the prestigious win in Warsaw, Li received $25,000 prize money, and he has signed a highly coveted, exclusive contract with Deutsche Grammophon. With his photogenic looks, prodigious technique, youthful enthusiasm, and immense talent, it won't be long before this wunderkind becomes a household name.
The Toronto recital on Friday was organized in great haste as an eleventh hour addition to Li's current tour in the West, which included recitals in Los Angeles, Cupertino (see onstage photo by journalist Lawrence Lock), Germany and Poland. Sponsored by the Chinese Artists Society of Toronto, the 1100 seats at the Weston Recital Hall were snapped up in a matter of days despite having zero publicity in the mainstream media. As is typical with community-based events, it was with not inconsiderable effort before a press ticket could be successfully wrangled.
For the frequent North American classical concert attendee, the audience Friday night would have appeared extraordinarily youthful – including a large number of children which normally would strike fear in the hearts of serious concert goer. But it was an unusually attentive and well-behaved for a Chinese audience. (I am saying this from experience, having attended quite a number of concerts over the years in Hong Kong and China.) It was also quite a musically informed audience, the applause at the end of the first movement of Sonata No. 3 in B Minor, Op. 58 notwithstanding.
The program was all Chopin and the only one on this tour. A sense of authority, power, and lyricism can be felt from the very first piece, Nocturne in C Minor, Op. 48, No.1, so it was unfortunate that the Steinway piano was not ideally in tune. The extreme highs were not true and the lower range had a slightly muddy quality. It was suggested that perhaps it might not have been properly tuned for the occasion, or perhaps the sudden turning on of the powerful air conditioning system might have affected it somehow.
Still, nothing could have stopped the technical brilliance and the total command of the instrument this young man has in his possession. The left hand- right hand balance is exceptional, and the full dynamic range impressive – masculine but not muscular playing. Yet for all the technical prowess, it is always at the service of the music. The phrasing is elegant and stylish, and in the opening melody of Andante spianato and Grande Polonaise in E-flat, Op. 22, he truly made the piano sing. This piece requires the touch of a mature artist and a master virtuoso. In the hands of this nineteen year old, it emerged exquisitely intoned, rhythmically precise, beautifully shaped and completely idiomatic.

The audience was suitably ecstatic, offering several standing ovations, not to mention a flood of flashbulbs, which shamefully carried over well into his first encore – a Chinese revolutionary tune. Even after 90 minutes of playing, he showed no sign of fatigue, playing his second encore – Waltz No.5 in A-flat, Op.42 with verve and scintillating tone.

It was unfortunate that this concert was not at all promoted outside the Chinese community as Li Yun-Di deserves to be heard by all Canadians. But with his exclusive contract with DG and his first recording sessions slated for September, there will be plenty of opportunities in the future to hear this incredible young man.
Below is an English translation of an interview of the artist by Hong Kong music writer Lawrence Lock (used with permission of the author):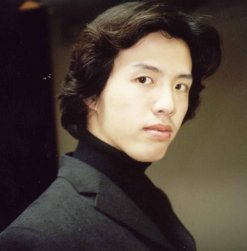 Li Yun-Di

Q: Do you like being identified as a "Chopin Specialist"? Do you think it is unwise?
A: It doesn't matter what people call me. I love not only Chopin, but also many other composers such as Liszt, Brahms, Beethoven, Mozart, Ravel, Prokofiev, etc. I work hard to learn, analyze and interpret the great works of these composers.

Q: You were born the same year as Lang Lang. It is unavoidable that people make comparisons. What are your impressions of your colleague and "rival"?
A: We were born the same year and we are both Chinese. But we are from different cities. We have never met and I have not attended his performances. My teacher and friends all say Lang Lang is a very talented recitalist. Both of us strive to attain the highest goal of bringing enjoyment to the people through our playing. Beautiful music is the treasure that belongs to all of us.

Q: When you are learning a new piece, do you listen to recordings, or compare different interpretations? What is your view on this way of preparation?
A: There are different ways to learn a new piece. Listening to CDs is an easy way, as long as one doesn't imitate. Hearing other interpretations can bring new insight, therefore I think listening, observing, and thinking cannot be bad.

Q: Do you have other pianists that you idolize?
A: I like all good recitalists. Each of them has their own style – it is difficult to compare. I have always liked Arthur Rubinstein, Krystian Zimmerman, and Maurizio Pollini.
Q: Chopin loved the bel canto style, especially the operas of Bellini. Are you interested in opera?
A: There is much in the piano repertoire that comes from operas, therefore operatic knowledge is helpful. It can also broaden our knowledge and understanding of western art and culture.

Q: At last year's Chopin Competition, other than winning first prize, what other memorable or funny experiences did you have?
A: When they announced the Second Prize, the Third Prize winner, the Russian Alexander Kobrin all of a sudden embraced me – I was very moved by this and I will always remember that moment. Also, I will always remember the kindness and guidance given to me by the chair of the jury panel, Andrzej Jasinski.
Q: Can you tell us something about your debut disc with Deutsche Grammophon?
A: It will be an all-Chopin program. Most of the pieces are the ones I prepare for the Competition, as I want to commit to disc my best playing at this stage of my career.
Program

Nocturne in C Minor, Op. 48, No.1
Scherzo No. 2 in B-flat Minor, Op. 31
Ballade No. 4 in F Minor, Op. 52
Andante spianato and Grande Polonaise in E-flat, Op. 22
Four Mazurkas, Op. 33
Sonata No. 3 in B Minor, Op. 58
Encores:
Chinese Revolutionary tune
Chopin Waltz No. 5 in A-flat, Op. 42
---
Visit La Scena Musicale Online Reviews. [Index] Critiques de La Scena Musicale Online