La Scena Musicale Online Reviews and News / Critiques et Nouvelles
Visit La Scena Musicale Online Reviews. [Index] Critiques de La Scena Musicale Online
---
Gurrelieder a Memorable Saraste Swansong

By Joseph So June 16, 2001
Roy Thomson Hall, Toronto, June 14 2001
Arnold Schoenberg: Gurrelieder
Toronto Symphony Orchestra
Jukka-Pekka Saraste, conductor
Andrea Gruber, Soprano
Lilli Paasikivi, Mezzo-soprano
Ben Heppner, Tenor
Benjamin Butterfield, Tenor
Gary Relyea, Bass-baritone
Ernst Haefliger, Tenor
The Toronto Mendelssohn Choir
The Victoria Scholars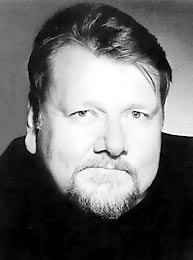 Ben Heppner

Talk about going out with a bang! After a seven-year tenure that saw many triumphs but also its share of disappointments, Jukka-Pekka Saraste's musical directorship with the Toronto Symphony drew to a glorious close with the Canadian premiere of Gurrelieder this evening. Observing the activities of the concertgoers before the show, one sensed a real air of occasion and anticipation not felt since Andrew Davis brought an end to his regime with Mahler's 8th Symphony many moons ago, complete with the presentation of a canoe to the maestro brought onstage by his musicians.

Well, this time around, the drama and excitement were confined to the performance itself. Originally planned for the ill-fated, strike-torn season two years ago, Gurrelieder was axed by the then budget-conscious TS manager, Catherine Cahill, who opted for the low-risk – and some would argue, low brow, programming of Kathleen Battle in recital. So it is quite a vindication for Saraste that his final two concerts of this most daunting of 20th Century works were completely sold out. A massive work that requires five soloists, an augmented Wagnerian-sized orchestra and choral forces into the hundreds, it is quintessentially early-Schoenberg, dripping with late-Romantic sensibilities. Last evening's performance surely represented a high water mark in the history of the Orchestra.

The Toronto Symphony was fortunate to engage the services of tenor Ben Heppner, who has made King Waldemar one of his signature roles. Whether it was the thundering fortissimo of "...ins Himmelreich ein", or the honeyed pianissimo in "...du wunderliche Tove", Heppner dazzled the ears equally with power and delicacy. It was not easy to ride the huge orchestra, but except for a few moments when he was covered by the wall of sound, Heppner's clarion tenor rang out thrillingly. As Tove, soprano Andrea Gruber matched Heppner decibel for decibel. A true dramatic soprano with a huge, heavy sound and a rather pronounced vibrato, she has impressive volume and dramatic thrust, only in the more dolce passages was she found wanting. The dark horse of the evening was Finnish mezzo-soprano Lilli Paasikivi as Wood-Dove, who displayed sensitive musicianship and a gorgeous and evenly produced sound, complete with a resplendent top. Let's hope she will be brought back very soon. Both Benjamin Butterfield (Klaus the Jester) and Gary Relyea (Bauer) made the most of their brief moments in the sun. As Speaker, octogenarian and noted Swiss tenor Ernst Haefliger, none too steady on his feet, rose to the challenge. He half-read and half-sang the text, inflecting the words just the right way, painting with a wonderful palette of tone colours – it was a performance to savour.

The Mendelssohn Choir and the Victoria Scholars under Noel Edison could not have been better, with the all-male choir of the "Gegrust, o Konig, an Gurre-Seestrand!" section particularly thrilling. The brilliant conducting of Saraste in this monumental work makes one wish that it had occurred earlier in his tenure. (Unlike his predecessors – Davis and Herbig come readily to mind, Saraste's time here included very few large-scale choral works or concert performances of operas). Often thought of as temperamentally cool, Saraste tonight conducted with all the passion and energy one could hope for. On the debit side was the tendency to cover the soloists, but to these ears, this blemish was relatively minor since the sounds from the TS forces under his baton was so overwhelmingly beautiful.

For those of you unable to get a ticket, this concert will be broadcast on Wednesday, June 20th, on CBC Radio Two, at 8:00 pm. Stay tuned!

---
Visit La Scena Musicale Online Reviews. [Index] Critiques de La Scena Musicale Online