La Scena Musicale Online Reviews and News / Critiques et Nouvelles
Visit La Scena Musicale Online Reviews. [Index] Critiques de La Scena Musicale Online
---
Echoes an Eclectic Reflection on Life's Journey

By Joseph So June 29, 2001
Queen of Puddings Musical Theatre Company
St. George the Martyr Church, Toronto, June 17, 2001
Jane Archibald, soprano
Tamara Hummel, soprano
John Hess, piano
Photo Credit: Cylla Von Tiedemann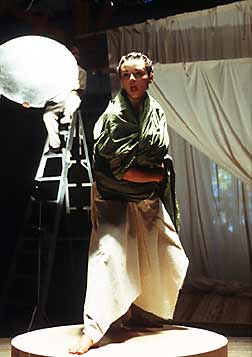 Tamara Hummel

Queen of Puddings Musical Theatre is one of small companies in town that put on innovative and experimental productions in intimate spaces, taking artistic chances where the bigger, more established companies are loath to do. To date, the biggest "hit" is Beatrice Chancy, which received critical acclaim and extensive media exposure, including a telecast on CBC. Last season's Sirens also received favourable notices. The current production of Echoes continues that tradition, though in a smaller venue, and using fewer singers. The result is decidedly mixed.
Much like Sirens, Echoes is based on a collection of pieces by different composers and poets – in this case, works by Gyorgy Ligeti, Harry Somers, Veljo Tormis, Manfred Trojahn, and Juhan Puhm, setting the poetry of Apollinaire, Kaplinski, Rasmussen, Puhm, and Rilke. The central theme of Echoes is the cycle of life as expressed in the four seasons, an oft-used metaphor in dance and music. Echoes attempts to do that through two female voices combined with a great deal of choreographed movements, using fairly simple sets, costumes, and lighting.
Performed in "theatre in the round" style, sopranos Jane Archibald and Tamara Hummel, barefoot and wrapped in yards of muslin – called "foundation garments" in the program notes, sang fearlessly, with their voices ringing out impressively in the relatively small space. Contemporary music often places considerable demands on the vocal cords, but both singers met the challenges admirably. If they felt uncomfortable in the often unusually choreographed movements they were asked to do while singing, they did not let on.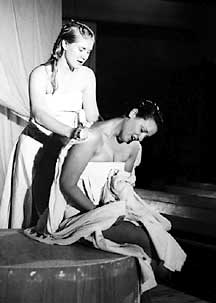 Jane Archibald & Tamara Hummel

Veljo Tormis' tonal and accessible How can I recognize my home? , sung in Estonian, was chosen to open and close the hour-long work. In between were six songs of varying lengths and complexities, with Johan Puhm's Soliloquy/Echoes of Emptiness as the centerpiece. It is a vocal tour de force that pushes at either extremes of the soprano's working range as well as extremes in dynamics, from whispers, breathy sighs to repeated shrieks. Archibald is to be commended for her brave attempt at an almost impossible score. Also noteworthy is Harry Somers' Shaman's Song, set to words of Uvavnuk, a Netsilik Inuit woman. Sung in Inuktitut and English, Hummel brought out the earthy, timeless nature of the piece.

From a purely musical standpoint, Echoes benefited enormously from two committed singing actors, the involved and sympathetic piano of John Hess, and indeed the whole production team. However, whether this production achieved the stated goal of underscoring the changes of seasons as metaphor for the cycle of life is more open to question. To be honest, there is little that one could see from the costumes, lighting, or stage movements that depicted the seasons or the cycle of life. If the use of different coloured fabrics was an attempt at that, it was too muted or subtle to be readily perceived by the audience. Perhaps the effects could have been achieved by using lighting and maybe slide projections. It is easy enough to second-guess the intentions of the producers, but one thing is certain – thing could always be better if there were a larger budget to work with. But for now, Echoes represented an interesting and laudable attempt, but the goals remained largely unfulfilled.
---
Visit La Scena Musicale Online Reviews. [Index] Critiques de La Scena Musicale Online