La Scena Musicale Online Reviews and News / Critiques et Nouvelles
Visit La Scena Musicale Online Reviews. [Index] Critiques de La Scena Musicale Online
---
COC Tours Schools with New Opera The Brothers Grimm

By Joseph So / May 16, 2001
May 12th 2001,
Jackman Studio, Joey and Toby Tanenbaum Opera Centre
Dean Burry, composer

Shannon Mercer, soprano
Gaynor Jones, mezzo-soprano
David Pomeroy, tenor
Joseph Kaiser, baritone
Kenneth Baker, bass
Albert Krywolt, Music Director
Robert McQueen, Director
Kevin McAllister, Designer
Dean Burry, Composer

In sales, market research is everything — in other words, know your consumer. The Canadian Opera Company was wise to do some consumer-testing of its brand-new children's opera, The Brothers Grimm, on a young audience last Saturday, prior to kicking off its annual tour of Ontario schools. The Company is to be commended for its ongoing efforts in audience development from the ground up, by offering drastically scaled down and highly mobile productions of works that typically appeal to school children, performed by COC Ensemble members. This year, the tour is supported by Enbridge Consumer Gas and the McLean Foundation.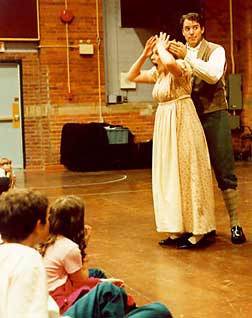 Shannon Mercer and Joseph Kaiser

In addition to touring with the old standby, Hansel and Gretel, the COC and the Music Canada 2000 jointly commissioned this new work, written by Newfoundland composer Dean Burry. A graduate of Mount Allison University and the University of Toronto where he received a Master degree in Composition, Burry wrote his first produced script at age 14. Primarily a theatre composer, Burry has previously written several major works, including Unto the Earth: Vignettes of a War, on two Newfoundland regiments during WWII, and a piece based on Shanawdithit, a Newfoundland Indian legend. Brothers Grimm is his first children's opera.

Why Brothers Grimm? "Everyone knows the fairy tales, but few know much about the brothers themselves", responded Burry. "I decided to base the opera on all real people — the brothers of course, but also Brentano, who is a poet and scholar himself, and Fraulein Wild and Fraulein Viehmann." The opera revolves around the writing of three familiar Grimm tales, that of Rapunzel, Little Red Cap, and Rumplestiltskin. Burry ingeniously intersperses sung sections with spoken dialogue, making it more accessible to children unfamiliar with the operatic idiom. The vocal writing is typically "modern-operatic" without being difficult or alienating, expertly woven to plenty of stage business, a must if you want to capture an audience raised on TV, video games and action movies. On this occasion, the several dozen kids sat on the floor, transfixed at the happenings onstage throughout with very little fidgeting — a very good sign! Much of the credit goes to the team of energetic singing actors drawn from the COC Ensemble (David Pomeroy, Joseph Kaiser, and Shannon Mercer), augmented by Kenneth Baker and Gaynor Jones from the chorus, ably supported by the deft piano of Albert Krywolt. All with good voices, they sang and acted with verve and excellent comedic timing, particularly Joseph Kaiser and David Pomeroy as the Grimm brothers. Judging by the reaction of the children during the show and in the Q&A afterwards, the COC might just succeed in nurturing a taste for opera among the audience of tomorrow. For information about the tour schedule, contact the Canadian Opera Company at 416-363-6671.
---
Visit La Scena Musicale Online Reviews. [Index] Critiques de La Scena Musicale Online