La Scena Musicale Online Reviews and News / Critiques et Nouvelles
Visit La Scena Musicale Online Reviews. [Index] Critiques de La Scena Musicale Online
---
Daniel Taylor Makes Auspicious Toronto Solo Recital Debut

By Joseph So / April 20, 2001

Daniel Taylor, counter-tenor
Sylvain Bergeron, lutenist
Bruce Ubukata, pianist

April 19, 2001, Jane Mallett Theatre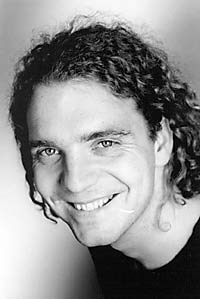 At one point in the recital, Daniel Taylor said jokingly to the audience, "the pollen gods are conspiring against me!" He was referring to the allergies he has been suffering, evidenced by his frequent coughing onstage and the redness in his eyes. Even with Taylor feeling less than his best, he managed to score an unqualified triumph by holding the audience spellbound for 90 minutes, a short concert by most standards. But what was missing in quantity, he made up in quality by the beauty of his voice and his easy, charming stage presence.
Billed as Taylor's local recital debut by the publicity material, it is in fact not quite true. In July 1998, Taylor gave a joint recital with another budding Canadian, soprano Isabel Bayrakdarian, at the National Association of Teachers of Singing Convention at the Royal York Hotel in Toronto. At the time a relative unknown in English Canada, Taylor already impressed with his sweet, plangent sound and refined musicianship, and one got the feeling that he was destined for a big career. Less than three years later, Taylor has become one of a handful of the most sought-after counter-tenors in the world.
The first half consisted of a group of English folk songs and songs by John Dowland, interspersed with lute solos by the excellent Sylvain Bergeron. The plaintive sound of Taylor blends beautifully with the lute – it had a calming effect on the audience that was extraordinarily attentive and well behaved, an offending cellphone notwithstanding. Since Toronto recently heard another famous counter-tenor in recital, it was inevitable that one compares Taylor to the American David Daniels, both of whom appeared in Giulio Cesare at the Metropolitan Opera two seasons ago. To these ears, Daniels has the bigger and richer sound, but it has also a sharper edge and shorter top voice. Taylor's voice is warmer, sweeter, and more expressive, and he used it exquisitely at this recital, especially in the quieter moments of the English songs, songs that are mostly lamentations of unrequited love.
The second half is made up entirely of Handel opera arias. Giving the Toronto audience a taste of things to come, Taylor sang two Tolomeo's arias from Giulio Cesare, a role he will be singing with the Canadian Opera Company a year from now. Perhaps because of his indisposition, there was considerable juggling of the program, with two arias from Rodelinda and Rinaldo eliminated entirely. Unlike his contemporaries, Taylor is not afraid to "chest" in the lower register, to make a greater dramatic emphasis, a practice normally avoided by counter-tenors. Despite these quibbles, Taylor captured the audience with the purity of his sound and his engaging stage persona. He concluded by singing two encores, the first one an English song, delighting the audience by turning it into a duet with his redoubtable accompanist, Bruce Ubukata, who revealed a highly serviceable light baritone. The second encore was "Cara sposa" from Rinaldo, a bravura showpiece that brought the audience to its feet. Let's hope Mr. Taylor will come back, allergy-free, real soon!
---
Visit La Scena Musicale Online Reviews. [Index] Critiques de La Scena Musicale Online