Visit every week to read Norman Lebrecht's latest column. [Index]
---
Master Marriner

By Norman Lebrecht / May 5, 2004
---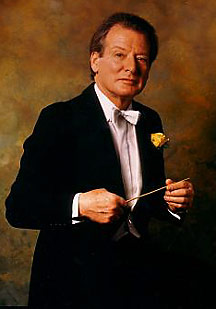 Which British conductor has made the most recordings – not just a few more but three times as many as the next-busiest baton? No, it's not Beecham, Boult or Barbirolli. Nor is it Solti, Colin Davis or Simon Rattle. The record, now and surely for all time is held by a man who cannot refer to himself as a conductor without faintly cocking an eyebrow, as if to say, 'I' m just an ordinary chap from Lincoln who got here, somehow, by chance.'

Sir Neville Marriner, who has just turned 80, has made more than 600 recordings of 2,000 musical works, a greater legacy than any maestro except Herbert von Karajan (whose 900-odd stack contains much repetition). But where Karajan was a global media player with something going in every metropolis, Marriner played in the second fiddles of the London Symphony Orchestra and gave maestros a hard time. He was one of the lads and by no means the quietest. 'I was awkward,' he agrees, 'never joined the committee, always sniped from the ranks.'

His son, Andrew -'a much better player than I was' – is today the LSO's principal clarinet. Together they will take a cab to Abbey Road next month to record the Mozart concerto. It is upon such dynastic intimacies that London's musical character is founded.

Neville goes back so far into the mists of orchestral legend that hemanaged to play under the Proms founder, Henry Wood, who died in 1944. 'I was a student at the Royal College and the LSO had half its players at war. You can't imagine how terrible the music was in those days. We'd play two Messiahs, morning at the Albert Hall, afternoon in Kilburn or somewhere.'

Called into the forces, he ran motorboat raids into France before D-Day and was invalided out with kidney damage. The bloke in the next hospital bed was a mathematician, Thurston Dart, who longed to become a musicologist. Dart became the ideologue of the post-war early music revival, awakening musicians to the world before Bach and the tricks of period performance. Marriner formed a string trio with a former fighter pilot, Peter Gibbs, and Dart on harpsichord. At their second concert, an Australian heiress, Louise Dyer, offered them a record contract with her label, L'oiseau Lyre.

'Peter and I would go up in his Tiger Moth,' chuckles Marriner, 'we once bombed the LSO bus with flour bags.' The 1950s were rumbustious times on the London orchestras; the LSO sacked its conductor, Joseph Krips, after he physically assaulted the manager, and Karajan walked out on the Philharmonia after Gibbs stood up and berated him for arrogance.

Marriner, irked by the scrawny string sound and eager to apply Dart's theories, rallied the Academy of St-Martin-in-the-Fields from freelance friends and named it after the Trafalgar Square church where they performed. Rave reviews greeted their silken recordings of Mozart, Haydn and Vivaldi. Invitations flowed in from as far off as Buenos Aires. The Academy became the most distinctive British brand after Rolls-Royce and Laura Ashley.

Marriner recorded his way through pre-classical and classical repertoire on Philips and Decca, establishing a fresh-toned, stickling scholarly style that was nonetheless acceptable to a mass audience. It enraged purists of the next generation who adopted primitive instruments and rougher intonations. Marriner's keyboard player Christopher Hogwood, broke away to form a rival Academy of Ancient Music. Rather than indulge a sectarian squabble, Marriner moved ahead into romantic and early-modern music, enlarging the band from 45 to 70. Along the way, he laid down the leader's violin and took up a baton.

Symphony orchestras craved his touch. He was appointed music director in Minneapolis and Stuttgart. Recently, the Vienna Philharmonic told him they had forgotten how to play Mozart symphonies: would he teach them?

The Academy was run without subsidy by his plain-spoken wife, Molly, a sometime assistant on Vogue magazine. She and Neville treated the players as family. When the Austrians hauled a Czech refugee violinist off their train for having faulty papers, Marriner refused to conduct until the man was restored to his band.

Nowadays the Academy is perpetually on tour, unable to play at home in full formation. 'We sell out the Festival Hall,' says its founder, 'and lose at least £20,000.' Lesser bands are sustained by Arts Council grants; Marriner considers the state mechanism musically discreditable.

Spry as a sportsman, he rarely conducts the Academy any more, yielding to such magnetic leaders as the pianist Murray Perahia and the violinist Joshua Bell. Marriner conducts mostly in winter, when there is not much work to do in his Devon garden.

He has been honoured with a knighthood and a Queen's Award for Export, but his real achievement has yet to be appreciated. It amounts to far more than a wallful of recordings and a soundtrack for Milos Forman's film of Peter Shaffer's Amadeus which introduced more new listeners to classical music than any film since Fantasia. His Mozart is referential for latter day interpreters and he was never afraid to take risks, taking up the cudgels for Alfred Schnittke's outrageously post-modern cadenza for the Beethoven violin concerto.

The recorded legacy will last forever, but it was the live Academy that altered the ecology of concert life, reviving the chamber ensemble as a viable alternative to big bands, and forcing orchestras everywhere to improve string intonation. Marriner was not the only such energiser on the London scene. Quintin Ballardie set up the English Chamber Orchestra and Harry Blech the London Mozart Players. Today London has three chamber outfits for every symphony orchestra. The Academy remains the brand leader, the arbiter of quality control. These are not claims that Marriner himself would make, for he is without ego. Ask him for his greatest thrill, and it might be seeing his daughter married in the church of St-Martin-in-the Fields, or playing in the back desk of the Philharmonia with Toscanini on the rostrum. Neville Marriner is a rare specimen in the musical jungle, a maestro without enemies. He took hold of a tradition, improved it beyond previous recognition and preserved it in transmissible form for all eternity.




---
Visit every week to read Norman Lebrecht's latest column. [Index]