Visit every week to read Norman Lebrecht's latest column. [Index]
---
Mariss Jansons - Rattle gets a rival

By Norman Lebrecht / October 29, 2003
---
Mariss Jansons, the world's most sought-after conductor, has arrived in Munich to challenge our man in Berlin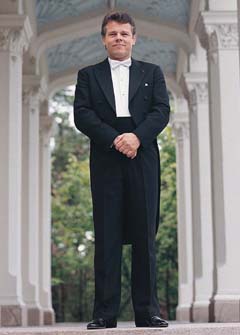 Mariss Jansons

The musical season is a moveable feast. It begins in London in September, in Milan in December and in most other European cities whenever the music director gets back from his opening round of US performances. In Munich, the season started last week with a concert of epochal significance.

Mariss Jansons, the world's most sought-after conductor, took up the baton as chief of the symphony orchestra of Bavarian Radio (BRSO), which is by common consent the best band in Germany after the Berlin Philharmonic. Jansons, 60, lives on stolen time. In April 1996, he suffered cardiac arrest in the podium during the closing bars of La Bohème. Further heart attacks in an Oslo hospital almost finished him off. A defibrillator was planted in his chest to shock the heart back into action as and when it stops again. More than most mortals, Jansons knows that every move he makes could be irreversible.

He chose Munich for its musical quality and European centrality. Next season he will also take on the Concertgebouw orchestra in Amsterdam. He has turned his back on America where, for the past seven years he raised Pittsburgh to a pinnacle of excellence. 'It's finished,' he confirms. 'All my energy will go to Munich and Amsterdam. Then I must do Berlin Philharmonic, Vienna Philharmonic, London Symphony Orchestra, which I love. America is an important country, wonderful people. I learned many things there. I might go back one week a year as a guest conductor, but nothing more.'

These are ominous words. For most of the past century great conductors were drawn to America by its wealth and energy. Now, they are having second thoughts. Simon Rattle refused all offers. Riccardo Chailly, Antonio Pappano and Daniele Gatti have planted their feet resolutely in Europe; Riccardo Muti can hardly be bothered to board a plane; Christian Thielemann works mostly in Germany. The American way of making music – heavily unionised schedules, deadeningly conservative audiences – has lost its allure. This is the last year that Munich has to wait for a maestro to return from America.

Which is not to say the Bavarians rolled out the red carpet. Unlike those brash Berliners who plaster their city with gigantic Rattle hoardings, Munich welcomed its new conductor with little more than a cocked eyebrow. This is a city of 1.5 million inhabitants with an international opera house, two world class orchestras (the Munich Philharmonic has Thielemann as its new chief) and dozens of small ensembles. The BRSO, which has made so many recordings it has a rack to itself in the record stores, has hardly bothered to travel beyond the city borders. Jansons has immediately put the band on the map. He has set up an introductory London concert in February, followed by a Proms debut in the summer. There will be an Easter residency at the Lucerne Festival, appearances at Salzburg and Edinburgh, tours to Brussels and Vienna. Having recorded nine of the 15 Shostakovich symphonies for EMI, he expects to complete the cycle before the composer's centenary year in 2006.

He faces considerable domestic obstacles. The BRSO has no concert hall of its own, shuttling between the Philharmonie am Gasteig, which looks like a 1980s multi-storey carpark, and the Herkulessaal, which is in dire need of a refit. When he signed the contract, they promised him a new hall; now, with national pensions cut and the economy stalled, he must adjust to poor premises. 'I must put a lot of time and energy to make it interesting,' he sighs.

These extraneous concerns are part of the job, and not the part he likes best. What makes Jansons unique in his metier is the intricacy of his musical touch. As a boy in post-war Latvia, the son of its leading conductor, he would play for hours with matchsticks which he set out in orchestral rows, moving the wooden 'players' around until he achieved the precision of an imagined sound. He continues to play the game with professional variations. In rehearsal he is quick and collegial, knowing exactly what he wants but listening intently to the players' suggestions. He refers inclusively to 'our orchestra'.

His opening programme consisted of Britten's Young Person's Guide to the Orchestra, Stravinsky's Symphony of Psalms and Berlioz's Symphonie Fantastique - not a note of German music to be heard. He picked the first two works to give every member of the orchestra and chorus a chance to shine and the Fantastique because it is his all-time favourite. But where most conductors play the Britten as an educational device – look, these are the cellos and this odd piece of plumbing is the tuba – Jansons drew out of the muddy textures an unexpected glissando from Peter Grimes and afleeting hint of Billy Budd. In the Stravinsky, he made Latin psalmic texts sound ergonomically Russian. In Berlioz, he planted the two harps in front of the orchestra, on either side of his rostrum, and banished bells and drums to the unseen backstage. With such finessing of detail he never allows musicians or audience to settle into a warm bath of familiar tunes. In every piece he conducts Jansons likes to reconceptualise, start to finish.

The first-night crowd erupted as expected, but a conductor's success cannot be measured in decibels of applause. The test, to my eye, came at the opening of the Fantastique, directly after the interval. As he put bow to strings, the co-principal violinist smiled privately at his neighbour, whose beaming response spread seat by seat around the orchestra, like sunshine after a cloudburst. That, in an instant, is the Jansons effect. He reminds musicians of the joy in their vocation and listeners of the sheer blessed privilege of being alive.

If Rattle's ascension to Berlin was the musical event of 2002, Jansons' arrival in Munich is no less seminal. Germany's new musical masters could hardly be more dissimilar. Where Rattle has a genius for galvanising public attention with astute, socially conscious initiatives, Jansons operates from within the music, allowing its ineluctable logic to illuminate his infinitely subtle interpretations. The two men, though they are friends, are natural antipodes. Rattle is the Toscanini of our time, universally a household name, while Jansons is our Furtwängler, spiritually immersed in the essence of art. Theirs is more than just a clash of styles: it is an irreconcilable divergence of practice and philosophy with the makings of a genuine Kulturkampf. If anything can strike sparks in somnolent audiences it is the prospect of a struggle for musical supremacy between Berlin and Bavaria, between brawn and beauty, boldness and the unbelievable light of imagination.
---
Visit every week to read Norman Lebrecht's latest column. [Index]