---

The Metropolitan Opera has suffered serious financial shortfalls since 9/11, amounting to several million dollars per year, mainly blamable on reduced ticket revenue. To stanch the bleeding this season, the Met went dark from Jan. 10-25, 2005, the period of poorest sales. Making lemonade out of lemons, the Met Orchestra scheduled three concerts at Carnegie Hall during the month (Jan. 9, 23, 30), providing some of the best music to be heard in New York all year.

It is no secret that the MET Orchestra is the most reliable aspect of any Metropolitan Opera production. Singers and sets and direction may go awry, but the orchestra is almost always superb. So it is no surprise to discover that when the MET Orchestra emerges from the pit to perform on stage at Carnegie Hall, it delivers memorable music making. On January 23, the band offered a highly refined program to a packed house.

For me the draw was Canadian tenor Ben Heppner, fresh from a run of Otellos at the Met, and in the middle of a packed season of recitals. Heppner has been through several well-publicized vocal crises in the last few years, characterized by dryness and cracking in mid-song. He seems to have worked through these problems, and after drastic weight-loss (and removal of goatee), has returned to his familiar hefty proportions and facial hair.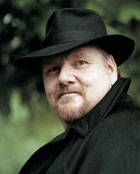 As the soloist in Mahlerís Das Lied von der Erde he sounded better than I have ever heard him. The voice was powerful, steady, and controlled, with a rich timbre and smooth legato. Unlike in his past troubled times, there was no sense of pinching or effort, none of the caponized sound of a voice under harsh discipline. Only very briefly, on a couple of highish notes and in a certain tricky transitional area, did his voice sharpen slightly. But as if to defy the gods, he fearlessly bellowed Das Trinklied von Jammer der Erde - and was heard over the orchestra. Elsewhere he was sweetly lyrical, as in Von der Jugend.

Swedish mezzo Anne Sofie von Otter replaced the scheduled Lorraine Hunt Lieberson in the other solo part. Von Otter had some of Mahler's loveliest music to sing, and she did her best with it. But, sadly, her voice has lost its former luster. All too often in Der Einsame in Herbst her high notes were dry. In general, her voice was wan and thin, so that even the long, heart-wrenching prose poem of Der Abschied was traversed without evoking emotion or magic.

The real star of the evening was the Met Orchestra. In Das Lied,, Levine elicited exquisite precision, a palette of apt colors and crystal clear effects. How different from the Mahler offered by some orchestras of great repute, where decibels and speed are vainly deployed to hide technical sloppiness. In Der Abschied, one tuned out Von Otter in order to savor the prodigious professionalism of the orchestra (that harp solo!).

The concert opened with the Overture to Weberís Oberon, played without any German heaviness or "monster opera" bombast. Levine tactfully coaxed the players to an interpretation of unexpected musical delicacy and balance.

Unfortunately, Elliott Carterís Variations for Orchestra (1953-55) was scheduled as penance. The octogenarian Carter (who was present and took bows) is the highly respected dean of American composers. All honor to his white hairs. The Variations was 23 minutes of clever but pointless academic exercise that I (and most of the audience, to judge by their restlessness), could have done without. The MET Orchestra played it perfectly.

> Carnegie Hall
---