---

The scenario is tragically familiar. A foreign piano or violin prodigy (usually Russian, Asian, or Slavic) immigrates to the United States, attends a chic music school, wins a few medals, is signed by a middle-level agent, and starts playing anywhere that will have him.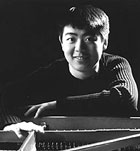 In his teens, before he has time to become a mature and experienced artist, he is "discovered" -- which means that a powerful partnership of talent agency and major cd company decides he can be turned into a profitable commodity. He joins one of the huge talent agencies (CAMI, ICM, IMG), signs with a major record company (Universal, EMI, Sony), hires a publicist, and gets a fancy web site. His fees double. Journalists write fulsome articles about his rags to riches story. This sells tickets and CDs, delighting presenters, agents, publicists, and record companies. The American classical music "industry" calls this success.

Alas, somewhere along the way, the budding artist, so full of potential, with so much to learn, ceases to develop. Artistic standards, emotional growth, and intellectual inquiry vanish in the blurr of commercialism, ego gratification, media opportunities, and trick mannerisms. Instead of a sentient, evolving musician, commanding our respectful attention and growing more interesting with time, we get a juggler going through technically dazzling but interpretively empty paces. Music has given way to circus.

This Faustian scenario may be about to occur to the 21-year old Chinese pianist Lang Lang, a promising musician who made a disappointing Carnegie Hall recital debut on Nov. 7, 2003.

Hopes ran high when the young and exuberant Lang Lang first appeared on the American scene about four years ago. In April 2001, reviewing his concert with the Baltimore Symphony at Carnegie Hall, I praised his "precocious blend of technique, sense, and sensibility [...] respectful of the music, of tradition, and of the more informed members of the audience." I even predicted the advent of "a new performer who promises to enrich the music scene for years to come" (full review here).

Yet on November 7, 2003 Lang Lang gave a Carnegie Hall debut recital that the New York Times judged "often incoherent, self-indulgent and slam bang crass."

The concert opened with a subdued, wan traversal of Schumann's Abegg Variations, marred by the pianist's hammy "soulful" gazing at the ceiling.

In Haydn's Sonata in C Major, Hob. XVI:50, the lively outer movements were propulsive and engaging. No one denies Lang Lang has the chops to sparkle at speed. But the slow movement - always a test of a performer's depth - lacked significance and cohesion. Lang massaged and dragged the musical line, but the result was mannered, tendentious and boring.

Lang's traversal of Schubert's Wandererfantasie, D.760, signified nothing, despite his "St Theresa in Ecstacy" facial expressions.

After the intermission, Lang wore a red Chinese blouse to play Tan Dun's Eight Memories in Watercolor, Op. 1, a cute but trivial set of Hollywood Impressionist miniatures with Asian tonalities. Perhaps because no complex psychological-affective interpretation was required by these Kinderszenen, they elicited Lang's most satisfying performance.

Chopin's Nocturne in D-flat Major, Op. 27 No. 2, sounded as dull and deliberate as if produced by a player piano. Liszt's bombastic Réminiscences de Don Juan was treated as a decibel-generating showpiece and grated on one's nerves like a bad joke told over and over.

Four encores followed: Schumann's "Träumerei", a comic Chinese duet "Competition of the Two Horses" with Lang Lang's father on the Erhu, Liszt's "Liebesträume," Op. 62, No. 3, and Strauss's "Soirée de Vienne" from Die Fledermaus (arr. Alfred Grünfeld). The finale was Sousa's "Stars and Stripes Forever" in a knucklebuster arrangement that one assumes is an homage to Horowitz, albeit played sans the delicacy and wit of the great Vladimir.

Applause was loud but oddly not sustained, and the audience left in clumps throughout the encores, reminding us that Lang Lang's current fan base is swollen by people who saw his appearances on TV talk shows like Leno. These folk are more interested in the glitz of celebrities than in the refinements of quality classical music. They are impressed by superficialities, quick to give a standing ovation, but they have a short attention span. They are not the demographic which will be faithful to him in the long run.

This concert marked a low point in Lang Lang's career, but the signals have been there for a while.

In August 2002, the Chicago Tribune panned Lang's "assault" on concertos by Grieg and Rachmaninoff at the Ravinia Festival. Critic John von Rhein wrote, "the music became an accessory to the soloist's acrobatic performance [...] All he needed was a white sequined suit and a candelabra and Ravinia could have sold him as the new Liberace."

In December 2002, the Los Angeles Times worried about Lang's "formidable -- if limited -- technique, uncanny showmanship and stylistic waywardness and vulgarity."

Lang's current tour is garnering mixed reviews. His November 2, 2003 recital in Montreal was described by the leading French daily La Presse as "an enormous disappointment." Lang was judged, "a product fabricated by the record industry for quick consumption [...] pianistically imperfect ... musically deficient ... mannered."

Reviewing his Nov. 8, 2003 concert, the Boston Globe admitted "Lang's musical culture is not yet as fully developed as his pianistic chops."

Most damagingly, Lang's Nov. 7 Carnegie debut was panned by the New York Times, which wrote, "Mr. Lang's head seems to be so full of his own hype that there can't be much room left for analytic thinking." It advised Lang to "spend a couple of months playing chamber works with fine musicians young and old and remember what it means to be a serious performing artist."

One can not blame Lang, who grew up in poverty, for grabbing the brass ring. But someone needs to warn him. If he does not revise his attitude, he risks a brief ignoble career as a mere showman -- the next Arcadi Volodos or David Helfgott.
---