---

One of the highlights of the operatic season was the Collegiate Chorale's concert performance of Verdi's La Forza del Destino at Carnegie Hall on Jan. 23, 2003. Opera buffs and industry types (including Metropolitan Opera boss Joe Volpe, and reportedly Placido Domingo and Martina Arroyo) were out in force to hear Italian tenor Salvatore Licitra, who famously replaced Pavarotti in Tosca at the Metropolitan Opera last spring. Since then he has been hyped as The Next Big Thing by his record company (Sony), though his debut CD was a disappointment.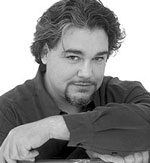 The good news is that Licitra (photo left) is better live than on disc. He has a very powerful, natural-sounding voice produced without much apparent effort. His range is not immense and like Domingo his timbre is baritonal, without the ringing top notes that Pavarotti had in his youth (and that were standard in the great tenors of yore). There is a definite ceiling to his voice. Instead of singing the highest notes, he just sings louder and constricts his sound, a trick that "represents" the high note. This trickery is standard today, since tenors are in short supply.
Aesthetically, Licitra's voice is pleasant to hear and sounds natural, with some velvet and a few rays of sunshine. Physically, he is of medium height, stout, but not fat. He projects energy, virility and confidence. No question he would be a valuable addition to any opera house, including the Met.

African-American baritone Mark Rucker was an audience favorite. His Don Carlo was on the light side but tastefully sung.

The plump mezzo Marianne Cornetti brought a medium-weight, plush voice and winning personality to the role of Preziosilla.

Veteran bass Simon Estes replaced Julian Konstantinov as Padre Guardiano. Well into his 60s, Estes sounded good for his age though as a last minute replacement he stuck close to his score and made a few mistakes.

Bass Paul Plishka's voice has begun to tremble in the last few years but he is a consummate actor and has Friar Melitone's comic moves down pat.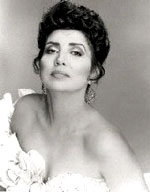 Soprano Maria Guleghina (photo left) is strikingly pretty, has an impressive technique, and a remarkable dramatic instrument. But she sang Leonore with more force than subtlety, as if inside Miss Calatrava there was a Lady MacBeth trying to get out. One recalled with nostalgia Leontyne Price's warm, sympathetic tone and soft feminine pathos in this role.
The performance was almost uncut and ran for four hours. The Orchestra of St. Lukes under Robert Bass gave a dramatic and nuanced reading of the score though there were false notes from a cello and a clarinet. The Collegiate Chorale sang with spirit and power.

Reviews were very positive. New York magazine called the show "a small miracle." Newsday called it "incandescent" and lauded everyone involved. The New York Times was generally positive, while noting vocal limitations in Guleghina and Licitra. The Associated Press judged the performance "a far more compelling Forza than the Met has been able to muster in years."
---