---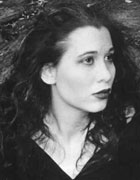 Canadian soprano Alexandra Deshorties (photo left) was loudly and repeatedly booed during her opening night as Konstanze in Metropolitan Opera's revival of Mozart's Die Entführung aus dem Serail on Jan. 20, 2003.

The booing - from a male audience member seated in the middle of the orchestra section - erupted after Deshorties's arias "Ach, ich liebte" and "Martern aller Arten." Conductor James Levine - rumored to be her protector - was visibly angry. The malcontent didn't get a chance to boo more, since Metropolitan Opera security guards threw him out during the intermission.[Check out more details on Parterre.com].

Whether Deshorties deserved to be booed or not, her singing was technically insecure and frequently off-pitch. Rumors from dress rehearsals last week suggested that Deshorties was not in good voice.

Deshorties (correctly pronounced "Days Ortee") is a Montrealer who attended the Manhattan School of Music and was a winner of the 1997 Metropolitan Opera National Council Auditions and the George London Foundation award. Since then she has appeared at prestigious venues such as the Aix-en-Provence Festival and the Metropolitan Opera. Her rise has been rapid. Of her November 2000 George London Foundation Recital I wrote: "Canadian soprano Alexandra Deshorties is still at the fledgling stage of her career. She is tall and beautiful, with a fine voice. Her instrument is strident at times, with an edge to the top notes; her loud singing is better than her soft singing, and she is probably being groomed for big opera houses, where she will undoubtedly mature and thrive." [full review here].

If the booing was unpleasant, the Metropolitan Opera's very public ejection of the booer was even more deplorable. To paraphrase a famous libertarian, though I may disagree with booers, I defend their right to boo. North America audiences are famously generous, almost never booing, but in Europe it is a common and vital part of the performance process. Booing may seem cruel, but it is often the only way that paying customers can communicate to the management their dissatisfaction with a performer or a production. Informed dissent and loyal opposition have an honorable history. Stravinsky's avant-garde work Le Sacre de Printemps caused a riot at its 1913 Paris premiere, but classical music and Stravinsky survived and prospered. But to judge from the Met's strongarm tactics on Jan. 20, only smiling faces are welcome. To some observers, this muscular stifling of audience opinion smacks of censorship and totalitarianism.But legally, the Met has the right to throw anyone out anytime for no reason whatsoever. Read the fine print on your ticket.



Bouncing one booer did not change the fact that John Dexter's decades-old Entführung production (photo left) was dramatically inert and unfunny. The cheap cardboard sets and cartoonish costumes by Jocelyn Herbert deserved to be booed even more than the soprano.

Stranded in the center of the Met's vast stage, the promising cast vainly tried to inject some intimacy and humor into Mozart's Orientalist farce. Veteran basso Kurt Moll desperately hammed it up as Osmin, making asides to the conductor and prompter, all in the worst vaudeville style. Paul Groves was a fine Belmonte, with a light, high tenor, though his German diction was full of inaccuracies. Jennifer Welch-Babidge was a glittering Blondchen, with an easy girlish soprano and charming presence.

Alexandra Deshorties has the elements of a great voice, but on this occasion she seemed either sick or overparted. She veered off pitch repeatedly, and forced her high notes. It might have been better had she announced an indisposition.

Barry Banks was a perky little Pedrillo with quite good German diction. German actor Matthias von Stegmann was suave in the speaking part of Pasha Selim. James Levine drew fine detail from the orchestra but his tempos were slow and the overall performance dragged. The recent New York City Opera/Glimmerglass Opera production of this work, sung in English, is infinitely livelier and more entertaining.


Reviews of this production were mixed. Newsday deplored the merely "adequate" cast, describing Deshortie as "shaky" and with "vinegar in her voice." The New York Times published a mystifyingly sunny review that praised the "delighful" sets and Deshorties's "clear singing and overall accuracy."
Neither the New York Times or Newsday mentioned the booing and expulsion fracas. Only the Financial Times reported it thus: "Met authorities, who never interfere when patrons disrupt performances with ill-timed ovations, claimed that the booer could have stayed if he had produced the right ticket stub. The booer, no boor, insisted on his way out that he had left the stub in a lounge. So much for freedom of expression, not to mention operatic drama, in the land of the free and the home of the impetuous." It took a full week for the New York Times to revisit the incident in a "think-piece" that only got the Met's side of the story and called booers "opera crazoids." So much for all the news thats fit to print.

The Metropolitan Opera was far from full, confirming the Met General Manager's recent public admission that the house's average box office this season is a mere 70%. This would explain why the orchestra section seemed heavily papered with scores of casually dressed people who did not look like they paid full price for their seats.
Oddly, even with very low attandance and seats being given away free, the Metropolitan Opera Press Office still refuses to accredit any Internet-based journalists, even those from popular web sites such as this one and Musicalamerica.com, Andante.com, Culturekiosque.com, NewMusicBox.org, Music and Vision, and Parterre Box.

---