---

For all the talk of a "return to normalcy" following the Sept. 11 attack on the World Trade Center, most New Yorkers are still plagued by doubts and fears about their present and future. Businesses and arts presenters are suffering from the double whammy of the soft economy and the fear of terrorism. Ticket sales are weak on Broadway, as well as in classical music venues such as the Metropolitan Opera and Lincoln Center.

Carnegie Hall took a step toward restoring public confidence on Sept. 30 with a pre-season Concert of Remembrance Honoring the Victims of the Tragedy of Sept. 11, featuring James Levine, Yo-Yo Ma, and Leontyne Price. The free, one-hour event was packed to the rafters with a wide spectrum of New Yorkers who had lined up for tickets earlier in the day. Admission was free but the audience was encouraged to give to World Trade Center charities.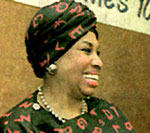 To judge by the deafening ovations that greeted Leontyne Price, she was the main attraction. This was one of the legendary American soprano's rare public appearances since her retirement from the opera stage in 1985. The incredibly well preserved 74-year old strode onto the stage full of stately dignity. In her black turban and black dress, with pearls and the tricolor "anti-terrorist" ribbon on her bosom, she looked almost untouched by the years. Yet for all her poise, it was clear when she turned to face the audience that she was frightened. And who could blame her? The hall was packed with strangers, the concert was being broadcast, and she hadn't sung in public in years. To everyone's relief, Price's two numbers were both powerful and poignant. Her first song (accompanied by James Levine) was "This little light of ours, we're gonna let it shine" which started shaky but grew in confidence and was capped with what sounded like a perfect high B. The crowd went wild. Then Price sang several verses (a cappella) of America the Beautiful, a very moving experience. She emphasized the word "good" in the phrase "And crown thy good with brotherhood / From sea to shining sea," as if to underline that not everything American is good, and that one must chose the right path. She capped the final word "sea" with what sounded like a sterling high B-flat or maybe even a C. The crowd went insane, roaring "Diva!" and recalling her for three bows on the arm of James Levine. She looked slightly tired and sang no more, rightly sensing that anything else would be an anticlimax. She had made her statement of bravery.

Price's brief appearance was doubly significant in that she embodies the American dream - the poor girl from Mississippi who made good - and the liberal hope of the tragic Kennedy years and the '60s, when America struggled with its good and bad angels, as it is doing today.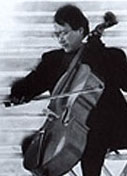 The rest of the program was a preamble to Price's divine visitation. America's favorite cellist Yo-Yo Ma opened the concert with Mark O'Connor's Appalachia Waltz, a haunting melodic piece as lean and graceful as a baroque sonata. Ma also played Bach's Cello Suite No. 5 in C-minor. He gave the Allemande an emotional interpretation and cast an introspective spell in the Courante, earning a standing ovation. Unfortunately some audience members applauded between movements. James Levine and four members of the Met Chamber Orchestra played Mozart's Quintet for Piano and Winds in E-flat major, K. 452. The oboe, clarinet, bassoon and horn solos were all superb. This was a long, soothing work that spoke of peace and cultured humanitarian values. Levine concluded with William Bolcom's Graceful Ghost Rag, a wistful elegiac piano work that struck the right balance between gaiety and sadness.

Intentionally or not, this concert of European and American music performed by Asian-American, African-American, Jewish-American, and Hispanic American (Met Opera clarinetist Ricardo Morales) musicians perfectly represented the melting pot that makes the United States strong, vibrant, and fascinating.

Carnegie Hall's new director Robert J. Harth delivered a few pithy remarks, emphasizing that "though we have lost much, our spirit, compassion, and perseverance endures." He also mentioned the recent death of Carnegie Hall president Isaac Stern, whose funeral took place earlier in the day.

An ecclesiastical silence reigned throughout the concert broken only by ringing cell phones. In that sad way, thing are indeed back to normal. Quick bag checks at the street doors were the only visible security measures.

The Carnegie Hall season officially opens on October 3 at 7 pm with the Berlin Philharmonic Orchestra.

> Carnegie Hall
---