The UK National Theatre's Performances Now Playing Live in High-Definition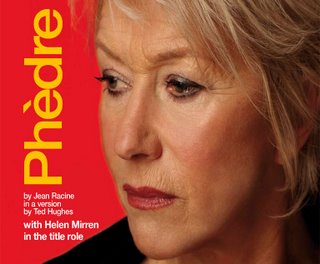 The UK National Theatre'Äôs Performances Now Playing
Live in High-Definition Exclusively in Canada at Cineplex Entertainment Theatres
Four-part series begins June 25th with Phˆ®dre, starring Helen Mirren,
Dominic Cooper and Margaret Tyzack
TORONTO, ON, May 20, 2009 (CGX.UN) 'Äì Cineplex Entertainment, the National Theatre, London and BY Experience, Inc. are pleased to announce a new series of theatrical performances will be presented live from the stage of the National Theatre exclusively in Canada at select Cineplex Entertainment theatres. The first performance in the four-part series, Phˆ®dre, starring Helen Mirren, will be shown on Thursday, June 25th at 7 pm EST & PST/8 pm MST/6 pm CST in High-Definition (HD) and digital surround sound.
'ÄúThe NT Live events are designed to bring what we do on the stages of the National to a far greater number of people than we would ever be able to reach otherwise,'Äù says Nicholas Hytner. 'ÄúThrough high definition broadcasts, we have the technology at our disposal to present our productions beyond the four walls of the National, to reach passionate theatre-goers all over the world, and to do it really well.'Äù
Of her performance in Phˆ®dre to be sent via satellite to Cineplex Entertainment theatres, Helen Mirren says, 'ÄúI am very happy to have the opportunity to play Phˆ®dre - a rich, complex and demanding role 'Äì and to be part of NT Live, this grand new adventure for the National Theatre.'Äù
'ÄúWe are delighted to offer our guests a new series of theatrical performances live from the UK National Theatre,'Äù said Pat Marshall, Vice President, Communications and Investor Relations, Cineplex Entertainment. 'ÄúThis series further extends the entertainment options available at our theatres from the MET opera performances, to the Stratford Shakespeare Festival and live concerts. In the first of four performances, Helen Mirren takes on another regal role in Phˆ®dre that is sure to 'Äòwow'Äô our guests when they experience it exclusively on our big screens across the country.'Äù
Lloyd Dorfman, Chairman of Travelex, says: 'ÄúNT Live is a major innovation in theatre. We'Äôre enormously proud to be part of it 'Äì the result of a seven year partnership with the National Theatre, one of the world'Äôs most respected theatres. Day-to-day, Travelex is committed to helping connect people and businesses across the globe. We really hope that this initiative makes world class theatre accessible for those connected by a love of the stage on a truly worldwide scale.'Äù
Advance tickets are now available online at www.cineplex.com/events as well as at participating theatre box offices. Admission for children ages 3 'Äì 12 is $16.95 + tax, seniors is $17.95 + tax and general admission is $19.95 + tax. A special group rate is also available for groups of 20 or more at $16.95 per person. For more information on group rates, call 1-800-313-4461.
Mirren will play the title role in Racine's Phˆ®dre. In the play, based on earlier treatments of the Greek myth by Euripides and Seneca, Phˆ®dre is the wife of Theseus, king of Athens, who develops a fatal and unrequited passion for her stepson, Hippolyte. Dominic Cooper will play Hippolytus and Margaret Tyzack will co-star as Oenone, Phˆ®dre's nurse. Nicholas Hytner, artistic director of the National, will direct.
Following Phˆ®dre, the remaining plays in the series include Shakespeare'Äôs All'Äôs Well That Ends Well with Clare Higgins on October 1, 2009; and in early 2010, Nation, based on the a novel by Terry Pratchett and adapted by Mark Ravenhill as well as Alan Bennett'Äôs new play, The Habit of Art, with Michael Gambon, Alex Jennings and Frances de la Tour.
NT Live events are distributed outside the U.K. through New York-based BY Experience, Inc.
NT Live is supported by Travelex, in partnership with Arts Council England and NESTA.
About Travelex
Travelex is the world's foreign exchange and business payments specialist. With operations spanning 35 countries, the business operates three divisions focusing on retail foreign exchange, cross border business payments and outsourcing partnerships.The company serves a customer every other second and, through an expansive network covering 115 airports, has a global annual audience of 1.8bn people.
About Cineplex Entertainment
As the largest motion picture exhibitor in Canada, Cineplex Entertainment LP owns, leases or has a joint-venture interest in 130 theatres with 1,333 screens serving more than 63.5 million guests annually. Headquartered in Toronto, Canada, Cineplex Entertainment operates theatres from British Columbia to Quebec and is the largest exhibitor of digital, 3D and IMAX projection technologies in the country. Proudly Canadian and with a workforce of approximately 10,000 employees, the company operates the following top tier brands: Cineplex Odeon, Galaxy, Famous Players, Colossus, Coliseum, SilverCity, Cinema City and Scotiabank Theatres. The units of Cineplex Galaxy Income Fund, which owns approximately 99.5% of Cineplex Entertainment LP, are traded on the Toronto Stock Exchange (symbol CGX.UN). For more information, visit www.cineplex.com.