TSO's New Creations Festival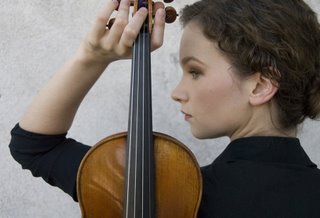 Maestro Peter Oundjian and the Toronto Symphony Orchestra
Cutting edge, modern, and Canadian! The Toronto Symphony Orchestra presents the best in new music with the fifth annual NEW CREATIONS FESTIVAL, March 5-11, 2009. This year's festival is devoted to string instruments with a theme that is distinctly Asian. Highlights of this year's Festival will include one world premiˆ®re and two Canadian premiˆ®res, composer Tan Dun conducting three of his own works, American powerhouse violinist Hilary Hahn, and cellists Anssi Karttunen and Shauna Rolston.

Maestro Oundjian and the TSO established the NEW CREATIONS FESTIVAL in 2005, soon after Oundjian's arrival at the helm of his hometown orchestra. He said the following about this year's Festival:

"Tan Dun is an old friend of the orchestra's, and I am thrilled to have him visit us again. I heard his dazzling cello concerto, The Map, some years ago, and it got me thinking about his music, and about string concertos. It was a natural evolution to bring some of the world's finest string soloists to Toronto to perform some of the best new concertos being created right now. I am particularly pleased that my alma mater quartet, the Tokyo Quartet, is coming! It has been many years since I've played with them, and I am very excited about working with them. Through all these concerts, I have programmed music that has been important to Tan Dun, to his heritage, and to his creative life, including music by his mentor, the great Japanese composer Toru Takemitsu. I am particularly pleased to feature our outstanding Principal Viola, Teng Li, in a beautiful concerto by Takemitsu. New Creations has always been about variety, and this year's festival is going to be an eclectic and widely appealing festival experience."
This year's NEW CREATIONS FESTIVAL will take over Roy Thomson Hall with contemporary art events in the lobby spaces including an ambient gong-sound installation, intermission chats with artists involved in the performances, post-concert live musical performances, and other surprises outside the building.

TSO Music Director Peter Oundjian will act as host for all of the concerts and will conduct select pieces, alongside other guest conductors. The Festival will open with Asian Inspiration on March 5 and will feature the Canadian premiˆ®re of The Map (Concerto for Cello, Video, and Orchestra) by the Oscar-winning composer Tan Dun. Tan Dun will also conduct the piece and celebrated Finnish cellist Anssi Karttunen will be the soloist, making his TSO debut. TSO Principal Teng Li will be the viola soloist in Takemitsu's haunting A String Around Autumn, and Frederick Schipizky's Odyssey will round out the programme.

Eastern Portraits, on March 7, will again see Tan Dun take centre stage, this time conducting his Secret Land for Twelve Cellos, as well as his Pipa Concerto, performed by pipa master Wu Man. The last piece on the programme will be the world premiˆ®re of TSO & CBC Radio co-commission of Alexina Louie's Concerto for String Quartet and Orchestra, performed by the internationally renowned Tokyo String Quartet (in which Peter Oundjian played first violin for many years). This concert will be recorded for a future broadcast on CBC Radio.

Takemitsu's magnificent work for string orchestra, A Way A Lone II, will open the final evening of the Festival on Wednesday, March 11, titled String Creations. Grammy Award-winner and 2008 Gramophone Artist of the Year, Hilary Hahn, will be the soloist in the Canadian premiˆ®re of Jennifer Higdon's Violin Concerto, a work that was co-commissioned by the TSO, Baltimore Symphony Orchestra, Indianapolis Symphony Orchestra, and Curtis Institute of Music. Innovative Canadian cellist Shauna Rolston will perform Gary Kulesha's Cello Concerto, which he will also conduct. Gary Kulesha, in addition to being the TSO's Composer Advisor, has worked closely with Peter Oundjian to help shape this year's Festival.
Maestro Peter Oundjian and the Toronto Symphony Orchestra
Thursday, March 5 at 8 pm
ASIAN INSPIRATION
Peter Oundjian, conductor/host
Tan Dun, conductor
Teng Li, viola
Anssi Karttunen, cello
Frederick Schipizky: Odyssey
Takemitsu: A String Around Autumn
Tan Dun: The Map (Concerto for Cello, Video, and Orchestra) - Canadian Premiˆ®re
Saturday, March 7 at 8 pm
EASTERN PORTRAITS
Peter Oundjian, conductor/host
Tan Dun, conductor
Wu Man, pipa
Tokyo String Quartet
Tan Dun: Secret Land for Twelve Cellos
Alexina Louie: Concerto for String Quartet and Orchestra (TSO & CBC Radio Co-Commission) - World Premiˆ®re
Wednesday, March 11 at 8 pm
STRING CREATIONS
Peter Oundjian, conductor/host
Gary Kulesha, conductor
Hilary Hahn, violin
Shauna Rolston, cello
Takemitsu: A Way A Lone II
Gary Kulesha: Cello Concerto
Jennifer Higgdon: Violin Concerto (TSO/Baltimore Symphony Orchestra/Indianapolis Symphony Orchestra/Curtis Institute of Music Co-Commission) - Canadian Premiˆ®re
All concerts take place at Roy Thomson Hall
60 Simcoe Street, Toronto
Tickets range from $37 - $125
Call the Roy Thomson Hall box office 416.593.4828
or purchase online: www.tso.ca
Labels: new music, Peter Oundjian, Toronto symphony Orchestra