Ashkenaz Foundation presents Ladino Music Legend Flory Jagoda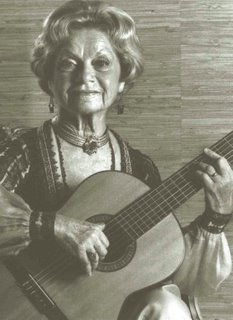 ASHKENAZ FOUNDATION PRESENTS
"Judeo-Spanish Songs From Bosnia"
Saturday, December 6, 2008, 8pm
Glenn Gould Studio, CBC Broadcast Centre, 250 Front St. West, Toronto
Tickets $20 in advance, $25 day-of show
Tickets available by phone at 416.872.4255 or online at www.roythomson.com
For more information call 416.979.9901 or visit www.ashkenazfestival.com
Ashkenaz Foundation is thrilled to present the legendary Flory Jagoda in her first Toronto appearance in over a decade. Her music is a unique amalgam of Jewish, Spanish, North African, and Balkan influences, sung in Ladino, the ancient Judeo-Spanish language. Flory Jagoda's live performances feature authentic Sephardic songs and her own original compositions, woven together with compelling tales about the music and the lost Sephardic world of Sarajevo. Among the last surviving matriarchs of one of Judaism's rarest and richest cultural traditions, Flory Jagoda is a unique treasure.

Following the 15th century Spanish Inquisition, Sephardic Jews fleeing violent persecution and forced conversion in Spain, re-settled in Mediterranean countries where they preserved their unique traditions and their Ladino language while blending in the musical flavours and rhythms of their adopted countries. Into this rich heritage, Flory Jagoda was born in Sarajevo, Bosnia, where her mother's family, the Altaras Family, were well-known singers and musicians for generations since their expulsion from Spain.

Flory Jagoda was among few in her family to survive the tragic obliteration of Sarajevo's Jewish community in the Holocaust, following which she emigrated to the US in 1946. For the last six decades she has made it her personal mission to keep alive the rich Ladino musical tradition of Bosnia's Jews, earning her the moniker "Keeper of the Flame." Now in her 80's and residing in Washington, DC, Flory Jagoda continues to perform and is known world-wide as one of the few authentic performers of Ladino music. Though in danger of extinction, Ladino music has recently experienced a minor revival, in no small part due to Flory Jagoda's tireless stewardship. In 2002 she was honoured with a National Heritage Fellowship from the National Endowment for the Arts for her contribution to preserving a traditional art form.
The December 6th performance will include a number of seasonal songs, including Flory Jagoda's own world-famous Hanukah anthem "Ocho Kandelikos" (Eight Candles). The show will be recorded by CBC Radio Two's "Canada Live" for future broadcast. In addition to Flory Jagoda on vocals and guitar, she will be joined by her longtime accompanist Howard Bass (guitar), her apprentice Susan Gaeta (guitar, vocals), and three members of Toronto's renowned Jewish/Balkan fusion group Beyond the Pale, including Ashkenaz Artistic Director Eric Stein (mandolin), and the Serbian-born pair of Aleksandar Gajic (violin) and Milos Popovic (accordion).

The Ashkenaz Foundation is a community-based non-profit organization dedicated to fostering an increased awareness of Jewish culture through the arts. With its biennial festival and an expanding slate of year-round programming, Ashkenaz showcases the work of leading contemporary artists from Canada and around the world working in all artistic disciplines. In its most recent festival (August 2008 at Harbourfront Centre) and ongoing plans, Ashkenaz has continued to broaden its programming mandate, with a particular effort to present more Sephardic and pan-Jewish programming.
ASHKENAZ FOUNDATION PRESENTS
"Judeo-Spanish Songs From Bosnia"
Saturday, December 6, 2008, 8pm
Glenn Gould Studio, CBC Centre, 250 Front St. West, Toronto
Tickets $20 in advance, $25 day-of show
Tickets available by phone at 416.872.4255 or online at www.roythomson.com
For more information call 416.979.9901 or visit www.ashkenazfestival.com
Labels: Toronto