Hugo Wong selected as young soloist to perform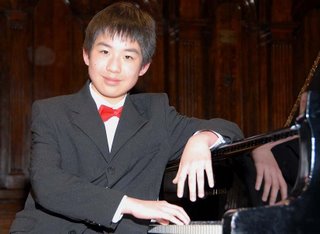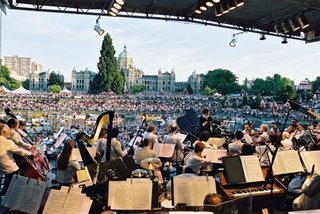 15 year old pianist Hugo Wong selected as the young soloist to perform for 40,000 people during the 2008 Bayview Residences Victoria Symphony Splash
Victoria, BC 'Äì On August 3rd, 2008, over 40,000 people will hear 15 year old Hugo Wong perform the first movement from Schumann's Piano Concerto with the Victoria Symphony during the 19th annual Bayview Residences Victoria Symphony Splash. Wong was selected from a field of 22 very talented young performers who auditioned in a taped round, from those 11 were subsequently selected to audition live for Music Director Tania Miller.
'ÄúPerforming with others is something that I enjoy a lot. There's something about the collaboration that really appeals to me. Doing that outside with such an enormous crowd makes it that much better. It's an honour to have been selected, and I'm really looking forward to it!" exuded Hugo Wong after being told he had been selected to perform at Bayview Residences Victoria Symphony Splash
The Victoria Symphony has included some outstanding performances by young people in the community over the years and this year'Äôs live auditions featured 11 very talented applicants. Last year the talent pool was so extraordinary that Music Director Tania Miller selected three young soloists to perform. This year the group was equally talented however Hugo Wong was the stand out among the soloists who auditioned. He performed the first movement from Schumann'Äôs Concerto in A Minor.
'ÄúI enjoyed this year's Splash auditions immensely and was treated to consistent excellence from this city's youth. It was a strong year for auditions.
Hugo Wong captured me with his ability to completely give himself over to the music and his enormous technical facility for a boy of his young 15 years of age. I have heard Hugo Wong audition for Splash for several years now, and this year he stood out in achieving a new level for himself which is quite extraordinary. The time is right for him to be featured as our Splash soloist for 2008 and for our audiences to hear his wonderful gift for expressing music.'Äù remarked Music Director Tania Miller.
The performance by a young soloist has always been an integral part of Bayview Residences Victoria Symphony Splash. The annual auditions and young soloist performance demonstrate that Victoria has no shortage of exceptional young talent. The Victoria Symphony, as part of is annual BC day long weekend performance, is thrilled to continue to feature the incredibly talented, classically-trained young musicians in the community.
This year'Äôs young soloist will appear thanks to the on-going support of the Leslie and Murray Glazier Victoria Symphony Young Musicians Fund.
Hugo Wong began playing piano at the age of 4. Now 15 and a ninth grader at Mount Douglas Highschool, Hugo is currently studying at the Victoria Conservatory of Music with Ingrid Henderson. In 2008 he performed with the Victoria Symphony during the 3rd Young Musicians Concerto Showcase. In 2006 he performed with the Victoria Symphony and at the Victoria Conservatory of Music Mozart@250 Festival in 2005. Hugo received the BCRMTA 2007 Alumni highest mark award for Victoria in the RCM Toronto Conservatory grade 10 piano exams and Victoria Conservatory of Music grade 10 piano exam with 95%. He has many awards in the Victoria Performing Arts Festival including the 2008 Romantic Award and the Senior Nathan Geminiano Memorial Cup for most distinguished piano performer and this year represented Victoria at the Provincial Festival.
Tania Miller'Äôs reputation as a consummate musician, leader, and communicator has grown rapidly in today'Äôs orchestral scene. Maestra Miller was the youngest current music director of a major Canadian orchestra and the first Canadian woman to be appointed to such a significant position in Canada. The 2008-2009 season will mark Maestra Miller's sixth season as music director of the Victoria Symphony Orchestra.
The Victoria Symphony is Vancouver Island'Äôs largest and most active arts organization offering its audiences 67 years of tradition, a commitment to fostering new music and a dedication to community involvement through music education. Showcasing the outstanding talents of its musicians and guest artists the Victoria Symphony'Äôs 2008-2009 season offers a diverse and exciting line-up of over 50 concerts led by its vibrant Music Director
Tania Miller.
Bayview Residences is part of a 20-acre hilltop community being created on Victoria'Äôs Inner Harbour. When completed, this Urban Resort Community will include residential towers as well as retail and commercial services as part of the revitalized CPR Roundhouse 'Äì a designated National Historic Site. Bayview Residences offers spacious one, two and three bedroom residences with exceptional interior design and attention to detail. The community'Äôs Amenity Clubhouse will feature squash and tennis courts, gym facilities, lap pool and cafe. Bayview is a strong supporter of the community, sponsoring numerous national and local events including the Canadian National Junior Squash Championships and the annual Bayview Residences Victoria Symphony Splash. For further details, visit the on-site presentation centre at 80 Saghalie Road or www.bayviewresidences.com.
Each year, the Victoria Symphony performs on Sunday of the BC Day long weekend from a floating stage in Victoria'Äôs picturesque Inner Harbour. Bayview Residences Victoria Symphony Splash is recognized as one of North America'Äôs most popular and successful outdoor family, cultural and community events, attracting upwards of 40,000 people. Admission is by donation.
For more information, please visit www.victoriasymphony.ca