This Week in Toronto (Feb.14-20)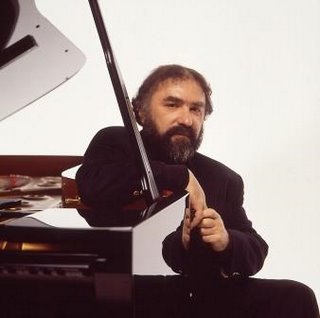 The big event in classical music in Toronto this week is the appearance of pianist Radu Lupu at Roy Thomson Hall, for two performances (Feb. 12 and 14 8 pm) in Beethoven Piano Concerto No. 3, conducted by Peter Oundjian. Also on the program is Stravinsky's Scherzo fantastique and Rachmaninoff Symphonic Dances. Beethoven No. 3 has appeared frequently in Lupu's program, ever since he won the top prize in Leeds in 1969 with this work. I did not attend the first show but I understand it was very well received, as expected of course, by the audience. Given the economic downturn, concert attendance has been soft lately, but the hall was near capacity, a credit to his drawing power. You can catch the second performance this evening.
On the operatic front, be sure to catch Fidelio (Feb. 15, 18) and Rusalka (Feb. 14, 17, 20) if you haven't already, at the Four Seasons Performing Arts Centre. I went back to see Fidelio a second time on Feb. 12, to hear Richard Margison taking on Florestan. His attack on the opening "Gott!" in his Dungeon Aria was completely pianissimo, without the typical crescendo - it makes for a very interesting effect. He sang very well and received a well deserved ovation at the end. Soprano Adrianne Pieczonka continues her very lyrical Leonore, full of womanly warmth and gleaming tone. Mats Almgren blew me away with his magnificent black bass, and I was particularly impressed with the totally convincing (vocally and dramatically) Marzelline of Virgina Hatfield. This Fidelio is not to be missed.
It doesn't get a lot of press, but the COC has a wonderful free concert series. On Thursday Feb. 19, the COC Ensemble Studeio artists will give a noon hour concert of Czech arias and songs by Dvorak, Smetana, Janacek and Fibich, under the direction of Liz Upchurch. The Richard Bradshaw Amphitheatre is not large, so if you want to get in, do show up at least 45 minutes early to line up.
Labels: COC Ensemble, Fidelio, Radu Lupu, Rusalka, Thais, This Week in Toronto