This Week in Toronto (Jan. 31 - Feb. 6)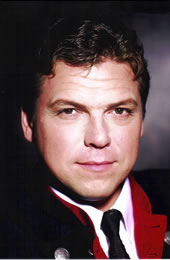 Tenor Michael Schade
(Photo courtesy of Moira Johnson Consulting)
By Joseph So
This week's highlight is the Canadian premiere of Dvorak's
Rusalka
. This rarely performed opera is best known for its hit aria - "Song to the Moon", sung by the water nymph Rusalka. Frequently programmed in concerts and recital CDs by sopranos blessed with silvery tone and good top notes, this aria is really the only genuine hit tune in the opera. I have seen this piece twice, once with Renee Fleming and the other time with Czech diva Gabriela Benackova, both memorable in terms of star power. The tenor role of the Prince, considered a dramatic tenor role, has a few good moments, but overall it really isn't a particularly showy role. Canadian Ben Heppner has done well with this, although he appears to have dropped it from his active repertoire.
Now we have Canadian tenor Michael Schade trying his hand in this high-flying part. Schade started his career as a Mozart specialist, but with the passage of time, the voice has grown heavier and bigger. Now such roles as Idomeneo and Tito are in his repertoire, although he still sings the lyric tenor roles of Tamino and Ottavio. The Prince will be a bit of a stretch for him vocally, as the role requires a large, heroic sound more in line with the voices of a Heppner, Paul Frey, Peter Seiffert, Siegfried Jerusalem, Johan Botha, and the late Sergej Larin. In the title role is American Julie Makerov, who was a very good Freia and Donna Elvira for the COC. I also saw her several times, including a marvelous Tosca in Sarasota some years ago. I look forward to her Rusalka especially after being disappointed that her all important Mi tradi was cut from the recent COC Doon Giovanni, an idiotic decision as far as I am concerned. Also in the cast are Richard Paul Fink, a local favorite. The production comes from Theater Erfurt. I have not seen the dress rehearsal, but as I understand it, the sets are typical regional German house Regietheater type, ie, bleak, dark, short on colour, and symbolic in approach. I will reserve my judgement until I have seen the show. However, as is typical of new-fangled productions that favor "concept" and "meaning" over practicality, functionality and visual appeal, these modern sets can be a minefield for the perfomers. I understand at the dress rehearsal, the fountain with water onstage where the singers splashes about meant an inevitable wet floor. When Michael Schade took a fish bowl out of the fountain, he slipped on the wet floor that sent him flying, landing on his behind right in center stage - not a very elegant staging for the Prince!!! The fishbowl careened toward the lip of the stage, thankfully without tumbling into the auditorium. Stage accidents do happen, but it would be nice if stage directors and set designers take the welfare of singers into consideration when they come up with their "concepts"...
Speaking of tenor Schade - this Canadian is known as a superlative recitalist, and he will be giving a recital at the Four Seasons Amphitheatre on Tuesday Feb. 3 at noon. It is free and not to be missed. It is first come first serve so get there early!
Labels: COC, Michael Schade, Rusalka, This Week in Toronto