This Week in Toronto (Jan 24 - Jan 30)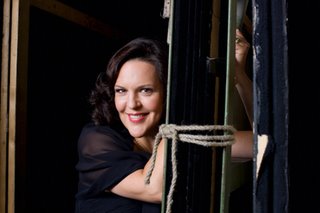 Photo: Adrianne Pieczonka sings her first-ever Leonore in Beethoven's
Fidelio
for the COC
(photo credit: Andreas Klingberg)
By Joseph So
The Toronto vocal music scene in this, the last wintry week in January, is dominated by the return of Beethoven's
Fidelio
to the Canadian Opera Company, in a co-production with L'Opera national du Rhin and Opera Nurnberg. The COC has assembled a superb cast, where all the prinicpals - except one - are well known to and well loved by Toronto audiences. It stars Canada's reigning prima donna, soprano Adrianne Pieczonka, in the title role of Leonore. She is making an infrequent foray into the dramatic soprano repertoire and it will be her debut in this role. I think this Fidelio may actually be her debut in a trouser role! Slim and statuesque, Pieczonka certainly looks more believable as a man than many sopranos who sing Leonore, Christine Brewer and Elizabeth Connell, for example. While the Canadian won't have quite the powerhouse volume or the cutting edge to her tone as these two dramatic soprano ladies, Pieczonka will bring her trademark gleaming tone and dramatic conviction to Leonore.
American tenor Jon Villars was to return to the COC after several seasons as Florestan. He last sang here as Calaf in
Turandot
. So it came as a bombshell when it was announced that Villars had been replaced after Wednesday's final dress reheaersal. There had been disagreement between him and the conductor Gregor Buhl over tempi throughout the rehearsal process, and the disagreemenet came to a head when, according to eye witnesses at the final dress, Villars threw up his hands and walked off the stage in the final ensemble. It was also reported that he was in poor voice throughout the rehearsal period and appeared unprepared - rather strange when you think he has sung Florestan previously as well as having recorded it with Sir Simon Rattle. Villars is certainly a "big name" and it is regrettable that he has departed, but the COC were able to pull not one but
two
Florestans out of the hat! It was announced Thursday that Icelandic tenor Jon Ketilsson and Canadian tenor Richard Margison will share the ten performances of Fidelio, with Ketilsson singing the first five. Heldentenors don't grow on trees, so my guess is that the COC had been working behind the scenes to line up the two replacements just in case. The internationally ranked Ketilsson has sung Florestan in Gothenberg and Marseille. Canadian tenor Richard Margison has sung with the COC on several occasions in the past - I remember a
Trovatore
about seven or eight years ago. He has been expanding his repertoire into the Germanic heldentenor repertory, such as Bacchus and Florestan, the latter he has sung at the Met and Vancouver. This will be his debut in the new opera house.
The evil Don Pizarro is taken by another COC stalwart, bass Gidon Saks, who has made operatic villains his specialty all over the world. His Scarpia in the Bregenz
Tosca
, now available on DVD, is guaranteed to make your skin crawl. He last sang with the COC in the title role of
Boris Godunov
. Swedish bass Mats Almgren, who made a sensational COC debut as Hagen in the inaugural Ring Cycle, returns as the more sympathetic Rocco. Rounding out the principals will be current COC Ensemble member Adam Luther as Jacquino and former Ensemble member soprano Virginia Hatfield as Marzelline. German conductor Gregor Buhl, who received critical acclaim in his conducting of the Ring Cycle in Stockholm, will make his COC debut. Performances of
Fidelio
run from Jan. 24 to Feb. 24 at the Four Seasons Centre in Toronto.
Labels: Adrianne Pieczonka, Canadian Opera Company, Fidelio, Jon Ketilsson, Jon Villars, Richard Margison, This Week in Toronto