This Week in Toronto (Jan. 17 - 23, 2009)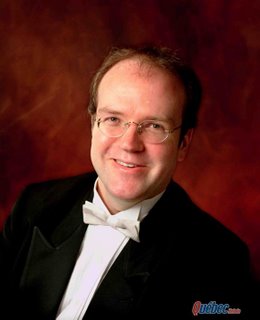 Photo: conductor Bernard Labadie
By Joseph So
Welcome to the first installment of the weekly column on the classical music scene in the Greater Toronto Area! In this space, I plan to highlight a few noteworthy concerts and events that are of particular interest. I should say right off that there is no attempt to be comprehensive, as my focus has always been things vocal and operatic, plus a smattering of others.
At the top of the list is the continuation of the Toronto Symphony Orchestra Mozart Festival that runs Jan. 10 to 24. The centerpiece of this festival is the the
Magic Flute
in Concert, to take place on January 22 and 24, 8 pm at Roy Thomson Hall. It stars a completely Canadian cast - well almost, since Canadian bass-baritone Gary Relyea, originally announced for Sarastro, has been replaced by Oren Gradus. Quebec maestro Bernard Labadie leads an exceptionally strong cast, led by Karin Gauvin as Pamina, Benjamin Butterfield as Tamino, Joshua Hopkins as Papageno, and Aline Kutan as Queen of the Night! All four have not performed in Toronto for some time so this is a great opportunity to hear them. I saw Hopkins sang Papageno opposite the divine Natalie Dessay in her first-ever Pamina about four years ago. He was a particularly engaging birdcatcher and I look forward to hearing him again. Another highlight for me will be the Qeen of Aline Kutan. She sang Der holle Rache at a COC Gala to celebrate the opening of the opera house. When she interpolated the coloratura but singing the HIGH option, the audience let out a collective gasp! Before this, I had not heard a modern-day performance where the soprano dared do such a stratospheric attempt. I wonder if she will do it again...perhaps rather unlikely since this will be a serious performance and not a gala concert.
Supporting cast members include Nathan Berg (Sprecher), Gillian Keith (Papagena), Shannon Mercer (First Lady), Krisztina Szabo (Second Lady), Allyson McHardy (Third Lady), Rufus Muller (Monostatos). Everyone of these singers are well known in Canada and elsewhere, and well worth hearing. The U of T MacMillan Singers will provide the choral voices. I think this will be semi-staged, sung in German with English Surtitles. This is an event absolutely NOT to be missed! I bought myself a ticket several days ago and as I understand it, it is practically sold out.
Other than this blockbuster, I can also recommend the encore performance of Berlioz's
La Damnation du Faust,
as part of the Met in HD series. It will be on Saturday Jan. 17 at the Cineplex chain. I will attend the show at the Sheppard Grande location. Do call to inquire about ticket availability. When it was shown on Nov. 22, the Robert Lepage direction was stunning. The Quebec director Lepage will bring his cutting-edge sensibilities to the COC for a production of Stravinsky's
Le Rossignol
, bound to be a highlight of the 2009-10 season.
Labels: Magic Flute, This Week in Toronto, Toronto Symphony