Canadian tenor John Mac Master replaces Ben Heppner in Met Opening Night Tristan Monday March 10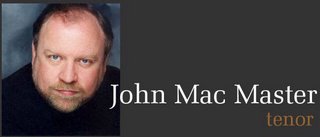 Breaking News:
It is official - Canadian tenor Ben Heppner is indisposed and he will be replaced on the opening night performance of Tristan und Isolde opposite the Isolde of Deborah Voigt at the Metropolitan Opera by - another Canadian, tenor John Mac Master. Mac Master had previously sung two performances of Canio in I Pagliacci at the Met in 2005, one of which was broadcast on Saturday Afternoon at the Opera. He has also sung Tristan for the Welsh National Opera.
Heppner appears to have caught some sort of viral flu bug, and Mac Master, who was in New York covering the role, stepped in to sing both orchestra rehearsal and the dress rehearsal.
The Opening night performance on Monday March 10th will be broadcast on Sirius Satellite Radio.
Labels: Ben Heppner, John Mac Master, Met Opera, Sirius Radio, Tristan und Isolde