Rolando Villazon Makes Successful Return to the Opera Stage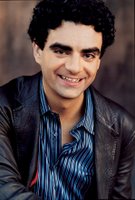 The opera community breathed a sign of relief last night (January 5, 2008).
Star Mexican tenor Rolando Villazon made a triumphant and successful return to the operatic stage at the Vienna State Opera in Massenet's

Werther

. According to Associated Press's review, the audience started clapping right from the start and gave him an extended ovation at the end.

His return Saturday set the stage for huge expectations that were mostly -- but not completely -- met.

While wonderfully supple -- and surprisingly strong at times -- Villazon's voice was occasionally lost in the more powerful orchestral passages -- and it wasn't the fault of conductor Marco Armiliato.

Although he appeared to be hitting his high B's, it wasn't always apparent -- because when trying too hard to be heard, Villazon's lyric tenor just seemed to top out among all those potent brass passages of the second and third acts.

Villazon himself appeared to be less than completely satisfied. Miguel Perez, who described himself as a friend of Villazon from Barcelona, said the tenor told him between breaks that he was "very happy" with the first act but "not very happy with the second."
Villazon is considered a leading heir to the "Three Tenors" but took 6 months off from singing, leading to speculations that he was suffering from vocal trouble.



On the web:



Check Opera Chic's blog for other comments.
The Mostly Opera blog for a translation of post from a German forum which expressed reservations on Villazon's voice.