Michael Schade - Perpetual Motion by Joseph So Tuesday, October 22, 2002
---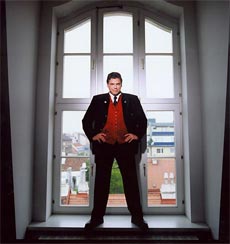 Canada''s busiest tenor balances family life with carrer in the fast lane

Michael Schade is a hard man to track down. No wonder ? he is one of the most sought after lyric tenors in the world today. With an enviable combination of voice, brains, solid musicianship, irrepressible persona, and business acumen, Schade has risen to the top in a mere dozen years. It took several transatlantic calls, but eventually I caught up with him just before midnight, at home in flooded Salzburg, Austria, for an interview.

Since his European debut as Tamino in Bologna in 1991, his career has been on an upward trajectory that sees no sign of diminishing. With a jam-packed itinerary that would strike fear in the heart of the most incurable workaholic, Schade instead revels in it: "This was the best summer of singing of my life!" It started off with Orlando Paladino with Nikolas Harnoncourt in Lisbon, Graz, and Vienna. With barely enough time to catch his breath, he reprised Ferrando in Cos? fan Tutte at the Wiener Staatsoper, where he enjoys star status. But the real centrepiece of the summer was his Don Ottavio in a new production of Don Giovanni at the Salzburg Festival: "There were 15 different television crews and 90 photographers at the dress rehearsal, and 250 publications reviewed the production!"

Then it was time to go on the road again, to the Edinburgh Festival and the Canadian Opera Company''s production of ?dipus Rex/Symphony of Psalms, opposite the sensational Polish contralto Ewa Podles, before returning to Toronto for more of the Stravinsky double-bill. In between he managed to squeeze in a solo recital in Brussels, a duo recital in Edinburgh with his buddy, baritone Russell Braun, and a run of the Beethoven Ninth with the New York Philharmonic under Lorin Maazel. Not too shabby for a boy from Oakville, Ontario, eh?

Among the many irons in the fire for the adroitly multi-tasking Michael Schade ? one that he is particularly proud of ? is Of Ladies and Love, his first solo album for Hyperion, the prestigious British label (see review). With the recording industry in serious decline, when even high- profile artists have had their contracts terminated, Schade bucks the trend by quietly adding to his already impressive discography. "To get a solo recording these days is a big honour," Schade says with a mixture of satisfaction and modesty.

This CD features his felicitous collaboration with Malcolm Martineau, one of the most estimable accompanists today. They met for the first time at a Metropolitan Opera performance of Le Nozze di Figaro. Schade fondly recalls that first meeting: "Malcolm is such a famous pianist and works with the greatest singers like Bryn Terfel and Barbara Bonney. It took me all my courage to ask him if he would work with me. As it turned out, he is not just an accompanist but a real friend." Another musician who has figured prominently in Schade''s recital career is Graham Johnson, with whom he made his Alice Tully Hall solo debut last February. It was Johnson who featured the Canadian in the last two recordings of the magnificent Schubert Edition. This series includes many of the greatest lieder singers of our time, the likes of Dietrich Fischer-Dieskau, Elly Ameling, Janet Baker, Brigitte Fassbaender, Peter Schreier, and Matthias Goerne.

Fine as he is on recordings, Schade ''live'' is unto itself. There is no denying that Michael is a bit of a ''ham'', a showman in the best sense of the word. Remember the way he used his whole body to create a mesmerizing if albeit idiosyncratic Idomeneo for the COC two seasons ago, livening up an otherwise dull production? At the taping of "Michael Schade Live at the Rehearsal Hall" for Bravo Television, the tenor, donning a hockey jersey (he is a huge Leafs fan and the taping happened during the Stanley Cup Playoffs), vocally stick-handled his way through the exuberant ''La Danza'' with the finesse of a Mats Sundin ? "MTV meets the Victorian drawing room," quips Schade.

The razzle-dazzle of show biz aside, there is nothing ''smoke and mirrors'' about the artistry of Michael Schade. "When people say I am a Mozartian, I feel it is like a royal title ? something I am very proud of," says Schade, reflecting on the accolade. But unlike the typical, soft-grained Mozart tenor voice, the Schade sound has plenty of squillo ? "a Mozart sound with a Turbo boost!" laughs the tenor. He can do heavier roles such as Idomeneo and Tito, but always striving for beauty of tone and a true legato. A versatile artist, Schade does not like to be typecast as just a Mozart tenor. "Compelling" and "intense" are apt descriptions of Schade''s Oedipus Rex several seasons ago. Now, Canadian audiences will get to experience it once again, in the unforgettable COC production directed by the brilliant Fran?ois Girard. Looking forward to revisiting the work, an enthusiastic Schade understandably allows himself a bit of
hyperbole: "It''s the best single piece of theatre done anywhere in the world."

To be sure, the angular, edgy vocal line of ?dipus Rex is a far cry from the classically elegant Ottavio and Ferrando of Mozart. But the modern repertoire holds no terror for Schade, who counters: "There are moments of great lyricism in Oedipus, that''s where my Mozart handiwork comes in." He emphatically disagrees with the notion that ''modern'' composers write ungratefully for the voice ? "No, never! Because composers like Stravinsky and Britten were huge vocal fans. Also, whether it is Wagner or Mozart, it should be sung the same way." Among ''modern'' operas, Schade is eager to tackle the title role of Stravinsky''s The Rake''s Progress: "I am dying to do it in Toronto, by the way! The Rake has fantastic vocal writing. There is no doubt that Stravinsky knew what he was doing with the voice."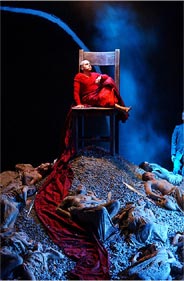 With all the successes and accolades, Michael Schade remains remarkably grounded in things important to him ?his home, his extended family and his close friends. Time is divided between his house in Oakville, west of Toronto, and an apartment in central Vienna. He travels with his wife, mezzo-soprano Norine Burgess and their four-year old pride and joy, Sophie. Soon the Schades will welcome the arrival of twins: "A boy and a girl ? it''s going to be a big life change for us!" The good father and husband that he is, Schade has already cancelled his Covent Garden debut as David in Die Meistersinger in order to be home for the birth of the twins? "we are gambling that the twins are due in the latter part of November."
Despite the exponential growth of the Schade household, it will remain a two-career family in the foreseeable future. Mezzo-mom Norine has appeared as Prince Orlofsky (Vancouver), Mother Marie (Arizona) and Maddalena (Edmonton) in recent seasons. "She is sounding great!" Michael says enthusiastically. "The biggest gift I can give her is to say... keep singing!" Their success of balancing family and career is helped by a large support system of loving parents, relatives and close friends. "It is so nice to know that while I am here in Europe doing my thing, there are people back home who really care about you, who haven''t forgotten you," says a grateful Schade, who considers Toronto and Canada to be the best places in the world to live. "Europe is wonderful for the sense of tradition and style, and the food and wine are better ? this is a gross generalization," laughs Schade, "but Canada has a wonderful, easy lifestyle, and Toronto is the only place in the world where a city of four million can be friendly and giving."
With his years of experience of living and working on both sides of the Atlantic, Schade has some sage advice for young Canadians contemplating a European career. He feels that we in general look too much towards the United States ? "Canadians have to be ready to invest in a system that is very different from the spoon-fed system at home. Here in Europe, it''s up to you to get yourself going ? you have to be more of the entrepreneur." Schade recommends hooking up with a local agent, even if the singer has representation at home. "I have worked 12 years with Elizabeth Crittenden at Columbia Artists, but I also have many European agents. I do all my concert work with the RAAB agency here in Vienna, and I have representation in England, France and Italy. Local agents have more of an inside knowledge ? they can get you gigs. On the other hand, your manager is someone you discuss things with ? not only where your career is going, but when you are not singing, when you are having babies... this is what a manager is for. You have to have a good relationship with your manager."
As to the challenges of living in a foreign country, Schade answers, "My best advice is: when in Rome, do as the Romans do!" Is language facility important? "Absolutely, and if you can''t do it, fake it! Every singer has to be a bit of a chameleon. You have to adjust to the colour, the flavour, and the smell of the land. You have to be versatile in this business. I can''t change the fact that more Europeans smoke than Canadians, but I am not going to let it ruin my day. You can''t go around saying ''we never do this in Canada.'' When you go to a new country, you have to know what you are made of, yet you have to accept the new. You have to enjoy the new." *
Stravinsky''s Oedipus Rex, Canadian Opera Company, Toronto. (Sept. 27-Oct. 12)

Don Ottavio in Mozart''s Don Giovanni, Metropolitan Opera, New York (Dec. 27-Jan. 18)

Die Zauberfl?te, Die Fledermaus, Il Barbiere di Siviglia, La Traviata, Wiener Staatsoper (Feb.-Apr. 2003)

Recital with Vancouver Recital Society (April 27, 2003)
Of Ladies And Love...
Songs of Beethoven, Schubert, Liszt, Ravel, Faur?, Strauss
Michael Schade, tenor
Malcolm Martineau, piano
Hyperion CDA 67315 74m 01s
**** 1/2
Few classical artists move among opera, lieder, and oratorios with as much ease and distinction as tenor Michael Schade. At home in all three genres, Schade brings to the song repertoire a voice of substance, one that is capable of a full spectrum of colours, while retaining as much as possible the intimacy of the recital stage. This new release on the Hyperion label, famous for its superlative catalogue of vocal recitals, is a very fine effort.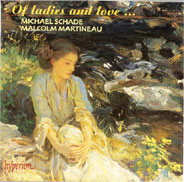 The wide-ranging repertoire on the CD is a mixture of chestnuts (Adela?de, An Silvia, Morgen) and the unfamiliar (Trost: an Elisa, Laura am Klavier). One common thread that runs through these songs is the theme of women and love, set to music by the six composers, underscoring the universality of love, adulation, yearning, fulfillment, and loss. In the deft hands of Schade and Martineau, these songs receive a highly Romantic treatment without crossing over into sentimentality or melodrama.
As a recitalist, Schade is uncommonly expressive and communicative. The voice has grown in volume in recent years, yet it has retained much of its sweet timbre and flexibility. It is at its loveliest in the quieter moments in this repertoire, where he uses his honeyed mezza voce to great effect. To these ears, the Beethoven, Schubert and Strauss are particularly affecting. The delicate passages in both the popular Adela?de and the unfamiliar Trost: an Elisa are a pleasure to the ear. Schubert''s Der J?ngling an der Quelle, sung ever so lightly by Schade, is exquisite. An intelligent singer, Schade displays admirable attention to textual nuance. The grief in Wonne der Wehmut is all too palpable, as is the swagger in Quel Galant m''est comparable, from Ravel''s Cinq m?lodies populaires grecques. His straightforward simplicity in An Silvia is altogether charming. Faur?''s Lydia was added to the recording at the last moment: "I had one day to learn it and it was essentially a live take." But it came off very well. In the comic Der K?ss, Schade sings with the right mixture of seriousness and parody. If one were to quibble, his exuberant nature and his bright tone have a tendency to make too emphatic a dramatic statement, thereby nearly overpowering some of the more delicate songs.
On the other hand, the three ultra-Romantic Petrarch sonnets by Liszt, sung in Italian, are virtually operatic arias, requiring flashes of full-throated vocalism, which Schade is happy to oblige. He sings with beauty and feeling, except for moments of discomfort in the fortissimo high notes, particularly in Pace non trovo and Benedetto sia ''I giorno. The recital ends with four Strauss songs, with the tenor at his considerable best, with a very fine C?cilie and a deeply-felt Morgen. Malcolm Martineau shows why he is one of the best in the business by giving splendid support to the soloist, all the while eliciting gleaming tones from the Steinway, lovingly captured by the engineers. The trilingual booklet continues the tradition of exemplary notes from Hyperion, with an informative essay by Benjamin Folkman, artists'' bios, photos of the composers, and best of all, a colour reproduction of "The Black Brook," a painting by John Singer Sargent from the Tate in London.