Salvatore Licitra - Fast Lane Tenor poised to conquer Montreal

by Joseph So / June 5, 2004

---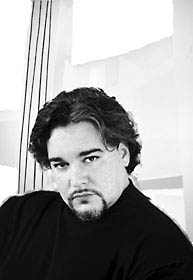 Is this the tenor of tomorrow, the long-awaited successor to Pavarotti and Domingo?" asked the New York Times in May 2002, following a sensational 11th-hour debut by Salvatore Licitra at the Metropolitan Opera, when he replaced an ailing Luciano Pavarotti in a gala performance of Tosca. It must not have been easy to step onto that hallowed stage, knowing that the audience had paid up to $1,875 for the privilege of hearing arguably the greatest tenor of our time in his farewell appearance at the Met. Licitra's huge success was a testament to his exceptional talent; he exhibited coolness under pressure, solid musical preparation, and above all, a beautiful lirico-spinto evocative of the sunny Mediterranean.
Born in 1968 in Bern, Switzerland, to Sicilian parents, Licitra grew up in Milan. He fell into opera by accident. After graduating from high school, he worked as a graphic artist, doing layout for Italian Vogue, studying voice in his spare time and singing in church choirs. It was only when he started studying with Carlo Bergonzi in Busseto that things began to happen. Licitra made his debut in Un ballo in maschera in Parma in 1998, in a performance for Bergonzi's students. His success led to a contract as cover in Ballo, Rigoletto and Aida in Verona, and he ended up singing them all. Buoyed by positive audience reception, he auditioned for Riccardo Muti at La Scala, who hired the young tenor for Alvaro in a new production of La forza del destino. Since then, Licitra has become a favourite at La Scala, appearing in high-profile assignments such as Tosca with Russian diva Maria Guleghina (available on DVD), and an opening-night Manrico in a new production of Il Trovatore.
An exclusive Sony artist, Licitra can be heard on the soundtrack of the Sally Potter film The Man Who Cried. His Je crois entendre encore from Pearl Fishers is a model of plangent vocalism. Also interesting is a live recording of the La Scala Il Trovatore, when Muti, in the name of authenticity, forbade the tenor to sing the unwritten high C at the end of Di quella pira, touching off a firestorm of catcalls from the infamous loggionisti. In his disc of Italian opera arias, and with a more accommodating maestro in Carlo Rizzi, Licitra showed that he has high Cs to burn.
As the headliner in l'Opéra de Montréal's Signature Event Benefit Concert, this is Licitra's second time in Canada--his debut took place last year with the Vancouver Recital Society. "I am glad to come back to Canada," said Licitra from his home in Milan, where he lives with his parents. "Unfortunately, last time I was sick; and you know sometimes it is better to cancel a concert, but I decided to sing in some way." Even over a trans-Atlantic phone line, one is struck by his easy-going nature and personal charm. He does not speak French and apologizes for his accented English, which is actually quite serviceable, as long as the interview questions are kept short and to the point.
LSM: Your conductor will be Maestro Eugene Kohn. Have you worked with him before?
SL: Yes, many times in Asia and in Germany. It is very comfortable for me to have the same conductor because it's not so necessary to do many rehearsals, especially with the orchestra. And also he knows my tempo and my breathing.
LSM: You will be singing the Flower Song from Carmen. Have you sung Don Jose onstage before?
SL: No, never. I am so curious to sing this aria because it is the first time I am singing in French. [Pauses.] That's not exactly true because I did sing French in the Duetto album with Marcelo Alvarez.
LSM: That was a best seller. Are you happy with the album?
SL: Oh yes, of course. What do you think?
LSM: The opera fans would have liked you to sing more opera.
SL: I know! It is necessary in my opinion to try to convince a new audience to come to the opera. Unfortunately, most young people love pop music and don't care about opera. Because I am young too, I like to say to young people, "Don't forget about opera, it is very important for our culture."
LSM: How do you find American audiences versus European audiences?
SL: In America it's possible for me to meet an audience, how do I say, with "big culture." It is a big pleasure for a young singer like me because not everyone in Italy appreciates opera. I went to San Francisco last winter and also received a warm success.
LSM: Do you still study with Carlo Bergonzi?
SL: Unfortunately, I have no more time. You can imagine my schedule, it is so full, and I have to spend my time on the plane flying around the world to sing.
LSM: How many performances do you give a year?
SL: Really not that many, because in my opinion it is important to have time to study. Also I would like to conserve [my voice]--I would like to be able to sing for a long time.
LSM: What new roles will you be singing?
SL: In August and September I will be in Washington to sing my first Andrea Chenier--a wonderful role. I am studying Manon Lescaut, Fanciulla del--West, Pagliacci and Cavalleria rusticana. In the future I would like to sing Bohème, and I will try for sure to sing Carmen.
LSM: Have you sung Pollione? Calaf?
SL: I sang Pollione in Miami last winter and I will sing it again in Vienna in 2005-06. Calaf of course is a role [made] for my cords. I am waiting for a new production because I want to sing for my first time in a new production to offer the audience a big show!
LSM: Any new recordings?
SL: We have a project; we are looking to find time to do it. We need time to record. It is a compilation of arias, but I cannot say the titles right now.
LSM: You are coming to Toronto in January. What will you be singing?
SL: I think we will offer maybe a big program from my repertoire. It will be the first time I'll be singing with a piano.
Salvatore Licitra performs in l'Opéra de Montréal Signature Benefit on June 6, 2004 at 4 p.m., Place des Arts, 514 985.2258. On January 22, 2005, Licitra will give a solo recital with piano accompaniment at Roy Thomson Hall in Toronto, 416 872.4255.
---
Version française...