Montreal Baroque Festival 2004: June 18–21

by Guy Marceau / June 5, 2004

---
A Baroque Extravaganza!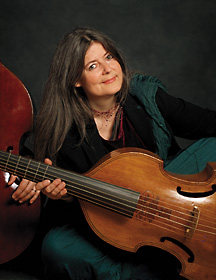 Susie Napper
Photo : Johanne Mercier

Four hundred years ago, Samuel de Champlain set forth on his second voyage to Canada. His mission this time: to found a colony. Jacques Cartier had tried several times, but without success. Champlain's colony--the future Acadia--would be the first to take root. This summer's Montreal Baroque Festival offers a musical celebration of the French settlement of North America.
France-Canada 1604–2004. This not-so-simple fact has provided the basic premise for the second Montreal Baroque Festival, "Of Seashells and Sailing Ships" ("D'amour et d'eau salée"), to be held in the city's Old Port. The festival features a wide-ranging choice of programs organized by Montreal gambist and cellist Susie Napper, assisted by a handful of volunteers.
"Marc-Antoine Charpentier, whose works were performed in New France, died 300 years ago, in 1704," explains Napper. "The same is true of Franz Biber. Both are included in our program. The concert on June 20, "La Voix du Violon," will include the sonatas of Biber and Duval, the father of the first French sonata. In addition, the June 18 concert will feature a performance of three Charpentier motets, the scores for which have been published for the first time by the Centre de musique baroque de Versailles. These three psalms haven't been sung since the 17th century."
A musical feast
The festival includes all sorts of events: concerts, master classes, and lectures celebrating the music of the 17th and 18th centuries. Most of Montreal's baroque music community is involved, as well as a number of distinguished guests. The four-day festival includes 10 concerts (late afternoon and evening), 14 shows and concerts during the day, and 9 master classes and lectures (beginning June 15). Apart from the traditional opening parade on June 18 (7:30 pm, Place Jacques Cartier), which promises to be the noisiest ever with 100 flutes, there are plenty of other features. These include such curiosities as 18th century French dancing with caller Pierre Chartrand (June 20); traditional First Nations' music and dance with The Thunderhawks of Kahnawake (June 19); and a repeat performance of "When I'm 64," the Beatles Baroque concert by Les Boréades (June 20). There are also three days of a baroque "fayre" under the aegis of Vincent Rondel, with various craftsmen, makers of stringed instruments, and musical shows with, among others, Les Frères Thonon (hurdy-gurdies) and the Claude Gervaise ensemble (June 18, 19, and 20).
Newcomers
A number of groups will be appearing for the first time at this year's festival: La Nef (young people's section), giving two performances of its show Aucassin et Nicolette (June 19 and 20); the Masques ensemble (see "La Grande Traversée" on the program); Capriccio Stravagante, with harpsichordists Olivier Fortin and Skip Sempe (June 18); the McGill Baroque Choir and Orchestra, performing Charpentier's Mass for Monsieur Mauroy (June 20); and the noted French string sextet, Stradivaria, led by Daniel Cuiller, performing works by Rameau (June 19) and Charpentier (June 18). The Charpentier concert will also feature a work by another Charpentier, Gabriel (born in 1925), Ballade pour le Fils de l'Homme for voice and instruments. This is a tonal composition based on the text of the Stations of the Cross and inspired by a short theme of the earlier Charpentier.
Among the up-and-coming generation of musical ensembles in the festival are La Société des Bourdons Joyeux (with students from McGill and the Université de Montréal), La Mandragore (medieval music), Masques (Montreal), and the Mercure Galant (France). "And improvisation sessions with all musicians who'd like to join in during the festival, at Café à Propos (300 Notre-Dame St)," says Napper.
The Great Voyage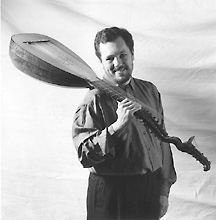 Nigel North

But the festival's main event is without doubt "The Great Voyage" ("La Grande Traversée"). On June 19 there will be three boat rides leaving from the Quai Jacques Cartier (6:30 pm, 7 pm, and 7:30 pm; limited seating) and crossing to St Helen's Island to the strains of Handel's music. Visitors will then move on to the Théâtre de la Poudrière to be welcomed on the terrasse by the sackbuts of the Écurie du Roy. Each of the two Remises de la Poudrière will offer a different recital, with three performances (7:15 pm, 8:30 pm, and 9:15 pm). On the program: Danses, fantaisies et variations for lute from the Secret des muses by Nicolas Vallet (Nigel North, lute), and C.P.E. Bach's Fantaisies with Belgian harpsichordist Tom Beghin. At 8 pm and 9 pm a musical show will take place in the Théâtre de la Poudrière (180 seats). On this program: the music/drama show "Cordes, Voiles et Vents" ("Strings, Sails, and Winds") featuring French and English music of the New World, with the Masques, the Mercure Galant, and two actors. The dramatic part is based on the account of Martin Diéreville, sailor, surgeon, botanist, explorer, and early Canadian colonist. Diéreville describes the hardships of the Great Voyage and life in the 18th century colony. The return boat-rides leave at 9:30 pm, 10 pm, and 10:30 pm.

Among the evening concerts at the Chapelle Notre-Dame-de-Bon-Secours, De Paris à Montréal must be mentioned (June 18 at 8:30 pm). It is an all-Charpentier program with SMAM (Montreal's ancient music society), English tenor Charles Daniels (much hailed, says Napper), and the Stradivaria Ensemble, featuring Messe à 16 voix and Grands Motets, as well as Gabriel Charpentier's work. And at 10:30 pm, "Traversées amoureuses et infernales" ("Amorous and Infernal Voyages") presents SMAM and Les Voix Humaines, Capriccio Stravagante, Nigel North and Sylvain Bergeron, plus vocal and instrumental music inspired by the Orpheus myth, thus giving us a glimpse of the kind of music Champlain might have heard at Brouage before leaving Europe for North America.

Visitors should try to catch the following concerts. The first, in the Chapelle Notre-Dame-de-Bon-Secours, called "Bach and Baptiste," features Cantatas bwv 30, 7, and 167 with Suzie LeBlanc, Daniel Taylor, Charles Daniels, Stephan Macleod, and the Montreal Baroque Band conducted by Eric Milnes (ATMA plans to record all the cantatas over a 15 year period). "L'Acadie en chanson" features improvisations based on Acadian folklore with Suzie LeBlanc and three musicians (June 20). "Versailles à Louisbourg" offers scenes from French baroque opera with Suzie LeBlanc and Bernard Deletré, presented by the Théâtre Lavallière and Jabot, with the Montreal Baroque Band (conducted by Olivier Brault) and dance group (choreography by Marie-Nathalie Lacoursière) on June 21 at the Chapelle. Two concerts will take place in the Crypte on June 20: the seven Lachrimae of John Dowland with Les Voix Humaines and Sylvain Bergeron (7 am!); and the Messe de Tournai (14th century plain-song) with three male singers under the direction of Pierre Cartier (10:30). No less than four recordings by ATMA will immortalize the event, but as people say, there's nothing like being there! See www.montrealbaroque.com for detailed information.

[Translated by Jane Brierley]
---
Version française...
---