ECM Records at 35 - The Marriage of Sound and Silence

by Marc Chťnard / May 14, 2004

---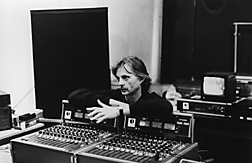 Almost since its inception, in 1969, the internationally renown German label ECM has made use of the catch phrase "The Next Best Sound to Silence" as a way of promoting its highly distinctive artistic vision. But in all fairness, this mot díordre of sorts was first coined here, in Canada, by Coda Jazz Magazine in a 1971 piece reviewing some of the labelís early titles.
Known worldwide for its unique aesthetic, both aurally and visually, this company owes its current-day success to its founderís unique artistic vision and tenacious belief in his product. Unlike the majority of independent record producers who got into the business as music lovers, Manfred Eicher, the sole architect of "Editions of Contemporary Music", was a classically trained double bassist who had equal interests in contemporary music, jazz and free improvised music.
From the onset, ECM had found its imprimatur, one that rapidly became identifiable to listeners. What music fan nowadays does not recognize the sound of any one of its recordings: immaculately balanced and Ďenhancedí with its signature reverb effect? Clearly the fledgling labelís following steadily grew because of its new concept of sound. But its producer received a lot flack for it as well. This explains his blanket refusal to grant interviews (this one included).
A choice of sound first and foremost
In spite of unfavorable press, one can best understand the producerís editorial policy in relation to his own background. For one, his instrument, the double bass, is precisely characterized by a broad and reverberant sound, mirroring the sonic image projected by the majority of his productions.* Beyond that, his training in Western classical music has obviously shaped his way of hearing music, one quite different from the way that listeners of popular music (jazz included) are conditioned. Whereas the pop idiom is basically pulse-oriented and thus more concerned by generating rhythms which push music ahead horizontally, classical music, in contrast, is primarily organized as vertical layerings of sounds with shifting harmonic relationships.
When one takes the time to listen to a number of recordings in ECMís massive catalogue of 900 plus releases ó an outstanding figure for an uncompromising independent label which has managed to secure an international distribution deal with the Universal music conglomerate ó these two key factors in the producerís training stand out as the cornerstone upon which the whole aesthetic of the label stands. No need to search too far afield, for the ethereal sounding albums of Norwegian guitarist Terje Rypdal epitomize this aesthetic, as do the airy flights of fancy of his compatriot saxophonist Jan Garbarekand the early recordings of the current guitar superstar Pat Metheny. What better proof do we have of this than the launching of the "New Series" exactly 20 years ago, with composer Arvo Pšrt leading the way to a whole line of titles devoted exclusively to classical and contemporary music?
ECM appeared at a time when the United States was setting all the trends in the jazz recording business. European labels, for their part, were by no means inexistant, and were more than ready to document whatever touring or exiled Americans were up to. Yet the free jazz insurgency hitting the Old Continent in the latter part of the sixties spawned a series of labels more intent on documenting their own players than the visiting stars. In Holland, the ICP collective created its label, whereas Derek Bailey and Evan Parker started up Incus records in the early seventies, a forum for the nascent British free improvising music scene. In Berlin, Free Music Productions (FMP) was founded in the same year as ECM, in Munich. Yet, in the era when music had embarked on a decidedly more radical course, Manfred Eicher chose a different path, one informed by his own practical musical experience rather than by the sheer iconoclasm of that new breed of improviser or the purely intuitive appreciation of music fans. But in its beginnings, ECM also tested more turbulent waters, releasing albums by the American free jazzer Marion Brown, Londonís Derek Bailey as well as the Music Improvisation Company. But before long, the label had settled into calmer seas, most notably with "Crystal Silence" (the vibraphone-piano duo of Gary Burton and Chick Corea, the latter of which produced the first solo recordings for the label). The first real watershed was the arrival of Keith Jarrett, whose first solo studio session "Facing You" was only a prelude to the ambitious Bremen-Lausanne set and the labelís all time top seller, "The KŲln Concert" (the latest figure topping 4 million copies sold). Now an exclusive recording artist of the label for the last 25 years, Jarrett has contributed as much to ECMís visibility as it has to his career. Over that period, the series of albums featuring his Standards Trio (bassist Gary Peacock and drummer Jack DeJohnette) has been the most heralded series of recordings on the label.
A visual cachet
As important as sound is, looks are a factor of the labelís overall winning equation. Other Stateside companies like Verve and Blue Note are also aware of the importance of appearances and the mystique of the labels is partly based on this aspect of production. ECMís producer sensed that a record was not only an object to be listened to, but one to look at as well. The work of his longtime graphic artist Barbara Wojirsch (now retired) was crucial, and she more than anyone else created its unique imagery, which cast aside the obligatory artist shot on the cover and the flipside liner notes. Instead, desolate landscapes, monochrome backgrounds or ambiguous images, adorned the covers; with clean-lined fonts which were also used on the back for the basic discographical information (musicians, track listings, recording credits, no more, no less). These new designs definitely caught the publicís eye, one that was willing to be tweaked by something out of the ordinary.
Now recognized for his contributions to the music world (including several prestigious prizes, one of them a Grammy Award as producer of the year in 2002), Manfred Eicher takes pride in his work without boasting about it. His low profile in public is very much in keeping with record bosses in the field. Always on hand during taping sessions, he eggs things along quietly, sometimes proposing alternative courses of action when certain impasses arise. While we fully respect his privacy, his lifeís work, in contrast, is in full view for all to enjoy, to discuss and to assess critically. Whatever the controversy, one thing is for sure: ECM has produced a considerable sum of music in the last half of the 20 century, and will continue to do so for years to come.
______________
* On this issue, one cannot overlook the important contributions of the labelís various sound engineers, primarily Jan-Erik Kongshaug and his famous Rainbow studio in Norway. Also Martin Wieland and Ernst Albrecht should be recognized for earlier recordings as well as Joel Farber for more recent sessions in New York.
---
Version française...
---