Liu Fang:10 Talented Fingers

by Wah Keung Chan / April 26, 2004

---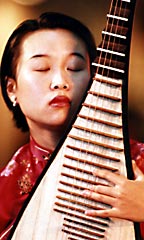 It was only one instrument, but 10 very talented fingers," said BBC commentator Sir Ian Mckellen of Chinese pipa and guzheng player Liu Fang, following a live broadcast last November. Fang was in the midst of a three month tour of Europe that included participation in France's China Year. Reviews were ecstatic.
At 29, Fang has been establishing a national and international career for the last seven years from her base in Montreal. "Montreal is rich in culture and close to Europe," said Fang. Thanks to Canada's flexible immigration rules she arrived in the city in 1996 with her husband, Dr. Risheng Wang, who worked as a research scientist. "At first, Liu wasn't making music, and I felt really guilty," said Wang, who decided to find his wife performance opportunities. Soon, he quit his job to manage her career full-time.
The classical music world has embraced Fang and her extensive touring has taken her to England, France, Germany and the Czech Republic. R. Murray Schafer and Melissa Hui have composed music for her, and she has performed with the Nouvel Ensemble Moderne in Montreal, the Paul Klee Quartet in Venice, and with cellist Yegor Dyachkov. A duo CD with flautist Lise Daoust is slated for release in the fall on the ATMA label.
"We couldn't have done it without initial support in Canada," said Wang. "The Canada Council helped, both financially and psychologically." In 2001, Fang was one of the three winners (the only one in music) of the Canada Council's Future Generations Millennium Prize for artists under 30 with the greatest potential. Part of the citation reads: "Liu Fang likes to create new musical forms and explore new avenues. She works frequently on transcultural music collaborations with other musicians."
Canada and the West turned out to be receptive audiences for Fang and her pipa. "We have lots of fans in Quebec and Paris, as well as many in the Vietnamese community and in Toronto's Chinese community," said Wang. Judging from the press write-ups, Fang now has a following in England. "In the West, there are more concerts. In China, traditional music is not taken very seriously; it's treated more like entertainment. The largest conservatory in Shanghai has only 200 students." When Fang was a student at the Conservatory, she was not the favourite student as she did not enjoy imitating her teachers, or being very theatrical, smiling when the music is happy and looking sad for sad tunes. "Inside, I wanted to play my way," said Fang, "which is very expressive and soulful."
"During the Tan Dynasty, pipa music moved people to tears," said Wang. It was this soulful playing on a cassette that initially drew Wang to Fang. Wang, a meteorologist working in Germany, wrote to Fang; the couple met during one of his trips back to China and were soon married.
Music was always in Fang's life. Her mother was a traditional opera singer in Yunnan Province, in southern China. She started on the pipa at the age of five and played in public by nine. At 11, she played two works for the visiting Queen Elisabeth. "I met a great teacher at age eight. When she moved to Schechuan province, I could only study with her during my summer holidays."
The pipa is a pear-shaped instrument with four strings tuned to AEDA and 30 frets--the strings can be depressed to sound in 1/4 tones. In Liu Fang's hands, it comes to life. "The key to Chinese music is melody and space. In Western classical music, harmony and melody are the key. Like a Chinese painting, space or silence plays an important role," she tells us. Chinese music is notated with numbers for the pitches and symbols for the speed and finger techniques. "It's like Chinese calligraphy," said Wang. "The fine subtleties are passed on from master to student." Growing up, Fang changed teachers constantly, trying out all the teachers in her province.
Compared to the erhu or the guzheng, the solo repertoire of the pipa is quite significant at 300 pieces, enough material for five solo CDs. Fang has already released two solo albums plus two of duets on Philmultic, their private label. The company was formed after their first recording for a third party. "We were inexperienced, and we didn't sign a contract. We have no idea how many copies were sold and do not receive any royalties," said Wang. Last year sales of their two solo CDs each reached 1000 copies through their website and concert sales alone. In order to retain a distributor in Europe, Philmultic needs to release six more albums. Some of those albums may include Fang's compositions, as she develops new repertoire for her instrument.
For a shy woman who prefers to talk with her instrument, success does not mean complacency. "A live concert is a constant challenge to transmit the soul of the music. I'm always thinking of new collaborations and composing new music to integrate the pipa into western culture. Before a concert I concentrate for two hours and I'm always nervous. Every concert hall has its own personality. I cannot control the acoustics or the knowledge of the audience."
With a schedule of 70 concerts a year, including only 20 in Canada, the couple is home for only three months. There are no immediate plans to play in China: "We would like to bring back to China fresh ideas about Chinese music, but not now. In the West, you have people who cannot live without music. In China, they only understand how to market fame. You have to make it big in the West."
Favourite Composers
Chopin, Schubert, Berlioz, Beethoven, Mozart, Bach, Shostakovich, Rachmaninov
Favourite Works
Mahler's 1st Symphony
Beethoven's 6th, 5th and 3rd
symphonies, piano concerto #5,
violin and cello concertos
---